May 13, 2013
We've updated our webcast on how public safety agencies can get authority to issue cell broadcast alerts through the Wireless Emergency Alerts system. The webcast is now only six-minutes long, and provides a succinct explanation of WEA and the sign-up process. You can find the video, "Wireless Emergency Alerts for Public Safety" on YouTube here.
WEA, formerly known as the Commercial Mobile Alert System (CMAS), has been used mostly during the past months by the National Weather Service and the National Center for Missing and Exploited Children for AMBER Alerts. WEA was also used during the manhunt following the Boston Marathon Bombing. (See Galain's previous post here.) And, it was used by local agencies during Superstorm Sandy.
There's been a steady increase in local and state authorities getting authority to issue WEA messages, which is part of FEMA's Integrated Public Alert and Warning System. The IPAWS web site has information on how agencies can sign up. And, if you need assistance, let us know and we'll point you in the right direction.
All the best,
Rick
Leave a comment
May 07, 2013
Using dramatic, even startling, real life images and sounds, broadcasters are demonstrating the role they play as "first informers" during emergencies. The National Association of Broadcasters (NAB) recently released a video called "Communicating Superstorm Sandy". It documents on-air coverage of Sandy, including alerting and warning by radio and television stations to help keep the public out of harm's way. It's quite impressive.
New Jersey Governor Chris Christie is heard saying that, as he moved from damaged area-to-damaged area after the storm, "My way to communicate to the folks in my state was broadcasters". Radio stations that had switched from music entertainment to live news are heard connecting listeners to loved ones.
The NAB released a similar video found here documenting broadcast coverage of The Alabama and Missouri tornadoes of 2011. Although we've seen the pictures many times, they're still striking.
As we work with public safety and broadcast officials around the country, it's heartening to see the public safety/broadcast relationships that have been established. But, sometimes it's disheartening to see the relationships aren't taken seriously and cultured…until something really bad happens. Please, don't be one of those…
All the best,
Rick
Leave a comment
May 03, 2013
Some of the same people who led the charge for adoption of the now widely-accepted Common Alerting Protocol (CAP) want to take alerting to the next level. They've re-activated a call to get standards widely adopted for when, why, and how to issue warnings. An on-line petition has been launched stating, "Congress should enact legislation for a national strategy so emergency public public information is always coordinated with other emergency response measures." (You can find the petition here.)
Richard Rudman, a long-time alerting activist, and one of the founders of the Partnership for Public Warning (PPW), started the petition. He'd like to see emergency managers strengthen use of Emergency Public Information (EPI) concepts. EPI is part of the National Incident Management System (see this FEMA document on EPI), but Rudman says, "EPI has never been treated as a true response resource within much of the EM culture, and this has to change". Rudman says a national strategy putting education and training for EPI "front and center" of NIMS might help. "EPI should be as much of a resource to be managed as a fire strike team, SWAT, emergency food distribution, etc.", says Rudman.
Art Botterell, another alerting activist, says, "Now that we have WEA and IPAWS, the bar has been raised for warning professionals at all levels of government. We've raised public expectations of them, and given them powerful new tools, but we've yet to give them clear and consistent marching orders."
Makes sense to me. Why wouldn't we want this to happen? Comments?
All the best,
Rick
1 comment
April 24, 2013
The best examples of best practices often come from real life. Massachusetts Emergency Management Agency (MEMA) showed the rest of us strong best practices when they issued the shelter-in-place order last week. MEMA used the new broadcast cell system, Wireless Emergency Alerts (WEA), to help spread the word. That's exactly the type of event, an imminent threat, WEA was intended for.
But, MEMA took the WEA message further. They clearly showed us how WEA can work with other media. As they issued the shelter-in-place alert via WEA, they also sent an advisory in advance to media to make sure media knew that WEA was about to be used. It's possible this was the first time some people in the media had heard of WEA (formerly Commercial Mobile Alert System).
WEA messages really start people talking because of their unique appearance, sound, and vibration and because most people don't know who's sending them, since they didn't have to sign up. Because of the MEMA media advisory, local media could help the public understand who was sending these unusual messages to their cell phones, and why.
Then, MEMA Tweeted to its followers that the WEA alert was issued. The Tweet was then re-tweeted, some people referring to WEA as a "phone siren". (See earlier post here.)
As a former broadcaster, I guess I can see how some broadcast media could consider WEA a competitive system, since it uses the cell network which can compete with broadcasters for the public's attention. But, in this situation, it's not hard to see how broadcast and cell work together, even compliment one another. The WEA alerts serve as a "phone siren", as the Tweeters have started calling it, and get people's attention. Then, people are told to go to local media for more information. (More on this later.)
Meantime, at the risk of getting too personal here, I must say that MEMA use of WEA and its media advisories is another example of why I feel like my son, whose office is across the street from one of the bomb sites, is in good hands up there. Throughout the situation local, state, and federal authorities directly involved have set good examples for us all...and I'm very thankful.
All the best,
Rick
1 comment
April 22, 2013
Many of you have been asking if the new cell broadcast alert system, Wireless Emergency Alerts (WEA), were used in Boston. The answer: Yes.
Massachusetts Emergency Management Agency (MEMA) is among the state agencies across the nation with ability and authority to issue imminent threat WEA messages through the system. On April 19th, the day the shelter-in-place order was issue, MEMA tweeted:

It wasn't long after that when a number of Boston residents started spreading the word about the WEA messages by tweeting. The term "phone sirens" seemed to catch on around the web. This is not a bad description. That's exactly what the WEA messages are intended to do, sound a siren to alert people to pay attention and get more information elsewhere. In this case, it was issued when authorities were going door-to-door looking for the bombing suspect - a perfect example of "imminent threat", one of the three types of WEA messages. (Presidential messages and AMBER Alerts are the other two.)
Thank goodness MEMA was one of the local and state public safety organizations that had signed up to be able to issue alerts through WEA and other alerting methods offered through FEMA's Integrated Public Alert and Warning System (IPAWS). Those who haven't gone through the simple four-step process should seriously consider doing so. If you need help with the process, contact Galain at rick.wimberly at galainsolutions.com. We'll be glad to help (at no charge).
All the best,
Rick
1 comment
April 15, 2013
Nice post from fellow Emergency Management blogger Gerald Baron on danger of over-alerting found here.
Rick
Leave a comment
April 15, 2013
The Federal Communciations Commission (FCC) has released it's report on the first-ever national test of the Emergency Alert System (EAS). No big surprises; the FCC and FEMA said all along that they expected glitches with the national EAS test. The report provides verification of problems experienced (and well-publicized) after reviewing 16,000 test result reports.
The system has been around for more than fifty years in one form or another, but had not been tested until November, 2012. In other words, this is the first time an alert was originated by the White House, sent to FEMA, then to the daisy chain relay system that uses broadcast, cable, and other TV/radio programming outlets.
The FCC report, which can be found on Galain's web site here, said the national EAS architecture is "basically sound" and that the national EAS test "demonstrated that the national EAS would generally perform as designed, if activated". 83% of broadcast stations, by far the largest group of participants, reported success. 73% of cable operators reported success.
Concerning problems, the FCC report said it was shining a "bright light on several areas - systemic and local - that require improvement". They are:
Widespread poor audio quality nationwide: Many reported the message was too distorted to be understood. The FCC said it found the problem to be localized to equipment at individual EAS participants. Of course, when one participant picks up bad audio, it can be passed along to another participant, then another and on and on and on...thus the daisy chain. Another problem was that a technical malfunction high on the chain caused a second set of national activation headers (called Emergency Action Notification or EAN codes) to be transmitted. The report says FEMA has corrected the EAN technical configuration, is testing a two-way satellite network to improve connectivity and audio quality, is working on the equipment, and testing it twice a week.
Lack of a PEP Station: At the time of the test, there was no Primary Entry Point (PEP) station for participants in the Portland, Oregon area to monitor. So, Oregon area broadcasters and cable operators were told to monitor the National Public Radio Squawk Channel (basically, a closed circuit channel) to pick up the national test. The Squawk Channel had an audio problem, which caused test problems in the Oregon area. FEMA is building two PEP stations in Oregon.
PEP-station alternatives: Some participants, other than Oregon, were using alternatives to PEP stations to receive the EAN tones. The FCC report said some of these alternatives didn't work. No specific details were given, but the FCC reminded participants that their alternatives must be approved by the FCC and state EAS plans must include the alternatives.
Failure of some EAS participants to receive or retransmit EAN codes & inability to receive or retransmit EAN codes: This could have been for a variety of reasons, said the FCC, including user or equipment errors or code issues.
Test was too short: The FCC said a couple of participants had problems because the test was too short, confusing equipment and not providing enough time for an engineer to adjust.
Equipment issues: The FCC said some of the EAS equipment manufacturers interpreted FCC guidance inconsistently, causing some problems.
The FCC recommends that another national test be conducted after steps are taken to strengthen the EAS system such as:
making sure all equipment works the same way
issuing FCC rule-makings to provide more guidance for state EAS plans
working with FEMA to develop EAS best practices and conduct workshops for EAS participants
start planning for the next national test
Meantime, the FCC says a "significant number" of EAS participants did not complete their post-test reports, even after repeated reminders. So, the public safety branch of the FCC has passed along information about the non-reporting participants to the FCC's enforcement branch for possible action.
So, all in all, the report didn't tell us anything extraordinary that many hadn't figured out already...but, it did offer confirmation and a go-forward plan, much of which is already in the works. EAS is stronger because of this national test.
All the best,
Rick
Leave a comment
April 12, 2013
We've posted a list of mobile devices that are capable of receiving Wireless Emergency Alerts on our web site here. The list will change regularly, and we'll work to keep it updated. Check back often.
Note, however, that although the devices may be WEA-capable, the networks on which they operate may not be ready to support that particular device. We think that, for the most part, much of the cell network nationwide can support the devices listed.
Rick
Leave a comment
April 11, 2013
It seems like almost every conversation with a public safety official about emergency alerting turns at some point to the difficulty of getting people to sign up to receive alerts on their mobile devices. The best sign-up rates we've heard fall well below 10% of the population, despite strong and creative efforts. It's just hard to get anyone to sign up for anything.
A government pontificator is asking if it wouldn't be better to ask people to opt out of initiatives, rather than opting in. Cass R. Sunstein, a Harvard-type and former White House "regulatory czar", calls them "default rules", which he says "count as one of the most promising and innovative, yet sometimes overlooked, tools for achieving social goals". In this week's Bloomberg Businessweek magazine, Sunstein points out Australia's success using default rules to reach 99% percent participation in organ donations. Down under, it's assumed everyone wants to donate their organs after death. If they don't want to, they have to opt out of the program.
Sunstein's article focused on clean energy promotion, so why do I bring that up here? Well, I'm thinking about opt out, rather than opt in, alerting programs. And, I guess we have one. FEMA's new Wireless Emergency Alerts program (formerly Commercial Mobile Alert System) is one. The public does not have to sign up to get alerts on their mobile devices. New devices come with the default set to receive the WEAs. A consumer has to opt out, if they don't want to get them.
Why do opt out programs, such as WEA, work while opt in programs struggle? Sunstein says there are three reasons: (1) people have to make an active choice to reject opt out programs, (2) opt out initiatives come with an implicit endorsement of the default rule, and (3) opt out programs invoke what behavioral economists call loss aversion. If you're getting something at no charge, you may not go through the effort to opt out to save a bit of money. But, you may not sign up for something, even if it would cost you very little. (WEA is free, by the way).
Although Sunstein says default rules are sometimes overlooked, emergency management officials have figured out a way to make opting-out work. It's a good thing, since opt-in alerting has been a big struggle.
I wonder what other ways we might make default rules work in the efforts to make the American people safer and better prepared. Comments?
All the best,
Rick
Oh, Sunstein's book, "Simpler: The Future of Government" is being released this month. He's doing the talk show circuit, and can be somewhat of a lightening rod.
4 comments
March 27, 2013
Are they, or aren't they? Have the mobile carriers made it possible to target alerts from the new national cellular alerting system to geographic areas smaller than counties? It seems that way.
Under the Federal Communications Commission (FCC) regulations that established the Commercial Mobile Alert System (CMAS), now officially known as Wireless Emergency Alerts (WEA), alerts were to be sent to an area no larger than a county. Some local agencies have been complaining that a county is not a small enough geographic area.
Although we can't confirm it officially, we understand the carriers are listening. From what we hear, the major carriers now have the capability of more precise geographic targeting over much of the country.
As explained in one of the public alerting forums we attended recently, many of the carriers, including the largest ones, have adapted their network so that alerts can be sent to cell towers within a county, rather than all of the towers in a county. (The slide below from a presentation at the workshop shows how it works.)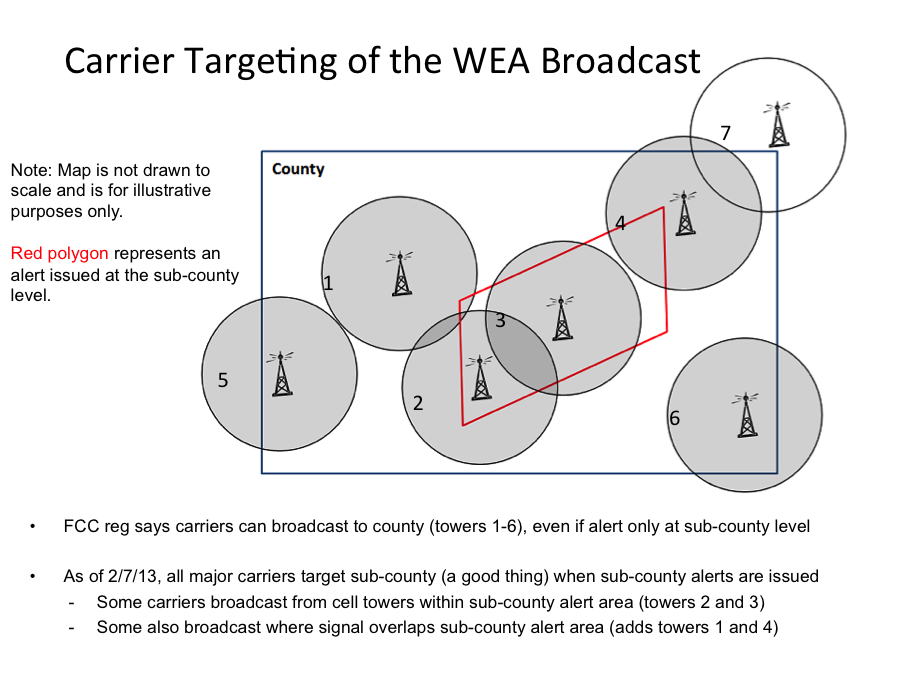 As the slide shows, WEA alerts are sent as signals from cell towers to be received by WEA-capable devices within the signal's range. From what we understand, many carriers can send alerts to specific towers based on the geographic polygon selected by the alert originators. WEA geographic targeting will not be as precise as other alerting tools (say, alerts sent to one side of the street, but not the other). After all, we're dealing with cell broadcast and the physics of radio signals. But, more precise areas than a full county apparently can be targeted throughout much of the mobile carrier networks.
It's a bit difficult to get a complete and accurate account of WEA geographic targeting capability at this point. The carriers treat their WEA delivery differently, and they're cautious about publicly discussing what their networks can and can't do. From what I understand, the FCC is considering a rule-making change that would clarify geographic targeting capability of WEA, but haven't decided what to do yet.
So, this seems like progress to me. When WEA was first rolled out, no one was suggesting that WEA alerts could be targeted to areas smaller than counties. That seems to be changing.
Local authorities who may have been waiting to sign up to use WEA may want to take another look at going through the sign-up process. If you need help signing up, let us know and we'll point you in the right direction.
All the best,
Rick
2 comments
Latest Emergency Management News
Most Popular

Most Commented