March 13, 2013
This post is a real bummer for me. Lorin Bristow has left our consultancy Galain Solutions, Inc. and will no longer be a co-writer of this blog. He has taken a job as Senior Vice President, Marketing for Send Word Now. (See press release here.)
Man, did they get one heck of a deal! Lorin is a true pro in every sense and a great friend. While we won't be working together on a day-to-day basis, you can be assured that you will still see us together at local wings and coffee places.
We're going to miss Lorin's partnership, and wish him the best.
Rick
Leave a comment
March 13, 2013
If you think the national cell broadcast program is simply on its way, think again. The National Weather Service (NWS) tells us that they alone have issued Wireless Emergency Alerts (WEAs) through the system 3,185 times since July. NWS was the first out of the box to start using WEA, which sends special text alerts to mobile devices in a targeted geographic area.
By far, WEA was used most often for Flash Flood Warnings (1864 times), mostly because of a wet monsoon season in the southwest U.S. Tornado Warnings were second at 937 times. WEA was used for Blizzard Warnings 310 times and a few times for Ice Storm Warnings. Hurricane Warnings were issued via WEA three times. (NWS does not use the system for watches.)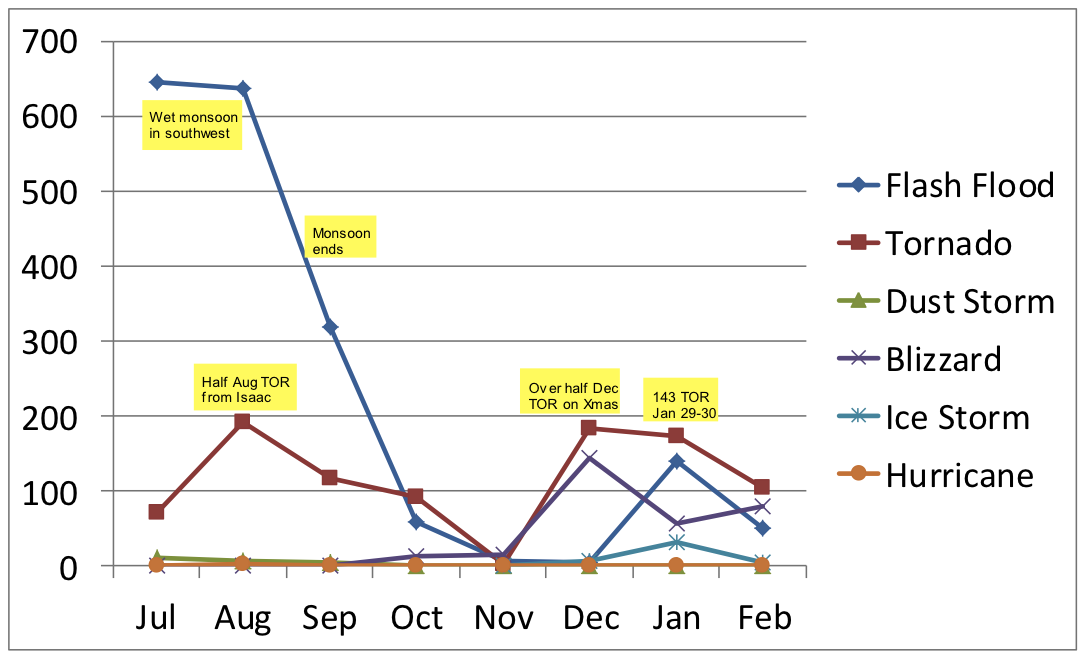 (Thanks to Mike Gerber of NWS for the chart and numbers.)
In addition to weather warnings, WEA has been used several times for AMBER Alerts and has been given credit for helping quickly find missing children, including a recent case in Minnesota. (See our post here.)
We've also heard of local agencies (i.e. New York City) using WEA. We heard this first from my Brooklyn-based son, wanting to know what upset his cell phone so. He later learned, first-hand as flood waters came a few blocks from his apartment.
Hats off to the National Weather Service for its groundbreaking use of WEA. In addition to using WEA to get the public's attention over three-thousand times, their use has helped increase general awareness about the initiative. Even my son now knows what it is.
All the best,
Rick
1 comment
March 06, 2013
An all-star cast of government officials involved with the Emergency Alert System (EAS) gathered with broadcasters this week to discuss some of the hot topics surrounding EAS. They were there at the invitation of the National Alliance of State Broadcasters Associations (NASBA). FEMA, FCC, NOAA, and the AMBER Alert people were all represented in force at the conference in Washington. Lots of topics discussed will interest emergency managers:
Zombie Attacks: As you would expect, one of the hot topics was EAS security, in response to someone recently broadcasting a zombie attack alert by hacking a Montana TV station's EAS system. FEMA officials stressed the security breach occurred at the local level, and did not involve the national EAS relay system. Stations need to be more diligent about protecting their EAS systems, seemed to be the consensus.
Cable Interruption: The broadcasters brought up a gnawing concern – forced interruption. That's when a local station is automatically interrupted by cable companies in order to broadcast an EAS alert. Not a bad idea, you might think. But, what if the local station is in the middle of reporting on the issue at hand with more information than EAS could possibly give?
I experienced this first hand recently when my iPhone received a Wireless Emergency Alert (WEA) (formerly Commercial Mobile Alert System - CMAS) of a tornado warning in the middle of the night. Kathy and I got up to check our local TV stations, only to have the cable EAS message interrupt the storm coverage right when they were talking about our neighborhood. And, at one point during the storms, an EAS alert interrupted a local TV station and kept control, forcing the cable audience to watch C-SPAN when locals stations were busy broadcasting storm news. (Watching C-SPAN can be painful at any time, but especially so when you're trying to find out about a local storm.)
One of the FCC representatives acknowledged that the FCC has talked about it, but no change in regulations is in the works that would compel the cable companies not to interrupt local storm coverage.
State EAS Plans: Updates to state EAS plans, necessary because of the conversion from analogue to digital (and the fact that many of them are, well, old), were discussed. One of the FCC officials said he had a pile of new EAS plans on his desk to review. (I'm sure states like Tennessee, which has completed theirs, would be glad to share a copy with other states working on theirs.)
Emergency Access for Broadcasters: The state broadcasters talked about laws passed in Illinois and Nevada that give broadcast engineers "first responder" or "first informer" status during an emergency. During a major event, broadcast engineers sometimes are stopped by roadblocks, and cannot get access to their transmitters to keep their stations on the air. The "first responder" or "first informer" designation helps them get access. The broadcasters were quick to point out that they are not seeking special access for news crews, but for working station engineers.
IPAWS Legislation: The group was given an update on legislation that would have laid out modernization of the nation's alert system through the Integrated Public Alert and Warning System (IPAWS). Broadcasters had been pushing the bill, which would have established a national IPAWS advisory committee and woven IPAWS programs (including EAS) more tightly into national preparedness initiatives (i.e. National Incident Management System, National Terrorism Advisory System, National Level Exercise Program). The bill was passed by the House last year, and a similar one introduced in the Senate. A lobbyist for NASBA reported that future of the legislation for this year is uncertain. (Hmm, that might be said for all legislation this year.)
Relationships with Emergency Management: And, heard more than once during the session, was the importance of broadcasters cultivating relationships with emergency management. Amen to that! And, thanks to Whit Adamson and the Tennessee Association of the Broadcasters for inviting me to the session, and helping cultivate those relationships.
All the best,
Rick
2 comments
February 26, 2013
Goodbye CMAS! Hello WEA! The Federal Communciations Commission (FCC) has officially changed the name of the new national cell broadcast system from the Commercial Mobile Alert System (CMAS) to Wireless Emergency Alerts (WEA). The reason is pretty simple: it was confusing for wireless carriers to use WEA and the government to officially use CMAS. The FCC's order said the name change will, "...more accurately reflect common parlance and thus reduce confusion."
Frankly, we were weary ourselves of using both terms, and FEMA's Integrated Public Alert and Warning System (IPAWS), which oversees the cell broadcast system, has been using both terms.
Although FEMA oversees the program and it's regulated by the FCC, it's the carriers who provide the infrastructure and customer interactions. Millions of devices have been shipped with the WEA logo on the printed materials. So, they obviously have a lot of clout when it came to naming the system.
Now, who's going to decide how to pronounce WEA? We've regularly heard officials close to the program call it both "WEE" and "WEE-ah". And, who's going to tell Apple? New iPhones use the term "Government Alerts". Oh, and someone may want to tell the City of New York, too. They've been calling the system Personal Localized Alerting Network (or PLAN).
As for us, we'll start using Wireless Emergency Alerts (WEA) more prominently and occasionally mention, "previously known as CMAS" until we get used to using WEA only.
You can take a look at the FCC order here.
All the best,
Rick
2 comments
February 21, 2013
In Minneapolis, MN yesterday, officials issued their first AMBER Alert through CMAS/WEA to help locate a missing child. At approximately 3:00 p.m., mobile device users across the state received a Wireless Emergency Alert (WEA) about the abduction of 8-month-old Carlos Orosco. Within an hour, the suspect's vehicle was located and the child was on its way to being reunited with its mother.
The Bureau of Criminal Apprehension said the system, coupled with quick thinking by a local teen, can be credited with helping police find the suspect as quickly as they did. A Minneapolis teenager, Daisy Buenrostro, said she recalled seeing the AMBER alert on her father's cell phone just prior to her identifying the suspect's car driving by her home. She ran into the house and told her father, who subsequently called 9-1-1 to report the suspect. Police were able to capture the suspect soon after with the boy unharmed.
Officials were also praised for their use of the system in coordination with other public notification methods. An article in the local paper said 110 billboards across the state also displayed the AMBER alert and presented information on the suspect's vehicle.
"It was very effective because I looked at the phone and saw the AMBER Alert, and what's interesting -- just five seconds before, I also saw the AMBER Alert on a highway sign," said Julio Ojeda-Zapata, a local technology reporter. "They're doing it right. You can't ignore AMBER Alerts these days."
Good work by Minnesota officials, and many kudos to Daisy Buenrostro for her decisive action. This story is a strong testament to the power of Wireless Emergency Alerts.
Best regards,
Lorin
Leave a comment
February 18, 2013
Some 225 organizations have now either been granted or applied for authority to issue alerts through FEMA's Integrated Public Alert and Warning System (IPAWS). That's 225 out of thousands of local, state, and federal agencies eligible to apply to send alerts through IPAWS, including the new cell broadcast system.

Where are the other applicants? We may have found a clue through a promotion conducted by an alerting vendor. The Asher Group, which sells a product called Hyper-Reach, offered a grant for public safety organizations to receive access to its service for originating IPAWS alerts. Asher is one of some 40 companies that have tested their products for sending messages to the cell broadcast system by participating in the IPAWS-OPEN initiative. (You can find a list here.)

Analysis of the grant applicants is interesting. Asher's Jim Veilleux told us they received 62 applications for the grant. 24 of the applicants said they want to use the cell broadcast system (officially the Commercial Mobile Alert System or CMAS), but have not applied to FEMA yet. Another 33 applied, but said they really do not know much about CMAS. Four have have been awarded alerting authority status; one application is pending.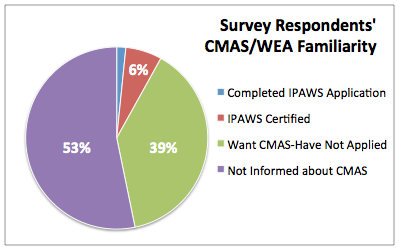 Granted, this is not a scientific survey. But, the results help illustrate that there are still quite a few agencies that either don't know about IPAWS and CMAS or know about it and want it, but have not applied to participate.

The application process is relatively simple. Four steps are involved, which include getting approval from the state and going through a short, free on-line training course through the Emergency Management Institute (course IS247). A video on Galain's web site describes the process.

Why haven't more agencies signed up? Could it be insufficient outreach? Not enough value offered? Lack of time to commit to the application process? Governance questions? Lingering questions about features and capabilities? Something else?

We'd like to hear your thoughts. You can complete a quick on-line survey below, or send an email to rick.wimberly@galainsolutions.com.

All the best,

Rick
615-771-8000
2 comments
February 15, 2013
Broadcasters are being urged to change the passwords on their Emergency Alert System (EAS) units in light of several reports of EAS hackings that resulted in phony EAS alerts being issued. It appears someone figured out the factory-default password of certain encoders, and sent a fake zombie attack alert via EAS.
It's only been recently that EAS devices have been accessible via the internet when the FCC and FEMA led EAS participants to convert to a system that uses the web and the Common Alerting Protocol (CAP) to help facilitate delivery of a single message through multiple means. Richard Rudman, an expert and advocate for EAS, told Radio World magazine's Leslie Stimson that the hacks were not related to CAP, nor to FEMA's Integrated Public Alert and Warning System's (IPAWS) system for facilitating EAS delivery called IPAWS-OPEN. FEMA issued a statement saying IPAWS was not hacked, and that the incident did not interfere with FEMA's ability to activate EAS.
Rudman says the hacker knew what he was doing, but EAS systems would not be vulnerable if the units are placed behind a firewall, and strong passwords are used. He suggested use of Gibson Research site for testing password strength.
There is a bright side, at least according to Karole White of the Michigan Association of Broadcasters. She's quoted by TVNewsCheck as saying, "...this minor attack, while it may have confused or frightened people, uncovered some weaknesses that we can look at fix, and adjust to."
All the best,
Rick
Leave a comment
February 12, 2013
The quest continues to more precisely target alerts and warnings. More geo-targeted alerting tools are being introduced to the market. And, the federal government's cell broadcast alert system has created quite a bit of discussion about alert targeting. For the most part, the new system (officially, the Commercial Mobile Alert System or CMAS) sends alerts to the county level, not a tighter geographic area. That's frustrating to some public safety officials, perhaps even the public, especially in sprawling or heavily populated counties. They would like to see the alerts more precisely targeted than county boundaries.
Knowing this is a hot topic, the Department of Homeland Security Science and Technology Directorate (DHS S&T) is sponsoring a workshop this month "to examine current knowledge and research on geo-targeted disaster alerts and warnings". The session is not focused exclusively on CMAS, which is operated under FEMA's Integrated Public Alert and Warning System (IPAWS), but you can be assured CMAS will be a big topic of discussion. Officials with IPAWS, along with Galain Solutions and others intimate with the topic, have been invited to speak the workshop.
The Computer Science and Telecommunications Board (CSTB) of the National Academies, which is organizing the event for DHS, says the workshop will:
consider potential for more precise geographical targeting
examine opportunities presented by current and emerging technologies
consider circumstances where more granular targeting would be useful
examine potential roles of federal, state, and local agencies and private sector information and communications providers in delivering more targeted alerts.
The workshop will be held in DC on February 21-22. To register and see an agenda, go here.
Clearly, this is an important topic and getting more so every day. The workshop should be interesting.
6 comments
February 12, 2013
Yes, you read that right. Zombie alerts have been issued through the Emergency Alert System (EAS) via a television station in Montana. "Dead bodies are rising from their graves", said the EAS alert on KRTV in Great Falls, which warned that bodies are "attacking the living" and people should not "approach or apprehend these bodies as they are extremely dangerous".
The TV station says someone somehow hacked their EAS system, and took over the airwaves during afternoon programming. (A local police official confirmed that they had received no real zombie reports.) You can see a video here.
OK, you must admit, this causes a chuckle...at least at first. What if the message had been more realistic? What if it caused people to dangerously over-react? (Local authorities said the zombie alerts prompted about four calls.) What if it encourages more hackers? What if it causes people to become immune to real EAS alerts?
What if the local TV station and others involved with EAS don't take this seriously? Well, they should. They need to get to the bottom of this, and share (discreetly) what they've learned so that others can prevent dangerous EAS hacks. The integrity of EAS must be protected for the safety of the public. Not so funny after all, is it?
All the best,
Rick
Oh, then there was the telephone alerting system that recently sent out the "f" bomb. See our post here.
2 comments
February 11, 2013
Last week, residents of Beverly, MA received an automated notification message from the Department of Public Works with a little extra "color" to it.
A department representative recorded a message informing residents of a parking ban in effect for snow removal purposes. The representative got a bit tongue-tied towards the end, and in frustration, dropped the F-bomb. This version of the recording inadvertently made its way to the public (and to the news media).
We can all likely sympathize with the folks at Beverly DPW. It's a pervasive fear--goofing up a mass notification message or hitting a wrong button at 2:00 a.m. Events like this can serve as reminders to us all. Here are some key best practices that will keep you out of trouble and out of the spotlight.
Record a message first before completing other required information for launching a notification. This suggestion may or may not apply depending on how your notification system works precisely, but in many cases, you'll have the option of recording the message before other required system fields are completed. This is often backwards to the way administrators view the process and the tendency is to complete everything else in a scenario, then record the message. This leaves open the possibility of accidentally sending an improper recording. We suggest you reverse this process, record the message first, then listen to it and confirm it's OK. From there, complete the additional required information. This way, your message is verified before a notification launch is possible.
Assume you are "always on." I'll never forget the day our pastor slipped away to the men's room during church announcement time. Unfortunately, he was wearing his wireless microphone and it was very much still ON. The sound people scrambled to shut off the live feed, but not before the congregation received an extra "blessing" from the pastor that morning. The lesson? Assume you are "always on" and that what you are saying WILL be heard by someone.
Delete a goofed up recording from the source library. If your notification system allows you to save recorded messages for future use, make sure you delete any goofed up recordings so they won't be accessible (I'm not referring to deleting "the evidence" of a launched notification, just a recording that might be used in the future). In fact, you should do this before proceeding with the notification launch if at all possible.
Do a test notification prior to a public launch. It's a good idea to send a test notification to a few people before launching to the general public. That way, any issues will be identified before it reaches citizens' ears.
Send alerts to priority recipients first. Again, this depends on the features offered by your particular system, but some solutions offer the ability to designate priority recipients. While the goal of this feature is usually to allow a notification to be sent to "higher up" political types before everyone else hears it (Mayors, Chiefs, etc.) we recommend you NOT do this if possible. The priority people we want are individuals who might identify message problems quickly (without losing their minds), then tell us so the notification can potentially be stopped.
Proactively apologize for goof-ups. In most cases, it is best just to own up to any mistakes that do happen. Don't "hope it will all go away," but instead proactively offer sincere apologies and communicate steps taken to ensure it won't happen again. Most people understand public safety folks are people, too. Mistakes happen. They can forgive if you're open and humble.
Do you have any funny (or not so funny) examples of alert and warning bloopers? We'd love to hear from you, along with any lessons learned. Thanks for all you do to keep us safe.
Lorin
Lorin Bristow
Galain Solutions, Inc.
www.galainsolutions.com
615.771.8000

3 comments
Latest Emergency Management News
California Launches Cybersecurity Task Force
State officials hope to create a first-of-its-kind comprehensive framework to bolster cybersecurity efforts while maintaining strong relationships with local government and the private sector.
Most Popular

Most Commented