July 05, 2013
Remember all those fake images circulating around the Internet during Hurricane Sandy? Like this one: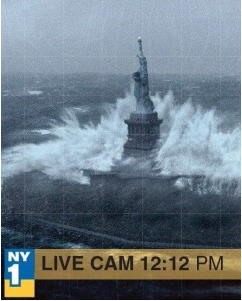 Beyond entertaining millions, these images convinced many that social media and the Internet were completely unreliable sources of information. Therefore, there is no use for social media or Internet-sourced information in emergency management.
However, it is now clear that emergency managers are in general not taking that view and are accepting the importance and role of Internet and social network information in situation awareness and response intelligence. As this becomes more accepted, the importance of verification and validation grows. That's why I tuned in to this story from Poynter that suggests that fake photos on Twitter can be spotted with 97% accuracy.
How? I won't go into the detail provided in the article, but it is a matter of identifying who is retweeting these fake images and finding out if the retweeters have certain user features in common. It's sort of like asking: are all town gossips basically the same? The answer is yes. People who retweet without verification, who spread rumors and false information with abandon, have certain characteristics in common. When you look at those characteristics, run them against images they are retweeting, you can pretty much tell what is fake. I would assume the same would be true of other content other than images.
Since I and my colleagues Patrice Cloutier and Bill Boyd are deep into developing a social media monitoring program, the issue of validation and verification is very much live. What this news about identifying fake content tells us is: 1) no doubt monitoring tools in the future will incorporate the kinds of algorithms these researchers have identified and that monitoring in the future will include some kind of "validation score." And 2) the basic premise of validation is know your source.
One new emergency management technology I've been involved in recently involves clear identification of "Trusted Sources." That makes it very very helpful for those wanting to find reliable information. But whether or not you have technology helping you or not, when looking at what you see on the Internet or social media whether or not you know the source matters.
No doubt you are on the lists of a few friends or acquaintances who have too much time on their hands and who send endless series of jokes, cat or baby videos, or political diatribes on the right or left. So often what they send seems hard to believe. So I check snopes--and sure enough, often it is rehashed emails that have made the circuits and have been shown to be false--but they keep sending them. So even though I know some of these people (I mean like very close family members) and I have warned them several times to PLEASE check snopes before sending this kind of garbage out, it doesn't stop them.
Point: Know your source and whether or not they care what they send is true or not.
Leave a comment
June 19, 2013
Drone journalism is becoming a hot topic of conversation as this report by Nieman Lab indicates. Huh? you might respond. Drones are quite clearly--for good and ill--the future of conflict, but they will soon play a very signficant role in people telling stories and providing reports about major events going on right now. A bridge collapse? No more helicopters overhead--too expensive. Send in the drones. An earthquake, oil spill, no question. How about searching for a bombing suspect? No doubt the FAA "no-fly zones" will affect drone traffic to some degree, but I suspect a lively debate on this.
The fact that the journalism community is showing great interest in the story telling capability of drones is indicated by a Google search on the topic. There's even a Professional Society of Drone Journalists (PSDJ of course) with a website and membership. Ball State University is offering a course on drone journalism in fall, 2013. How's about that for a university recruitment scheme: come play with our drones!
To be perfectly honest, my interest in this was stimulated by my own interest in RC airplanes. Getting into this a little I was absolutely stunned by the huge variety, remarkably low cost and incredible capability of all kinds of radio controlled flying machines. Most intriguing was the discovery of FPV, or First Person View of these vehicles. You rig a small camera (or even the HD GoPro camera) onto almost any of these flying machines, put on a pair of goggles or hitch it to a big screen and you can fly your plane, quad copter or whatever from your den, your van or out in the field--all the while watching the scene from the cockpit point of view. Amazing. I'm going to do that--after I learn to stop crashing. Our son in the video production sees a necessity of building this capability for aerial shoots at much less cost than normal.
This might seem just entertainment for some old, bored fighter pilot buff (like me), or you can see it for what I think it will be: your future.
As a communicator, hopefully by now you realize your job is not to feed the journalists and broadcaster but to be a journalist and broadcaster. Social media, now used by almost 70% of emergency management agencies, helped more than anything to get the idea across that we have to tell our story fast and to those who want to listen--reporters or average Joes. That means the tools and techniques used by journalists are your tools and techniques too. Certainly monitoring social media has become the PRIMARY means of reporting (don't believe me? Read this), and that means you are the story teller, the reporter, the broadcaster. If the story is best told by a drone--or in hobby terms, an FPV camera-equipped el cheapo RC plane--then you will likely be required to tell the story that way.
As for me, I'm teaching my grandkids to fly my RC planes. They'll have a great future in journalism that way.
1 comment
June 18, 2013
I reconnected with Mark Challender, a former employee back in my business magazine publishing days, and discovered his passion for amateur radio, particularly in supporting emergency management. I confessed to him I didn't see that much of a role for it given all the other options. He soundly corrected me and I asked him to inform the rest of you as he did me. Thanks Mark! Here is his guest post:
Is Use of Amateur Radio in an Emergency Still Valid?
The answer is YES, amateur radio can make your communications better during a crisis when "normal" modes of communication have failed.
There are many articles showing successful use of "amateurs" in crisis situations – just search "ham radio use in emergencies." One recent example is the role of amateur radio during the Boston Marathon……..after the bombs went off and cell phone and other traditional modes of communication failed due to saturation of the network, amateur radio worked and worked well.
Amateur Radio Operators were already on site providing communications for the Marathon (something they have done for years.) When the bombs went off they were asked to perform other tasks and, from all reports they performed well.
Amateur radio can transmit email using their radios even if local internet, cell phones, and social media is completely down, and they can get that email to the Internet (perhaps a nearby city or even across the country) by using other radio operators to relay the data. They can also keep certain details of your scene secure using this method (maybe you do not want the number of victims transmitted over voice communications, for example.)
While amateur radio frequencies can be scanned and their voice communications heard on the scanners their digital communications described above cannot easily be intercepted.
Our amateur radio organization (an ARES – Amateur Radio Emergency Service – group) has used digital modes to send names and conditions of "victims" during drills. We are able to send that information from the field to a central location and we can set up relays "on the fly" to get the message to the intended recipient.
Amateur radio operators can bring their own antennas, deploy those antennas and can communicate to stations hundreds, if not thousands of miles away and help you get more assistance. Radio Operators can even build an antenna, with wire and other common, easy to find materials so they can get their signal out.
Amateur radio can operate from any 12 volt battery (Got a spare vehicle that runs? They can use that vehicle to charge the battery and can connect their equipment to that vehicle's battery and run as long as there is fuel available to run the vehicle and keep the battery charged) Amateur radio operators are innovative and flexible and they can communicate for hours, if not days, getting the signal out for you and your team.
Amateur radio operators are self-contained and can deploy their own vehicles or their group's communication vehicles when requested by a local DEM or law enforcement or government agency. Amateur radio operators in the field can be supported by radio operators at their homes, in an EOC, or even miles away from your "crisis" location. Amateur radio operators are flexible, innovative and solve communications problems through their knowledge of their equipment and their experience.
Amateur radio operators affiliated with ARES or other groups have undergone a clearance process with their local law enforcement and emergency management agency, have ICS training from FEMA, have first responder training, understand the incident command structure and are your communicators when on site during your emergency. They log their communications, create clear and concise messages, transmit those messages and make those messages available to your organizational structure.
Amateur radio operators understand they are not your PIO. They do not talk to the media or the general public. They understand the importance of maintaining radio silence and communicating only when necessary and they know they work for you not the other way around.
Amateur radio operators are amateurs only by definition, and because the FCC licenses them on the amateur radio frequencies. But, amateur radio operators can operate on your frequencies when authorized and, in fact, many of them have purchased and programmed commercial radios with your frequencies on them just in case they are needed by you. They are your communications link when everything else has failed.
Amateur radio operators plan for failure, drill for success and are ready to be called out when needed.
So, is there still a valid need for amateur radio in your crisis? Yes, if your power is out, your radios don't work, you are disconnected from the internet, your cell phones don't work and/or your SMS is failing and you need a team of "professionals" who can help you communicate to your teams…..
See an FCC article here on the use of amateur radio in emergency management.
Connect with your local amateur radio operators, look for ARES (Amateur Radio Emergency Service) and go to one of their meetings, ask to see their capabilities, look at their equipment bays and their radio rooms and present them with a scenario. They will rise to the challenge and surprise you.
By
Mark Challender
NG2G, Whatcom County, WA ARES
8 comments
June 12, 2013
New technologies are emerging every day--most of those in that supercomputer you carry in your pocket or purse. They're designed to solve every day little problems or just facilitate how we maneuver through our every day lives. But, as this blog post from Patrick Meir points out, these every day tools get a major workout in disasters. And as such, they become part of the entire disaster management effort.
Waze is one great example. My tech-savvy son-in-law just shared it with me as navigating around our recently collapsed I-5 bridge over the Skagit River is a bit of a challenge these days. Waze is simply brilliant. Download the app and then drive with the waze app open. It uses your geolocation capability along with all other wazers in your area to give you realtime traffic information. It will alert you when an alternative route would be better and it allows you to make handsfree reports in addition to the fully automatic reporting that goes on simply by driving. In other words, Waze provides realtime information on traffic by sharing what is happening with everyone using Waze.
It's pretty easy to see how this can be invaluable in an emergency requiring evacuation or simply avoiding the area.
Uber is another example, although as Meir points out, they didn't adapt to the needs of Hurricane Sandy other than to raise their fees. Uber makes it very easy using an app to order up a towncar with driver to take you anywhere. If you use this service in every day life, it make sense when you need a ride to get the heck out of town, its where you are going to turn.
Two points I want to make here:
- technology is evolving and changing so rapidly it makes the heads of old guys like me spin like a weathervane in an Iowa tornado
- these kinds of every day technologies are what people are going to turn to and use in a disaster to help them avoid danger, get information and share information. Google Peoplefinder may be the ultimate example. If we use Google every day to find just about any little bit of information we may need or want, why wouldn't we turn to Google to find the people most dear to us?
The implications for emergency management are pretty obvious. If these are the tools people are using to respond to an emergency, they become part of the emergency management system. And emergency managers should become familiar with every element of emergency management. Learn what people are doing and how they are doing it. Because emergency management is providing for the public what the public can't provide for themselves--and what they are providing for themselves and in community through their interconnections is ever increasing.
2 comments
May 31, 2013
Marcus Deyerin is doing us all a big favor by honestly sharing valuable lessons learned from his experience as initial PIO for the I-5 bridge collapse in Skagit County, Washington State. His third post on Jim Garrow's blog moves from the initial stages into the next stage where he began dealing with the media crowd.
I have some questions for Marcus and thought it might be good to address them here and hopefully have Marcus answer them here or in Jim's blog. One thing that struck me early on is that Marcus was out there by himself and could have really benefited from some help, particularly experienced help. That's where a good crisis communication plan and some training really helps because if you know what you are doing (Marcus clearly does) and you are lone rangering it, you don't really need a plan. But when the focus of the world is suddenly on your event, the crush of media, social media, monitoring, info gathering, dark sites and all that starts descending on you, you really can't go it alone. So, my first question is: Marcus, did you get any help? Did you try to? Would you have been able to organize and manage a team while meeting the demands, or do you think having some help would have resulted in less efficiency? Do see a VOST (Volunteer Operation Support Team) being any help here?
My second question is a fundamental one for today's communicators, particularly given the reality that Marcus faced when he tried to take on the media crush by himself. He reports that at 8:38pm (bridge collapsed at about 7 pm) his phone number was tweeted out by a State Patrol PIO (hmm, did he ask you first? And, is there a reason you didn't tweet it out? I would think so.) The first media calls came two minutes later and Marcus reports at that point he became inundated talking to the media.
As a highly interested news consumer eagerly watching Marcus' tweets, I noticed this without knowing the reason. The flow of information essentially stopped, switching from Marcus to the media. However, prior to this the media were getting a great flow of information from Marcus. So, here's my question: when you are lone rangering it and you have a choice of continuous tweets vs. answering individual media calls, what should you do?
I was PIO for an industrial facility owned by a global giant quite a number of years ago. Since I was pioneering and advocating for a strong online presence, as the initial PIO in a major drill, I focused on getting all the information on the website. I delayed responding to some media calls in favor of getting this information out believing that by doing so I was serving the most number of media and non-media stakeholders as well. I was called on the carpet quite severely for this being told in no uncertain terms that the media come first, even if it is a local radio station. The facility management even chided me because it was the headquarters types who were beating me up over this. I humbly acquiesced (never easy for me) but I always thought they were wrong. I believe that even more so about ten years later.
My thought (and I'm throwing this open for question) is that it would have been better for Marcus to tweet something like: To media--I can serve you best by continuing to provide updated tweets. Pls understand I can't respond to interview requests at the moment. And then keep tweeting.
That way, all in the media from Cairo to Chicago to Mount Vernon would have access to the same and the best info, plus even me watching twitter in California.
Marcus--and the rest of you PIO types--what do you think?
3 comments
May 29, 2013
I posted last week about the bridge collapse taking both lanes of Interstate 5 down between Seattle and Vancouver BC. In that I talked about Marcus Deyerin who provided the best information via Twitter, information the news media were relying on for their reports. I know Marcus (I live about five miles from the former bridge, Marcus about 25 miles) and knew he served as a PIO for regional incident management, but he had to drive in backed up traffic or be in some position to know what was going on. And I couldn't tell from his tweets if he was acting as a citizen with unusual access to rescue information or if his tweets were official communications.
Well, Marcus is sharing some of his personal experiences serving as the PIO of this incident on Jim Garrow's terrific blog. In his post I find out that if I had followed his tweets back to the beginning I would have found out that he was indeed operating in the official PIO capacity--but using his personal Twitter account. In this account I find out why--although I hope to hear more.
I also found out how Marcus happened to become the PIO for this incident. He was right nearby and like a good responder checked in to see if he could help. The fact that he knew the incident commander, had worked with him before as part of the regional incident team is extremely important. This is why we form these teams, we we drill, we why get together and get to know each other. I suspect the IC was quite happy to see a familiar face and one he knew he could trust to do the PIO job.
As one of the first responders to this scene commented on my previous post, the fact that there were no fatalities, not even any serious injuries, suggests in his words "the Good Lord watches over Skagit Valley." As a Skagit Valley resident, I have every reason to agree. As for Marcus being there when needed, just a coincidence? Maybe not.
UPDATE: Here is Marcus' second post about his experience as PIO on Jim Garrow's blog. The lessons learned here are invaluable!
Seeing the very high value of having a communicator like Marcus share these kinds of honest reflections and lessons learned, I would strongly urge other Crisis Comm readers who find themselves on the hot seat like Marcus did to use this blog to share their experiences. No better way of learning than listening carefully to those who have just been through what you are preparing for!
Leave a comment
May 28, 2013
Patrice Cloutier has been getting more PIO experience recently than anyone deserves. While US news doesn't cover Canada all that well there have been a number of things going on in Ontario and other parts of our northern neighbor and Patrice has been quite busy. If you don't subscribe to his blog crisis comms command post you may after reading this latest post about the role of the PIO and the need for close coordination among PIOs in multi-agency response.
Leave a comment
May 24, 2013
There's nothing like an event hitting close to home to help you understand the critical importance of good emergency communication. The I-5 bridge collapse last night over the Skagit River in northwest Washington is a great example. This bridge, which is the main transportation link between Seattle and Vancouver, BC is also just five or six miles from my home. I happen to be in California, but my daughter and her family were traveling from Seattle to our home in rural Skagit County yesterday evening, so the news had some real intensity.
My wife got a text from her sister who lives in the area (lesson 1: that's how news is spread these days--from those who know (usually via social media or digital comms in some way) to those who don't. The story was so unbelievable (how could an Interstate bridge carrying 71,000 cars a day just fall into a river?) that I reached for my tablet and googled Skagit bridge. Sure enough, first reports were 23 minutes old.
Then, thoughts turned to our family. I called my daughter and son-in-law who were either enroute or already at our house. No answer. Voice mail. Now I admit I started to freak. One of my sons called from Seattle and I practically yelled, is Ashley OK? He didn't know. My wife was texting them, and shortly after I got off the phone with my son he sent a text saying she's OK. Relief. I was glad that we were able to use text and cellphone and wondered while trying if they would stay up as cell traffic in the region would be no doubt spiking. Sure enough, later authorities requesting people stop using cell phones to keep the system available for necessary communications. (Lesson 2: people finding (and pet finding) is one of the most urgent needs in an emergency and the primary means of doing this will likely not be available. Have a plan to use the Internet with your family, and in major events, Google's People Finder service will be invaluable.)
I continued to watch the news stories emerge on my tablet, but I wanted live from the scene coverage. If I was home, it would be available on all three Seattle TV stations, but I was in California. I flipped through CNN, MSNBC, Fox--nothing. Their political coverage of Obama's speech and the continuing controversies really torked me--don't they know what is important?? It was probably nearly two hours later that Fox started to show a headline crawl with news about the collapse that was well over an hour old. I commented to my wife that too much of that kind of slow (therefore inaccurate) coverage and I would never trust such a channel again--and this is why news has to move so fast today.
I noticed on the news stories from KING5 in Seattle that they had an app--so I downloaded it on my tablet. And by golly, I was able to watch their non-stop from the scene news coverage for the next few hours. (Kudos to KING5 particularly Dennis Bounds and Lori Matsukawa for doing a great job and particularly for them getting the scoop on the cause of the bridge collapse with the on-air interview of eye witness Dale Ogden who saw the truck hit the bridge in his rearview mirror.)
But, I also kept watching Twitter. The KING5 reporters were keeping an eye on Twitter as well which they repeatedly acknowledged calling it the "twittersphere." The best info was coming from Marcus Deyerin who providing information about the three people in the river and the status of their rescue. I've had the privilege of talking to Marcus a few times and knew he was a PIO for the emergency response organizations in the area, but he was tweeting on his @Mdeyerin twitter account. So I didn't know if he was operating in an official capacity or not. It wasn't too long in watching his tweets that I determined he had to be because he was clearly in a great position to get the latest information from officials.
Lessons 3 and 4: once again, Twitter proved to be the fastest and best source of information when provided by an official source. but, Lesson 4--it would have been considerably better if the twitter account used was from an official agency-- or else I would recommend to Marcus that he occasionally tweet that though using a personal account he was operating in an official capacity. He may have done that and I didn't see it, but I didn't see it and therefore it didn't happen. It was once again fascinating to watch KING5 using Marcus' tweets and report them to their news audience--but I never did hear them mention Marcus directly or state that the information they were getting was from an Incident Command center, the Sheriff's department or any other official sources. In fact, as I think about it, the fact that there was no one representing the Sheriff's department providing information during this event seems to be a large gap. Marcus was likely representing them, but that was not clear.
I do have one brickbat to throw and that is at KOMO News. Seattle has three highly competitive TV news channels: KING, KIRO and KOMO. An event like this is where competition is really intense. I saw several tweets from KOMO that said "Cars, bodies in water in Skagit bridge collapse" or something like that. Bodies? Are you sure? I never saw any tweets or anyone else reporting on bodies. Lots of info and pictures of the people sitting on the roofs of their cars. Bodies? I went to their website to see the evidence for this rather chilling and attention getting headline. The story on their website said "Cars, People in the water in bridge collapse." Well, yes, that was true and that was what everyone was covering. I don't know who was doing their tweets but using the term "bodies" vs. "people" was a very serious lapse in journalistic judgment. If this was done to compete for audience, double shame. If it happened because tweeting was assigned to a more junior journalist (from the digital native generation) then some retraining has to take place. At any rate, my respect for KOMO (which was pretty high) took a pretty deep dive as a result of this mistake.
6 comments
May 20, 2013
In a previous post on making suggestions for updating NIMS, I suggested that social media monitoring should go into the ICS structure rather than be considered a part of the JIC or PIO responsibilities. This prompted some thoughtful responses from readers of this blog--I encourage you to read them at the bottom of that post.
I wanted to respond in particular to the comments of Ed McDonough who raises some very important objections to my suggestion. Here is the crux of his concerns:
If we move social media monitoring to planning, then should we also move tradition media monitoring to plans? How about the monitoring of public query lines? Furthermore, what sense would it make to move the monitoring of social media away from the same group of people that are pushing out the social media messaging?
My initial response to those questions was, of course not. We wouldn't move traditional media monitoring to Planning, nor inquiry management. Very clearly the JIC and PIO need to be monitoring social media for communication purposes. So my suggestion of putting it in Planning either creates a duplication of effort--monitoring in Planning and the JIC--or it takes the valuable information gained one step away from either of these functions. Neither one is a good solution.
I am dealing with this issue right now in a couple of situations where the planning process is including where this kind of monitoring should go. I have advocated it to be included as part of the ICS structure for these reasons:
1. Communications has traditionally been quite clearly separated from planning and Command. The operational types tend to think they do all the planning and the response work and the communications job is to keep the media out of their way and give the media and the world the facts--minimal is best.
2. Social media monitoring--and indeed media and items emerging from public or media inquiries--are increasingly essential to response decision-making. Let me put it another way: response leaders will most likely fail in their job of making best decisions if they do not take into account the information available from outside the response. It's not just about communications--it's about operational decisions. In this, I know Ed agrees with me.
So at heart my problem is that the traditionally-minded operational types will not the info they get from social media seriously if it comes to them through the PIO. That is a general statement because ultimately it depends on the relationship the PIO and other comms leaders have with the operational types including Command. It also depends on the experience of those in charge. But, in general, that's where the problem lies.
I think this problem is significant enough (would love to hear from you!) that it cannot be solved by simply saying, "Well, they'll just have to learn." It seems much quicker to get to where we need to get to if the info comes to Command via Planning. So, Ed, I have a suggested compromise.
1. I do believe that a new officer position in ICS needs to be created: Intelligence Officer.
2. Assuming that doesn't happen, the Sit Stat unit will continue to serve as the primary information gathering function for the response and Planning the means by which Command gets operational information on which to make planning decisions.
3. A PIO/JIC team member needs to sit in the Sit Stat or Planning unit. The plans I developed always had that but they were there to gather info for the PIO and JIC. Now, they need to have two duties: to provide that important operational information coming from the full monitoring operation, and to gather response and event information.
4. Technology which allows for information sharing between the units is a key part of making this work.
So, I buy Ed's arguments and believe that the external world monitoring functions (media, social media, public and media queries, community meetings, etc.) belongs in the JIC and with the PIO. But that the valuable information gathered that affects operations needs a very fast, very easy, very obstacle free pathway from the JIC to Command--most likely through Planning.
It occurs to me (and based on a conversation with my good friend and colleague Patrice Cloutier this morning) that one critical element of making this work is the analytics and reporting of monitoring content. In other words, if you don't have the people who can separate the signal from the noise in a way that Command can act on, it won't work no matter how much good social media monitoring you do. Technology is part of this, but it takes good, in-depth response management experience, a good sense for the personality and priorities of Command, great judgment is separating the wheat from the chaff, and a very strong ability in synthesizing a lot of data into actionable intelligence and recommendations. That's asking a lot. I'm afraid the emerging practice is to find a young person in the office, give them a tablet and tell them, hey, you know all this social media stuff, you do our monitoring for us. Not so sure about that.
What do you think, Ed?
18 comments
May 17, 2013
This has to be one of the most frightening and troubling thoughts for many in emergency management. I was shocked to see this report that says now about 20% of survivors of a disaster use social media to contact responders--and 44% of those contact use a responder's Facebook page to contact.
That is only one surprising statistic in this infographic summarizing disasters and how people use social media in disasters. It might not be a bad idea to print this very visual and informative guide and post it up on a lunch room wall. If nothing else, it will serve as a reminder of how much the world of emergency management is changing.
The gut reaction of many will be to say, well, they just can't do that. We can't be monitoring all those channels. There is no assurance that we will respond. Indeed, I believe it is best practice on any agency or personal responder Twitter page or Facebook page to let visitors know that contact through this channel will not guarantee response and that 911 should be used for any emergency.
But, it's one thing to say they can't do it, its another thing to stop the incoming tide. The fact is, people using social media and text messages, and relaying messages to others to summon help, is now part of our emergency management reality. Certainly one of the easiest ways to incorporate this use is to enable easy texting for help and that is exactly what the FCC is doing by enabling text to 911. Much better to do this than to have every agency establish their own text shortcode.
I remember the story of a couple of years ago of a 10 year old girl in Australia falling into an abandoned well. Fortunately she had her cellphone with her. Did she call 000, the Australian equivalent of 911? No, never occurred to her apparently. The phone she carried was used to communicate with her friends through text and Facebook. So that's what she did and one of them called 000. When we start understanding that for a great many in our communities, the device they carry with them is a texting and social media interaction tool, it will become more acceptable that they will use these methods of reaching out and asking for help. Besides, what's the chance of cellphone and landline service being available in many major disasters?
2 comments
Latest Emergency Management News
Most Popular

Most Commented