May 17, 2013
This has to be one of the most frightening and troubling thoughts for many in emergency management. I was shocked to see this report that says now about 20% of survivors of a disaster use social media to contact responders--and 44% of those contact use a responder's Facebook page to contact.
That is only one surprising statistic in this infographic summarizing disasters and how people use social media in disasters. It might not be a bad idea to print this very visual and informative guide and post it up on a lunch room wall. If nothing else, it will serve as a reminder of how much the world of emergency management is changing.
The gut reaction of many will be to say, well, they just can't do that. We can't be monitoring all those channels. There is no assurance that we will respond. Indeed, I believe it is best practice on any agency or personal responder Twitter page or Facebook page to let visitors know that contact through this channel will not guarantee response and that 911 should be used for any emergency.
But, it's one thing to say they can't do it, its another thing to stop the incoming tide. The fact is, people using social media and text messages, and relaying messages to others to summon help, is now part of our emergency management reality. Certainly one of the easiest ways to incorporate this use is to enable easy texting for help and that is exactly what the FCC is doing by enabling text to 911. Much better to do this than to have every agency establish their own text shortcode.
I remember the story of a couple of years ago of a 10 year old girl in Australia falling into an abandoned well. Fortunately she had her cellphone with her. Did she call 000, the Australian equivalent of 911? No, never occurred to her apparently. The phone she carried was used to communicate with her friends through text and Facebook. So that's what she did and one of them called 000. When we start understanding that for a great many in our communities, the device they carry with them is a texting and social media interaction tool, it will become more acceptable that they will use these methods of reaching out and asking for help. Besides, what's the chance of cellphone and landline service being available in many major disasters?
2 comments
May 07, 2013
I just finished giving the keynote presentation at the EMI SIG conference (Dept of Energy's Emergency Management Issues Special Interest Group. The theme was "Harnessing the Winds of Change" and that is certainly appropriate in emergency management and communications. I focused on the Boston bomber manhunt, particularly the use of Internet-distributed police scanner information, what I've called nano-news. The world of news, social media, emergency communication and emergency management is certainly changing.
Governments often seem the last to recognize and deal with change. I've fretted over the 1990s era version of the Joint Information Center Model for some time, adapting it (it's basically the best thing out there for crisis communication structure) in my OnePage Crisis Communication Playbook. Now the 2009 version has been thoroughly updated and there are many reasons to cheer this update. I plan on doing a more thorough evaluation and post on the numerous significant updates to this fundamentally sound model, but will defer to my friend Jim Garrow's post on it where he focuses on two of the big changes: social media integration and how the JIC relates to ESF15.
Given the increased speed of updates, I suspect the National Response Team would welcome input for the next version of the JIC Model. However, FEMA is positively soliciting input on a revision or update of NIMS. This is great news for those concerned about how the venerable ICS is holding up to all the changes in the world of emergency management. The biggest change is captured in Bill Boyd's blog title: It's Not My Emergency." NIMS/ICS is appropriately a command and control model designed to enable a diverse and ad hoc team to manage a response through "unity of command." But in a "not my emergency" world, with important and valuable response partners who are operating on their own, autonomously, without training, without guidance, without coordination--how do you effect unit of command now?
Leaving aside that big question, I suspect anyone who has had experience in events under NIMS/ICS has ideas about how to improve it. FEMA is soliciting comments here and you may want to forward this link to others interested as I'm not impressed with how FEMA is getting the word out on this. I am impressed with the technology they are using to submit ideas and allow others to vote and comment on the ideas submitted. What's a little challenging is fitting the ideas or recommendations you want to provide into the categories or buckets they have offered.
I plan on throwing a few in myself. My concerns are:
1) Incorporating social media monitoring into the ICS structure--not through the PIO where it often lands now, but either in the Planning Section or maybe in an "Intelligence Officer" role to provide direct and continuing actionable intelligence to Command. c
2) Consolidating the Liaison Officer and Public Information Officer roles into a single Communication Officer role. The LNO role has been confusing and those serving in this are often ill-prepared to deal with the pressing demands of keeping government officials and other response partners fully engaged. We don't live in an era of media relations any more, but of an all encompassing communication world in which multiple very important audiences need access to fast, accurate information. Separating these roles creates unnecessary silos, complications and slows communication rather than speeding it.
3) Ending the confusion between ESF#15 (External Affairs) and the Joint Information Center. ESF#15 is a politically motivated structure designed to enable the elected officials to "control the message." The JIC is controlled by Command and is focused on getting information out about the event and the response. There are times when political messaging is needed and elected officials need to be front and center to build public trust. But it should never, ever supersede or eliminate the process of getting good response information out. The JIC should always be there to coordinate multiple-agency or response partner communications and to give the message: we are working together to fix this. If the politicians want to put their messages on top of that, have at, just don't kill the JIC in the meantime.
4) Recognizing in some official way the role of citizen responders. Perhaps through the optional incorporation of VOSTs into the ICS structure, or perhaps by creating a volunteer responder liaison function (probably in operations). The role of citizens should be now incorporated into response planning--and that would be aided by having an official citizen monitoring function in Planning of with the Intelligence Officer mentioned above. Not sure how to do this, but better minds can figure that out. We just can't bury our heads in the sand anymore pretending that "it's still our emergency."
5 comments
April 23, 2013
The events in Boston and West, Texas have generated a deluge of focus once more on how communication happens in major events. I've resisted jumping into this, wanting some time for the dust to settle and be able to take a step back. What I see now is very disturbing as I think we are moving in a new phase of information sharing.
Twitter was the gold standard of information sharing--you can't get faster than Tweets from the scene, or so I thought. What could be faster than real time from observers or from official sources? I noted how effective Boston Police Department was in using Twitter--it was THE source for me and many thousands of others--including all major news outlets. In fact, for much of the event, the bulk of media reporting was repeating what BPD's twitter account said. CNN posted images of their tweets when the suspect was captured, and the print headlines directly quoted the tweet.
What could be faster? Police scanners. Through police scanners, apps for getting scanner info on smartphones like 5-0 Radio, services like Broadcastify, and the website Reddit, thousands were following the drama from Watertown as it happened. Below is a screen capture of a Reddit stream with a Redditor providing moment by moment updates from the Boston Police scanner. Through this, those reading this stream would know almost instantly afterwards that the subject hidden in the boat was still alive and that his arms were moving.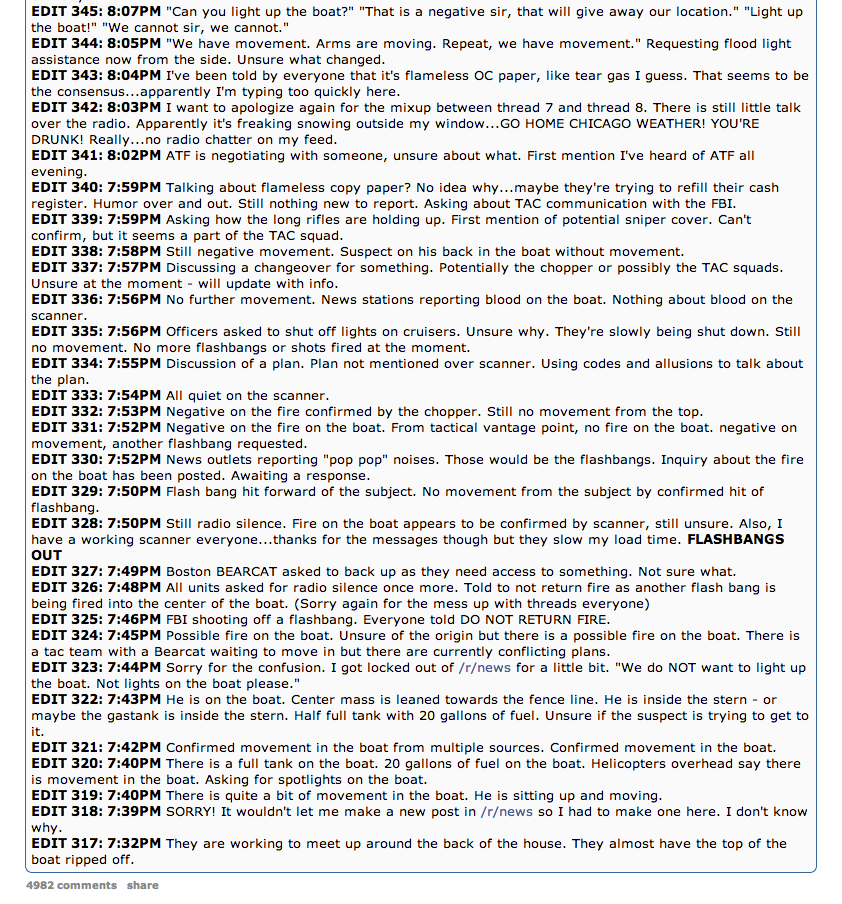 It is true, that in response to desperate pleas from Boston Police to not share information from scanners because of it compromising tactical operations and police and public safety, Broadcastify complied and stop the feed to the apps that it feeds. But, that's a little like the Colorado sheriff asking TV stations not to show videos of burning houses. It's nice that Broadcastify complied, but there are so many ways and so many people who would not be willing to comply.
A question is raised here about encryption of law enforcement radios and I admit, this has caused me to rethink radical transparency in law enforcement. However, then it becomes a technology game like police radars and the radar detectors that law breakers love.
But, I'm not here to talk about law enforcement and this challenge (I smell legislation coming).
What I am interested in and concerned about is the increasingly important problem of rumors and misinformation.
Much has been made already of the incredible errors of major news outlets such as CNN and New York Post. Most egregious was the false report that the authorities had a suspect in custody when they did not. I got word of that through my AP mobile app--I never saw focus on AP or an apology for getting that important item so wrong. Nieman Lab has an excellent summary of the many posts and reflections on this phenomenon of major news mistakes, mainly because of reliance on social media (although the big error of reporting the arrest that didn't happen was from a traditional anonymous law enforcement source.
Police scanner to app to social network craziness created at least one major human disaster. A police radio communication included the name of a person possibly considered a suspect. It was a young high school student. That name was quickly spread through the Internet through Reddit and through a prominent women's rights Facebook page. These sources apologized, but interestingly, the women's rights Facebook page author said "I'm NOT a journalist and only relaying information from the [Boston Police scanner] and other news sources."
I'm sorry, that doesn't cut it. You may not be a journalist, but you are a media outlet. You have 320,000 followers on your Facebook page, that's more subscribers than most daily newspapers and more viewers than most local news channels. You can't dodge your responsibility. You have an audience--that means you have a responsibility. Relaying information is what the media have done all their existence. You, like others who share knowledge and information, have a moral responsibility to get it right.
OK, enough sermonizing.
What are we to make of this? We can conclude that the faster information emerges from and about an event the more likely it is to be wrong. We can also conclude that the media, despite their drubbing, will not slow down but no doubt have already downloaded those police scanner apps themselves. We can also conclude that despite the efforts of many using social media to warn against spreading rumors or sharing potentially devastating information without verification, this will continue. Our need for speed of information is simply too great to have these problems stop us.
These problems would seem insurmountable if Boston Police Department had not provided a powerful answer. Not only did they perform exceptionally well to the applause of the nation, they communicated exceptionally well.
This statement from a summary of their job well done from mashable speaks volumes:
Boston PD entered the conversation immediately because they knew chatter about the investigation would happen with or without them.
Commissioner Davis and Public Information Chief Cheryl Fiandaca, who headed up Boston PD's social media efforts, accomplished what no police department has done before: led conversation with citizens in a time of crisis.
I return to the point made earlier: BPD's Twitter feed was THE source for solid information about the event. When the stories of an arrest circulated, they tweeted that the suspect was still being sought. They were warm and human, reminding all in the celebration after the arrest not to forget the victims and shared their names again. They expressed the reality of their emotion with the now famous tweet: CAPTURED!!
My congratulations to all those involved and my deepest thanks for proving a model for all others in emergency communication to follow. What is so desperately needed in a time of news happening as events happen is a calm, human, reassuring, fast but completely accurate voice. BPD did that in the best available vehicle. The alternative is to let all the other voices, strident, angry, confused and very wrong control the conversation. To allow the nay-sayers who yet resist this kind of immediate engagement to rule the day is to let the bad guys win. And no law enforcement officer wants to be accused of that.
3 comments
April 18, 2013
Here's a great essay (written before the Boston bombings) by leading journalists from Canada, including Peter Mansbridge whom I consider the Walter Cronkite of Canadian broadcast journalism. In it Mansbridge and Bulgutch decry the slide into immediacy and the consequent loss of accuracy and therefore, trust.
The problem is that the horse has left the stable on this one. For news outlets looking to attract audiences (and which one isn't?) the game is all about immediacy. If you are not first with the news, you are providing commentary about it--not reporting the event. And those looking for the latest will go elsewhere. That's the simple reality of today's news coverage.
In this "instant news" world, there is no time for traditional fact checking. The examples of major news outlets getting it seriously wrong just keep increasing. Yesterday it was the news of an arrest in the Boston bombing. My AP mobile alert said that someone was arrested and this was followed by reporting on the tradition "get it first" networks like CNN and Fox. But, it was wrong. Hours later my AP Mobile alert went off again saying federal officials denied having anyone in custody. And then they go on as if nothing has happened. Yesterday, heads would have rolled over this.
But the article misses an even bigger point. As fast as the major news outlets are, they cannot be fast enough. He talks about getting the scoop, using UPI's scooping President Kennedy's assassination as a prime example. Scoops rarely happen with traditional journalism these days. Citizen journalists are outscooping the professionals every day, every hour. He's right in quoting the 1957 book Deadline Every Minute. Today it is deadline every second, it is headline every second and it is happening primarily on social media.
Tuesday night I was having dinner with some friends and did a little informal research. I asked them: how did you find out about the Boston bombings. One in the real estate business said he was in his office and his son who works with him told him. I asked what he did next. He said he turned to his computer, did a Google search using Boston Marathon as the search term. He immediately had accessed to videos and websites carrying information about the event--information being provided almost exclusively from the eyewitnesses at the scene.
My other friend said he heard it discussed in his office, and since it was about noon on the Pacific coast, he went home for lunch and watched TV. How traditional I thought. Even then, the information being "reported" by the likes of Anderson Cooper on CNN were largely reports from citizen journalists at the scene.
I asked if either of them checked Twitter (I asked because that is what I did and what I typically do when a major event is happening). Neither have a Twitter account, but thinking after our conversation they might get one, not to tweet, but to be able to access real time information sharing.
Today, we all want to know what is happening right now. The traditional news outlets understand that and are trying desperately to respond. They know the best sources for events like that are the people standing on the street next to where things are happening. They know getting a reporter at that spot is going to take take time. They know that much of what is shared is wrong, but their job is to report what is being said, not necessarily to fact check everything. They also know that increasingly the news hungry are not waiting for them to do the reporting, but going directly to those same on-the-scene citizen reporters they are using for their reporting.
The implications for emergency communications are massive--yet I see continuing evidence of a slowness and reluctance to adjust. The emphasis for most public communicators is getting that "news release" or "press release" out to the media. Come on. By the time you get that done, you are 17,000 tweets and three new emerging rumors behind.
I mentioned I went on twitter using some searches to find good sources for continuing information. I found that the best source was the Boston Police Department. Their twitter feed @Boston_Police was what I settled on as my news channel. Who needs CNN, NYT or Fox? They were the source, I found trustworthy information, and they were providing the kind of continuous feed I was looking for. They were being the broadcaster and as a news consumer I was and am grateful.
What about you?
UPDATE
This review of major media mistakes (focusing on CNN which is rapidly losing any remaining credibility) in their haste to be first was published by Ragan's PR Daily after I did the above post.
1 comment
April 11, 2013
Two online stories came to my attention today about the dangers of crying wolf. It reminded me of a conference presentation I saw a few years ago when a federal official bragged about issuing public warnings to evacuate in a way that got attention and cut through the clutter. The messages said: "If you don't evacuate, you will die." Actually, fifty some who didn't heed this warning did in that event. But hundreds of others didn't.
It's a conundrum for communicators and emergency managers: how do you communicate the dangers so that a jaded public will actually listen.
Jim Garrow writes on the Face of the Matter that the conviction in Italy of scientists who failed to predict an earthquake is going to have serious consequences for public warnings. As a spokesperson for one of the convicted scientists said:
"If the risk is between zero and 40%, today they'll tell us it's 40, even if they think it's closer to zero. They're protecting themselves, which is perfectly understandable."
Talk about unintended consequences! But this was so easy to see coming. What the stupid courts are saying is cover your behinds with the most outrageous predictions (no consequences for that) or you could go to jail. And that of course means that no one is going to pay any attention.
Then today I also saw this story from Colorado where weather forecasters were predicting a "snowmageddon." A HUGE snowstorm was coming, they said. And, yes, they did get some snow, but isn't that normal in Colorado? One weatherman even came close to apologizing. Reminded me of a former TV reporter telling me that of course they hyped the weather because the producer had a ratings meter in his office and when they put one of their guys in a heavy raincoat in front of some flags that were blowing a bit and talked about the horrible storm heading our way, the ratings meters jumped.
But, of course, there is a problem with this. This desperate search for ratings means no one believes them anymore. Trust in news is down into the 20 percentile. That means smaller audiences, that means more desperate measures, that means lower trust...
Emergency managers need to take this crying wolf phenomenon to heart. Be careful about proclaiming pandemics and ordering mass evacuations. Yes, people have to be warned. But people can handle the fact that you don't know how bad it will be. Just like the boy who cried wolf, somebody should have told him that he should only do that when the wolf was actually there. Otherwise, keep his mouth shut.
4 comments
April 09, 2013
Dr. Patrick Meier is a leader in the application of technology to emergency management and communications. As his blogpost on Geofeedia indicates, he was influential in having the developers of the social media search tool make some changes to make it even more useful to emergency managers.
While I haven't had any experience with Geofeedia myself, I've heard the likes of Bill Boyd and Patrice Cloutier sing its praises, so I know it has to be good.
Those of you looking for a comprehensive solution that allows you to focus in on geographic areas and find out what the social media conversation is all about will definitely want to check this out.
Leave a comment
April 03, 2013
The status of the Joint Information Center as a means of coordinating emergency public information has been uncertain ever since May, 2010. That's when the White House threw out 20 years of rules, regulations, plans and training in the Gulf oil spill, throwing BP the responsible party out of the JIC and instituting ESF 15, the construct of the National Response Plan, in its place. The idea of a company or Responsible Party (RP), playing any sort of meaningful role in public communication about a major event such as an oil spill seemed destroyed.
This was confirmed by the actions of the EPA in the July, 2010 Enbridge Michigan spill, where the EPA included every agency participating in its list of Unified Command participants, except Enbridge who was actually serving as the Incident Commander. The EPA then directed the government communications without any involvement of Enbridge. Similarly, the ExxonMobil Yellowstone River spill in 2011 followed the same independent pattern, with the new development of the State of Montana very visibly removing themselves from Unified Command and the Joint Information Center.
The issue since then has been, where do we go from here? Because I work with oil companies, utilities and others organizations, plus local, regional and federal government agencies in preparing plans for coordinating public information, the issue is of great interest to me. I think it would be for most in government communications. That's why what is happening in Mayflower, Arkansas is so fascinating right now.
Brief background: On March 29, the Pegasus pipeline owned by ExxonMobil broke spilling at least a few thousand barrels of crude oil. ExxonMobil issued an initial press release on Friday from the company. In this release they said they were working with the Arkansas Department of Emergency Management and that EPA (the lead responsible federal agency) had been notified. So far, so good.
As expected a Unified Command was established and on March 31 the release the members of Unified Command were identified:
Unified Command, which includes the EPA, 
Arkansas Department of Environmental Quality, Arkansas Department of Health, Faulkner 
County and ExxonMobil Pipeline Company. 
At that time, the logos on the release showed ExxonMobil (first and most prominent), Faulkner County and the City of Mayflower. The release comes from "Mayflower Incident Unified Command." Those of you familiar with JIC operations, particularly under Oil Pollution Act of 1990 and the National Contingency Plan would start to see this as very, very strange. For these reasons:
- The Responsible Party does not usually take such a prominent and high profile position in the JIC and its releases. Further, I was told by a Reuters reporter who talked to the JIC that the phone number was Exxon's and it was staffed by ExxonMobil. That's not normal.
- There is prominent, complete and very good information about the spill including the JIC-issued releases, but ONLY on the ExxonMobil website. Very strange. Try as I might, I cannot find any references to the spill on any EPA website. There is no information on the Arkansas Emergency Management website, and the Arkansas Depart of Environmental Quality has a brief reference directing visitors to the JIC.
- Despite the fact that EPA and state agencies are identified as part of the Unified Command, they are not identified as part of the JIC.
What the heck is going on here?
The question I got from Reuters was "Is it normal for a Responsible Party to run and control the JIC?" Well, no, it is not. And I don't think it is a positive that it sends that message. So here are some questions I hope someone involved can answer:
- Is ExxonMobil really in control of the JIC to the degree it appears? If so, why?
- If not, why is ExxonMobil communicating that it is, and more importantly, why are the Unified Command members not objecting?
- Where is the EPA? This is a big issue given its relationship to Keystone (crude oil --tar sands no less) Why are they not communicating? If they are part of the JIC, why in drastic comparison to Yellowstone and Michigan, are they allowing Exxon to run the show or allowing them such profile?
- Where are the state agencies? Why are they contributing to the impression that Exxon is in complete control? Is that good for them, or for Exxon?
- Since Faulkner and City of Mayflower are deferring communication about the event to the JIC, why are they allowing the impression of an Exxon controlled event?
In post-Gulf spill discussions with those at the federal level involved with planning and implementing federal communication response, it was made clear to me that any event that rose to national prominence would likely involve use of ESF 15--a response structure and strategy that places the White House in firm control of communications. In lesser events, the traditional JIC structure and strategy, including control of communications by Unified Command would prevail. However, the Mayflower incident follows neither previous patterns. The Responsible Party is either in full control, or allowed to communicate that it is in full control by Unified Command. And that is very, very strange.
The issue for government and company communicators, particularly oil company communicators, is that this further confuses essential planning. Who knows now what to expect? What seems certain, as has been the rule since the Gulf Spill, every agency and every company better be prepared to assume the entire burden of communication and expect that other responding agencies, while cooperating fully in Unified Command, may at the same time working as hard as possible to throw you under the bus. There is no under the bus throwing going on here (thank God), but there are many questions about the actual level of collaboration and cooperation in communicating with the public.
7 comments
March 27, 2013
I would nominate Mayor Guiliani's response shortly after the 9/11 terror attacks as one of the greatest crisis communication examples ever. A single message did much to establish him as a strong, caring leader in a time of crisis and nearly propelled him into the White House. When asked shortly after the towers came down how many casualties he thought there were going to be, he responded:
The number of casualties will be more than any of us can bear ultimately. And I don't think we want to speculate on the number of casualties. The effort now has to be to save as many people as possible. (from wikiquotes).
It avoided speculation (one of the first rules), it showed compassion and empathy, and it reinforced the key message of focusing on saving people. If it was instinctive it would be a great story. However, I found out a few years after the event that this was not an instinctive response, but a well-planned one. According to my source who was part of the planning session, three years before the attack, this response was prepared. The fact that it was carefully and thoughtfully prepared makes it an even greater story.
I use this story when working with clients on "message mapping," the process I believe was created by Dr. Vincent Covello, the leading expert on risk communications, founder and director of the Center for Risk Communication. It is well worth the study, but in essence what Dr. Covello teaches that in high stress situations, you need to simplify and repeat your message, and it needs to be wrapped in empathy. The basic rule is 3/9/27. No more than three messages. No more than nine seconds. No more than 27 words. That conforms quite nicely to the fact that most TV sound bites are 12 seconds long. If you only respond with your key messages in those 12 seconds, you will have used your precious TV time to their greatest possible effect.
The process I use involves these steps:
- brainstorm all possible crisis and emergency scenarios
- use a risk matrix to identify the most likely and highest impact
- categorize into three basic categories: natural disasters, external caused, internal caused (the reason for this is that message strategy changes based on these basic categories)
- focus on the red zone (that is highest impact, highest likelihood scenarios)
- create the specifics of a scenario in a way that can be easily adapted (this is tricky and requires more explanation)
- develop an empathy statement for each scenario
- develop the three key messages
- develop any supporting messages under those three
- review by appropriate experts and authorities in the organization
- train those who may need to use these messages
- provide 24/7 instant access to these messages (a real trick, but more information on that coming soon as well)
- make certain that the messages can be edited, published on a website and/or widely distributed as needed within 10 minutes to one hour after an event occurs
Easy, squeezy, right?
I suspect that most in emergency or crisis communication have been or or involved in developing such advance messages. I'd be very interested in seeing how your process works. Please share with me your best practices and I'll follow this post up with more lessons learned from you--the real experts. (You can email me at gerald.baron@agincourt.us)
1 comment
March 14, 2013
When it comes down to it, crisis and emergency communications is not as complicated as we sometimes make it. I'm very guilty of complicating things. Seems most of the plans I write for larger organizations tip the scales at 150 pages plus. It's one reason why I keep trying to go back and simplify, like in my OnePage Crisis Communication program. Getting the essential elements on one page is a challenge, but a necessary one.
Taking a step back on some plans I'm working on right now I concluded that a tagline I used for my previous company, PIER Systems, some time ago is very appropriate. Crisis and emergency communication is about getting the right information (or messages) to the right people, right away.
The first question then is: who are the right people? We know in emergency response plans the right people are those who need to respond. 911, National Response Center, police, sheriff, emergency management, hospital, and so on. We also know that who needs to know depends on the situation. So, we can't answer the who question without identifying the event. That means crisis comms planning starts with event identification. Time spent here on thinking through all possible events, imagining worst case scenarios and categorizing using a risk matrix, is time very well spent.
With events and their magnitudes identified, you can go on to the "who" question. If you are thinking the answer to who is "reporters" you are living in the Walter Cronkite/Dan Rather era. Yes, reporters and news media are important. But they are only really important in how they will affect the perception of those important to your organization about the event and your response. I like to ask this question in presentations: whose opinion about you is most important for your future? Fact is, there are some whose opinions are far more important than others. For government agencies, those who set or determine budgets are pretty important--as are their staffs. For investor-owned companies, major investors are pretty darn important. For universities--both the budget approvers and major donors are right up there. For non-profits, major donors' opinions matter greatly. For almost everyone dependent on employees, employee opinions along with their spouses and family members, are critically important to the future. Of course, major customers or business relationships matter greatly to most businesses.
Once you think through who the "right people" are, it will make sense to you not to trust their opinions about you and your response to the media. The media will do what the media do--which is primarily work very hard to get eyes on the screen or page. That does not always work in your favor in helping those right people get an accurate picture of what you are doing about the event. So, the essence of crisis communication planning today is focusing on those right few and how you are going to get the right information to them in ways that meet or exceed their expectations. This is as true for government communicators as it is for those in public relations for private companies and non-profits.
When I say focusing on them, I mean knowing who they are, how important they are, and who is going to communicate what to them when the stuff hits the blades. That's where the hard work of crisis communication planning and operation comes in.
Leave a comment
March 11, 2013
I admit, I should have been at my computer working when the earth shook this morning. Instead, I was out on my lawn trying to hone my inconsistent driver swing when this morning's Southern California earthquake hit a little before 10 am. Being about 15 miles from the epicenter of a 4.7 magnitude (some still say 5.2) earthquake is not an every day experience, even for someone from the earthquake prone Pacific Northwest.
As I look back at that experience, now just a few hours old, it reinforces some of the things about emergency communications that we keep talking about here. It took a few seconds for my mind to register what was going on. I was only about ten feet from the back patio of our winter home in Palm Desert. I thought I heard a loud truck going by behind me on the main road in our development. So when I suddenly saw the windows start to shake and the pillars in the patio moving I first thought, that truck is really causing some vibration. Then I realized it couldn't be (and the truck sound might have been the sound of the earthquake as my neighbor said). I watched the windows in amazement, first being oh so grateful not to be in the house as I thought it might start crumbling. I looked to the six foot high hedge just to my right and it was shaking as if one of those strong winds was blowing. But there was no wind.
Where's my wife? was my first thought. She ran into town to the grocery store. I need to call her. Lesson 1: first thing is needing to communicate to find out if loved ones are OK. For many, this panic to see if everyone is ok extends to pets. Emergency planners are realizing more and more that considering pets is a key to people's behavior.
But I couldn't call or text her. I left my phone on my desk. And I didn't want to go inside thinking that there was more and worse to come. Turns out there were four or more earthquakes near here this morning, foreshocks including one located a couple miles to the east in LaQuinta.
Then I thought, dang, without my phone I can't check Twitter to see what this is all about. Lesson 2: like many today my first thought was not to turn on the TV or radio, not even to go to a news channel on my smartphone. My first thought was to check Twitter because I knew if others were affected, there was going to be chatter.
It wasn't long before my desperation to contact my wife and get additional information overcame my fear of more shaking and I went in to get my phone. I got out of the house as quickly as I got it (I was still shaking and not sure I could tell if it was the floor or me.) The relief of having that little device in my hands is hard to describe. My lifeline.
I called my wife. She was fine, if shaken. She was in the wine section of Vons and the rattling of the bottles was amazing. She and most others left their carts and headed for the exits. Remarkably, she said the checkers stayed right where they were. Lesson 3: Even in this earthquake-prone area (we are after all, just a few miles from the San Andreas fault which is clearly visible in the nearby hills), I doubt that most people and companies are adequately prepared. What guidance is provided to employees to take action and protect customers? There was no PA announcement. Everyone did what instincts led them to do.
With my main question answered, I hit Twitter on the phone. Yes, there were tweets from all over southern california. Lesson 4: it's amazing how crude and disgusting some people can be even in these kinds of circumstances. But, it gave me helpful information to get some idea of the scope.
By the time I connected to Twitter and started seeing the tweets from those experiencing the quake, the news channels in the area were reporting breaking news on Twitter. The hashtag #BREAKING was actively used for these stories. Lesson 5: the news channels are very very fast with stories like this, and particularly on social media. I was staying outside and really had no thought of checking the local news channels on TV. Why should I risk going back inside? I had everything I needed now that I had my phone with me.
I quickly went to USGS to check their site. There I found out about the other quakes and as much info as I needed about the quake itself. Lesson 6: those hungry for info will go quickly to the source, or the most reliable and authoritative voice. This raises the question--how fast will you be? If USGS had not had real time info I would remember that, I would never ever even think of giving them a second chance in future events for fast, accurate information. It amazes me as I reflect on this now that with this reality so many organizations, and especially emergency management agencies, are so ill-equipped to be authoritative sources of information. They do not get it that today you are either fast, or you are completely out of the game.
After satisfying my intense hunger for information, my next thought was the others in my family. I got an AP Mobile breaking news alert about that time (a little slow I thought) and since there are usually only a few of these a week, I figured this quake was pretty big news around the country. My family would worry about us and if they didn't hear, they would really worry. I sent a group email to my kids and their spouses, then called my mom and dad. They hadn't heard but it was nice chatting anyway. Lesson 7: when you've been through an emotional experience, you want to share it. With your loved ones first, then just about anyone else who might have the slightest interest (like you, for example). And that puts more of a burden on the communication networks like cellular networks, which in most major events will likely buckle under the burden.
I suspect my experience is not unique. Experience is still absolutely the best teacher, but only if there are those willing to learn from it. I hope sharing this is helpful for you.
3 comments
Latest Emergency Management News
Most Popular

Most Commented