November 20, 2013
My January-February Eric's Corner was just submitted this past week with the topic of Emergency Operations Center (EOC) situation briefings. You will have to wait another couple of months to read it, but when you do you'll see I advocate for knowing what is going on in the nation overall.
There is an easy way to find that out by subscribing to the Federal Emergency Management's (FEMA) daily Situation Report (SITREP) There you get the round-up of news on weather and the status of ongoing disasters.
Anyone can subscribe at FEMA Free Email Updates There is a long list of different types of information you can obtain when items are published. One that I think every emergency manager should be sure and get is the one listed as Situation Report That way you'll get a sense for happenings here in the USA and how information is portrayed.
Ken Parrish, Mr. Operations, shared the links with us.
Leave a comment
November 20, 2013
There is still a place for the National Warning System (NWAS) phones that ring in emergency operations centers (EOCs) across our nation when there is a threat to lives and property. The Emergency Alert System (EAS) can still be effective for sending warnings across public media outlets like radio and television stations. I've always been a big fan of the National Weather System's (NWS) NOAA Weather Radio that for the "price of a pair of shoes" can save someone's life. I listen to the daily forecast every morning while I shave.
However, the newest and perhaps one of the most effective new systems now becoming operational throughout the USA is the ability to send text messages as warnings by simply designating the area to be warned on a map and specifying the warning message. It was the use of this CMAS system that helped save lives in the tornado outbreak that happened this last weekend in Illinois. Listen to the NPR story Early Warning Saved Lives in Weekend Storms
People do need the latest edition of cell phones, but with those being renewed every 2-3 years it won't take long before most people can get a more specific warning tailored to their location based on the cell phone knowing where you are.
Leave a comment
November 20, 2013
Someone sent me information that has what they say is 15 Blogs with the Best Tips for Protecting Your Home from Flooding
I did poke around a bit, opening maybe a third of them, and I'd re-title the information 15 Blog Posts on Flooding Not all are specifically associated with your home. Remember, these are not scientific in nature. Some are more specific than others and cite references. Others have more opinion than facts.
With flooding being the issue it is around the world, everything we do might help a little big. The waters, they are a'coming!
Leave a comment
November 18, 2013
Recently I posted one of what I call "slide maps" that allows you to see before and after images. The earlier one was of the devastation in the Philippines. Now here in this link courtesy of the Boston Globe we see Federal Emergency Management Agency (FEMA) maps of what the flood zone is for the City of Boston
The only thing missing is an annotation for what the flood zone is illustrative of. Is this the 100 year flood, 500 year flood or is it reflective of the impacts of sea rise and then at what level? I'm guessing the latter. It does note that this is the result of new mapping showing the difference between the 2009 and 2013 maps.
Anyone who has the answer--please post a comment to this blog entry.
Leave a comment
November 18, 2013
I think that the debate on global warming/climate change/climate variability and severe weather is going to rage for the rest of my lifetime. My projection is that I'll be dead before we know for certain if there is a connection. So don't hold your breath or bet the farm on one theory or another.
An illustration of that is in this Science Friday Impact of Climate Change on Hurricanes I encourage you to listen to this session. The host is trying to pin the two scientists down and they are inconclusive on any direct correlation between the warming global temperatures and disasters, specifically hurricanes. As I have mentioned before there is this climate variability to be dealt with and you can't pin one storm or series of storms as markers of the impact of climate change.
Lastly, read the comments in the link provided.
Leave a comment
November 18, 2013
Marty Pastula turned me on to a new iPad App called hopTo that allows you to work on your PC documents while you are out and about with your iPad. Verrrry cool!
It will also synchronize your Google Docs and Dropbox files. Mobile just keeps getting better!
Leave a comment
November 18, 2013
Over the course of my tenure in emergency management I've been involved with some successful and also "unsuccessful" logo design ventures. You can easily spend $3-5K for a logo design from a local company.
Enter 99 designs which is a crowd sourced design platform that lets multiple designers create various options for you. If you don't like any of them--you don't pay! All of this is done at a fraction of the cost of the typical logo design cost.
So, for your personal, public education or other needs, check it out!
Leave a comment
November 17, 2013
Severe weather that can generate tornadoes in the the Midwest occur either in the spring or summer--not the fall and certainly not at this time of year. But...
Today there was a significant outbreak of tornadoes in broad swath of Illinois (my home state). See CNN's initial report on the damages at The Wind was Insane First reports have five dead in Illinois.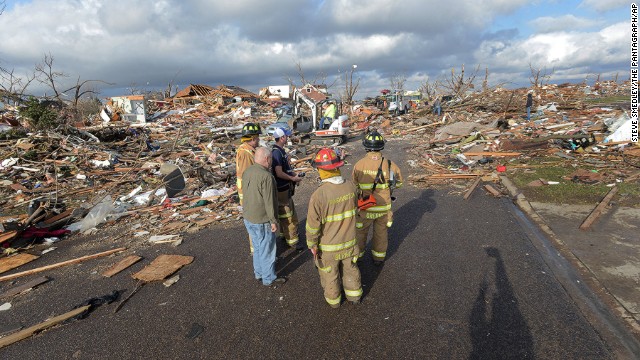 Leave a comment
Latest Emergency Management News
IPAWS Is Just the First Step (Column)
The current implementation of FEMA IPAWS is a first step on a long road to create a coherent, orchestrated, unified national public warning strategy.
Latest Blog Posts
Advice for a Public Safety Director
Dec 06 Random thoughts for someone considering a position as Public Safety Director.…
Survey on Hot Alerting Topics
Dec 05 Here is your chance to contribute to what's needed for alerting.…
Experience versus education: Are we asking the right question?
Dec 03 Personalizing core requirements for a profession is counterproductive…