March 08, 2013
Introduction

Mike Howard started in public safety as a police officer in Oakland, CA. He joined the CIA in 1980 and had an interesting career there as Director of Security Detail, was part of the International Counter-Terrorism Center, and before going to Microsoft was Chief of Station in Pittsburgh, PA where he was involved in the response to the tragic events of 9/11. At Microsoft Mike was in charge of executive protection for the likes of Bill Gates and Steve Balmer, was moved up to Director of Security, and then Chief Security Officer. Mike has credibility.


What's Missing?

We started the conversation talking about what public safety agencies might be missing when it comes to using technology. Mike admitted that Microsoft was guilty early on of one of the most common mistakes agencies make – getting the cart ahead of the horse. Mike said the most common mistake he sees is "not having a coherent strategy before implementing technology. Agencies should take a crawl – walk - run approach." Mike added that too many people go to a conference or trade show and see something that looks cool and think "we need to get that" without clearly defined operational needs and strategy. They chase "shiny things."

Another mistake is not looking hard enough at the technology an agency already has. Mike suggested that agencies ask themselves "what do we have now and what can we do with what we have?" Then you can line that up with your strategic goals and look for gaps.

Mike also said that one of the biggest issues in public safety is "the lack of information sharing. " He recommends agencies do more to share their experiences (good and bad) and best practices. I've seen this as well. Too many agencies are afraid to show any weakness so they pretend they don't exist. They tow the party line and believe their own BS.


New Directions

So what will get public safety agencies thinking in new ways and using new technology? Mike thinks that, sadly, it may take another big, bad incident to shake things loose - one where technology would have made a big difference and saved lives. But another way, maybe a better way, to get people moving in the right direction according to Mike is to "get people exposed to more solutions out there. The more they see and hear about solutions and agencies using these solutions the more comfortable they'll get." Mike made a great point that some of these solutions don't take a lot of time or money but you may have to look hard and maybe get some help from your peers, the solution vendors, or other experts.

Mike, having been around a while, made another observation about demographics and the culture of change. As the old guard moves out and a younger generation moves in, there will be a shift in perception. The new generation is more comfortable with new technology and news ways to communicate. They grew up with it. This is a normal and necessary transition. Progress, like time, marches forward.


Economic Impact

On the topic of the economy, Mike suggested that one positive aspect of tight money is that while people may be "less inclined to invest in technology" they can be more focused on finding the right solution that will help them "be more efficient and save money, reduce redundancies, and improve operations." Mike said the key is to "build a coherent business case from an operational and life safety standpoint and maximize the ability to save lives or prevent bad things from happening."


Educate/enlighten

"Education is key, it's a force multiplier" Mike said. An educated and enlightened leadership can make all the difference. Mike thinks more solution vendors should follow Microsoft's lead by sharing information, writing white papers and articles, delivering talks and webinars, and generally sharing more information. They should become more of a partner to the public safety agencies and deliver value through education and information.


The Cloud

The cloud can help agencies save money by reducing IT costs. According to Mike "it's a paradigm shift that has to be looked at." The cloud is here to stay so you might want to start looking at what it can do for you. Yes, it is a little muddled right now, but that will clear up very soon. The cloud "makes getting and sharing information easier and less expensive" said Mike.

Mike sees a lack of education about cloud computing, what it is, and what it can do. Agencies using cloud applications need to let others know what they are doing and the benefit they get from them. Cloud solutions can definitely lower the costs of IT which frees up money for operational needs. If you don't embrace the idea of cloud computing you may get left behind in the rain.


Dog Food

About 20+ years ago, Microsoft executive Paul Maritz coined the phrase "eating your own dog food" and started a tradition of Microsoft proving its solutions were good enough for the real world by using them in Redmond. The Microsoft Global Security Operations Centers (GSOCs) do just that. They are built largely on Microsoft SharePoint, Microsoft InfoPath, Microsoft Lync (and a radio-over-IP application), and an IDV Solutions GIS solution (with Microsoft Bing maps).

There are three GSOCs around the world – one in Redmond, one in Hyderabad India, and one in Redding UK (near London). They are an excellent example of how to do lots with not much. They sent two GSOC operators to a two week SharePoint class and they came back and built the backbone of the GSOC in a few months. The Microsoft GSOCs keep its 94,000 or so employees and 7,000 buildings safe and secure.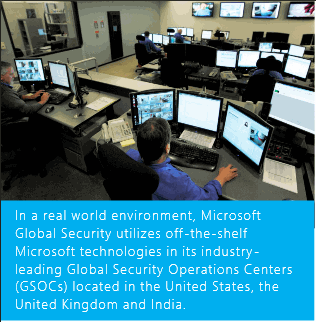 The Microsoft GSOC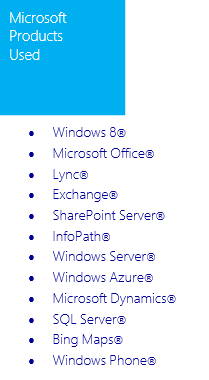 Microsoft Products Used in GSOC

Microsoft will be happy to show you around one of their GSOCs or give you a demonstration. More information at www.msgsoc.com.


The Last Word

Here is the summary of a conversation with Mike Howard:


Define a coherent strategy before you buy any software.
Build a solid business case.
Take a crawl, walk, run approach.
As much as you can, use what you have.
Embrace change (it's coming no matter what).
Learn, educate, and share.
Don't fear the cloud.
Find out what others are doing.

Parting comment

"We need two-way communications between public safety agencies and software companies. In the end, we all have the same goal." Mike Howard, Chief Security Officer, Microsoft.


For more information or to schedule GSOC tours and demos worldwide go to www.msgsoc.com or email gsoctour@microsoft.com.


1 comment
February 28, 2013
A new White Paper is available from the Public Safety Technology Review – What Every Public Safety Agency Needs to Know About Situational Awareness/Common Operating Picture Software.
If you are in a Fire or Police department leadership role - in operations, administration, or information technology - this white paper will help you:
Understand the incident management problems these applications solve
Determine your level of need for a SA/COP system
Examine 3 types or levels of SA/COP software applications
Learn more about ViewPointe, an enhanced SA/COP application
You can download the White Paper at The Public Safety Technology Review website.
Please contact Bob Pessemier at bobp@PSTechReview.com or call 425-654-1066 if you have any comments or questions.
Leave a comment
February 27, 2013
Introduction

When he was 17, Benjamin Franklin ran away from Boston to live in Philadelphia. He would also become the British postmaster to the colonies and would establish the first national communications network. And even though he was a firefighter at heart, Ben would be very proud of the Philadelphia Police Department (PPD) today - they now have one of the largest public safety Geographic Information System (GIS) implementations in the country. Twenty four servers power an Esri ArcGIS Server and Microsoft SQL Server based application environment that helps the PPD keep its officers and citizens safer. Philadelphia went big with GIS from Esri.

Solution Overview

The department knew its technology was getting old and out of date. They could not deliver services like they knew they could and should. Realizing that data and information were critical to better police work, they established executive buy-in and found the money to implement a 3-year, $350,000 project.

They are now using information from all the police divisions and most of the city departments to see what is going on around Philadelphia and respond better and faster and maybe even get one or two steps ahead of the bad guys.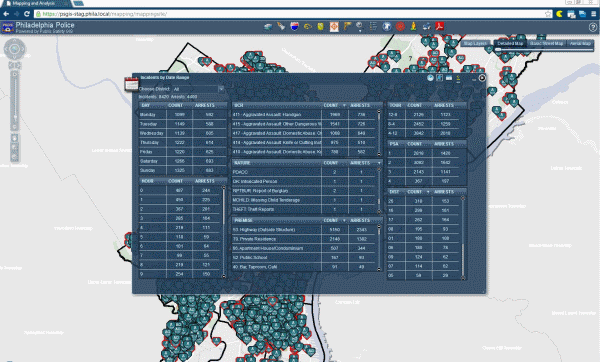 The new GIS application lets the PPD see incidents by date and much more.


For Example

A picture is worth more than a thousand words when it comes to policing - it might be worth someone's life. With the new application the PPD can see things they couldn't see before. If they rebuilt a park or added more street lights, did the crime rate go down? Is the burglar they just arrested likely to be involved in these other 12 burglaries over here? The PPD used the application to great effect during the occupy movement as well.

Grant Ervin, Public Safety GIS Program Manager for the City of Philadelphia in the Deputy Mayor's Office of Public Safety, said "Data is the most important thing for public safety. Without it you are basically flying blind." When you put information on a map the flash bulbs of realization go off. Now you can clearly see what is going on.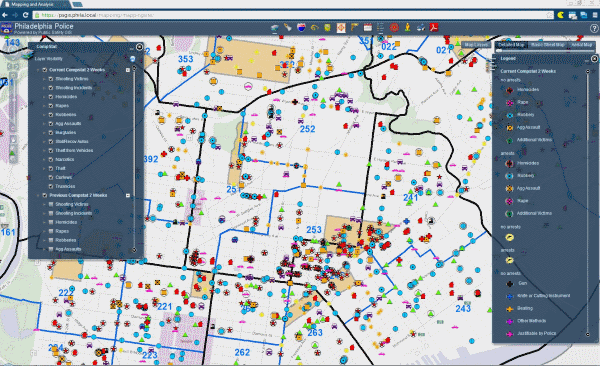 CompStat and more.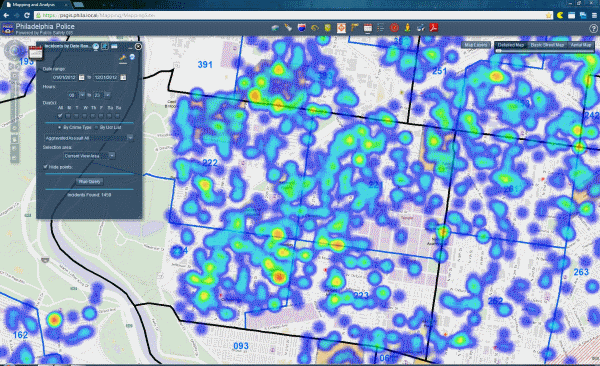 Heat Map - How many robberies have been committed throughout the city in a given time period?

A Word to the Wise

Grant has a few thoughts for other public safety people who might be thinking about doing this:


Put some dots on a map so you can start to understand where things are happening.
Start small and simple.
Quit looking at the top of the mountain and take a few steps in that direction. Before you know it you are at the summit. Put your head down and start.
Prime the creative pump and then let others think on it.

Grant added "It was a learning experience for everyone here, so hopefully people will reach out with some questions and we'll be able to give them some good advice."

Final Thoughts

The PPD is using a software solution to fill in some operational and financial gaps. The solution helps them save time and money and be more effective. For the PPD this is really just the start of something even bigger and better. When they combine this solution with analytics and common operating picture applications, the level of service for the public will be exponentially better. And that is something Benjamin Franklin would be glad to write about.

Philadelphia Police Department Contact:

U.S. Grant Ervin, Public Safety GIS Program Manager
City of Philadelphia, Deputy Mayor's Office of Public Safety
Police Headquarters, Room 205
750 Race Street
Philadelphia, PA 19106
Mobile: 215-821-4628
Fax: 215-686-3247
Email: grant.ervin@phila.gov

Esri Contact

HQ City & State: Redlands, CA
Phone: 909-793-2853 ext. 3427
Email: publicsafetyinfo@esri.com
Website: http://www.esri.com/industries/public-safety
Leave a comment
February 14, 2013
Got Radios? Rhetorical question Farley!
Introduction
You probably have radios coming out your ears. The little black boxes are more prolific than rabbits. They're everywhere. Sometimes it seems like everyone in your department has one, maybe two, sometimes three of four. For the folks in the radio shop, keeping track of these nasty, noisy, nettlesome little buggers is a pressure packed job.
The people in the field have to have their radios (they really do need them). And the people in the radio shop have to keep then running. If they don't have the right software application to help them track and manage radios, they are having some seriously disturbing nightmares (probably cold sweats as well).
Lack of organization around your radios can cause your department to hemorrhage money. Radios are expensive. Service, maintenance, and management of radios can be expensive. A good radio shop motto might be "Get streamlined or die."
The technical name for software that helps the radio shop people do their jobs better, faster, and cheaper is "Asset and Work Order Management Solutions". A problem with many of these companies is that they are not too familiar with public safety radio shop needs. The radio shop name for this solution might be "Software that makes my radio shop hum!"
If you want your radio shop to start singing a more harmonic pleasant tune that saves you time and money, MCM might have just what you need.

Solution Overview
Software is a great tool to help you get and stay organized. Tools to keep track of radios, parts, maintenance, costs, effort, and processes are what a good software solution should do for you. And that is what makes MCM different. Not only is their software made for public safety from the ground up, they also help clients put processes in place that make it all actually work.
The MCM solution set includes:
CommSHOP 3600
CommASSET 3600
CommXPRESS
With CommSHOP 360° you can:
Store asset identification, location, and ownership information
Monitor daily service shop activities
Record and even bill for time and materials on work tickets
Manage preventive maintenance activities
Maintain custom-defined information about your assets
Monitor parts inventory levels and purchase orders
Track detailed costs and funding sources linked to individual assets
Retrieve comprehensive reports at all levels of detail
With CommASSET 360° you can:
Store asset identification, location, and ownership information
Monitor asset transaction history (movement)
Manage asset status (i.e. active, inactive, spare)
Set the next preventative maintenance date and the appropriate interval between PMs
Record the asset's warranty and maintenance information
Maintain custom-defined information about your assets
Track detailed costs and funding sources associated to individual assets
Retrieve comprehensive reports on your assets
Run custom built queries against your data thus providing you with instant do it yourself reporting.
With CommXPRESS, you can:
Track date of acquisition
Track purchase cost / funding association
Access and view real-time location and status
View transfer history
Track maintenance and warranty status
View asset repair history
MCM solutions are available as In House, Web, and Mobile applications so no matter where you are or what you need to do, you can get it done with an MCM solution.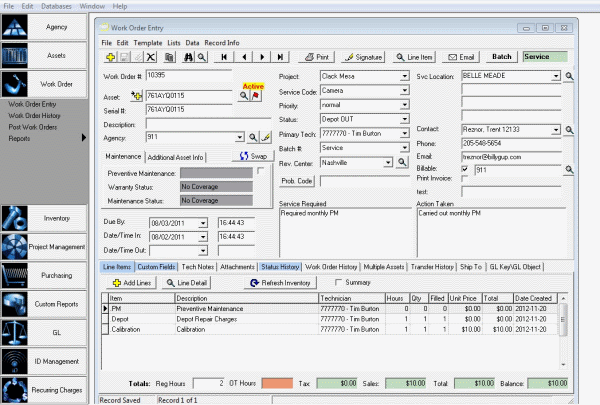 A CommSHOP 360 work order screen shot.

What Sets Them Apart
Here are a few things that make MCM unique:
They are focused on public safety radio communications solutions.
They help clients set up proven processes to make sure it all works.
Their solutions can be used to actually generate revenue.
They have almost thirty years of asset and work order management experience.
They build their software based on client needs and feedback.
The MCM client list is pretty good as well:

Final Thoughts
MCM can help you orchestrate a smoother running communications system that will save you time, effort, and money. And that should be music to your ears.

Company Information:
Company Name: MCM Technology, LLC
HQ City & ST: Birmingham, AL
Other locations: Albuquerque, MN, Austin, TX, Boston, MA, Minneapolis, MN
Phone: 877-626-6157
Email: info@mcmtechnology.com
Web site: www.mcmtechnology.com
Clients: 152 radio shops across North America
Years in business:25+ years



Leave a comment
December 10, 2012
People used to think the world was flat. Maps showed the far uncharted regions as fearsome and mysterious places. Unexplored areas were labeled "Beyond this point there be dragons." It took a few courageous people like Drake, Columbus, and Magellan to dispel the myths. Chief JR Gamez and the Redwood City CA Police Department have shown the courage and innovation these explorers would have been proud of.

The Redwood City Police Department stepped into unknown territory when they implemented video chat to engage with its citizens. As far as anyone can tell, they are the first police department in the U.S to do this. They have used Nixle, Twitter, Facebook and other communication and social media tools for quite a while and were looking for more - they wanted to go where no one had gone before.

Chief Gamez wanted to keep moving forward. They wanted an innovative and efficient way to connect with citizens. The department and the citizens it serves are a fairly tech savvy bunch. This led them to take a good hard look at video chat. They went to the IT department who brought a few good options to team. After careful review, "Netop was the clear way to go for us," said Captain Chris Cesena.

With Netop's video chat, called Live Guide, people can talk to a uniformed member of the department. Community service oriented. They can ask questions, get help with their online reporting system, get information about events going on in the city, get referrals to other city departments, report suspicious activity, and more. And it is all done face-to-face if they want to or by text or just voice.

Sworn police officers on modified duty staff the video chat service Monday through Thursday from 9AM to 5PM. They are looking at expanding hours to later in the evening.

Captain Cesena said the get a wide variety of community service calls. "We wanted to make it convenient for the public to get a hold of us and get what they need," he said. They also stress that the video chat is not a replacement for 911.

The Netop Live Guide video chat solution helps the department use resources efficiently and effectively. This is a great example of using technology to help accomplish an operational goal.

Netop's vision is to "erase the barrier of geographical distances and create a world where people connect with anyone, anywhere, anytime." You can find out more about Netop solutions at www.Netop.com. Prices start at only $80/month for the Live Guide video chat solution. That seems more than reasonable.

The Redwood City PD has also participates in the Bay Area Law Enforcement Social Media Group of regional police departments interested in how to use social media most effectively. This is a public-private partnership with technology companies providing guidance and even places to meet. Other city departments are looking at using Netop Live Guide as well – the Fire Department, Public Works, Building and Planning, and other department are all seeing uses for video chat.

The Redwood City Police Department was also the first international award recipient of The ConnectedCOPS Excellence at a Small Agency Award for outstanding work using social media.

Redwood City and their video chat solution are getting worldwide attention. They are a city on the edge, exploring the boundaries of customer service and pushing the dragons off the map.

For more information about how Redwood City is using video chat you can contact Chief JR Gamez at the Redwood City Police Department (main #: 650-780-7100).



Leave a comment
September 20, 2012
Introduction

When a conversation turns to interoperability, most public safety people talk about radios. But interoperability can be so much more. It can also include data and software applications. Meaning you can connect all of your software applications and radios together, have them all talking to each other and create a "super-application". This super-application creates an operational network that is more useful and functional than the separate pieces. Interoperability makes the whole greater than the sum of the parts. Aristotle would be proud.

Covia Labs has developed a way to get all of your data, software applications, and communication devices (yes, including radios) to connect and operate together. This is interoperability on a grand scale.

Solution Overview

The Connector and Connected Applications are at the core of the Covia interoperability solution. The Connector and Connected Applications adapt to the configuration and capabilities of a wide range of communication devices, computers, cameras, sensors, operating systems, servers, and information systems so they can all to work together and exchange data and information.

The Covia Labs Alert & Respond application can then coordinate and present the data and information from other applications in an operationally useful way. Alert & Respond is an emergency response collaboration software product connects existing radio systems and software applications. It creates secure ad hoc networks across cell phones, computers, cameras and other devices. It also deploys automatically and combines voice, video, text, GPS locations and maps to give dispatchers, incident commanders, and first responders situational awareness and integrated information.

What Sets Them Apart

A unique feature of Alert & Respond is that the information can be sent out to other agencies, police and fire departments, federal agencies, and even to the public using whatever devices they already use. The result is interoperability and collaboration that is fast, efficient, reliable, and very secure.

Final Thoughts

Covia Labs solution are smart enough to deploy securely, synchronize and adapt across a wide array of devices, sensors, servers & protocols, and make them all work as one. They can help you agency:
Rapidly form teams of personnel that can effortlessly share messages, media, positions and control.
Establish reliable and secure interoperability across a wide range of mobile phones, radios, communicators, sensors, and protocols.
Deploy the solutions quickly and easily in the field through automatic configuration management.
Operate securely over commercial carrier networks.
Leverage inexpensive and popular smartphones and e-pads
Effective and efficient emergency response depends on access to information. Interoperability facilitates access to information. If you want interoperability on a large scale, check out Covia Labs. As Covia Labs would put it - "Know more. Do more. Change the game."

Company Facts
Company Name: Covia Labs
HQ City & ST: Mountain View, CA
Phone: 650-351-6444
Email: info@covialabs.com
Web site: www.covialabs.com
Clients: DHS, SRI International, DARPA and Foothill DeAnza Community College Police Dept.
Years in business: 4


Leave a comment
August 22, 2012
Introduction

Every public safety agency needs to train. Your effectiveness will be commensurate with the level of training your people get. But training can be difficult and expensive. You usually can't torch a city block or conduct a riot just for practice. But you can if you take advantage of true simulation technology. The Advanced Disaster Management Simulator (ADMS) from ETC Simulation Training Systems is a good one. With ADMS you can simulate just about any situation and do it in a very realistic way.

ETC has been in the simulation business for quite a while. The ADMS has been around since 1994. They do a lot of simulation work for aerospace and military clients and have brought that experience to the public safety market.


Solution Overview

The old way to do simulation training looks like this: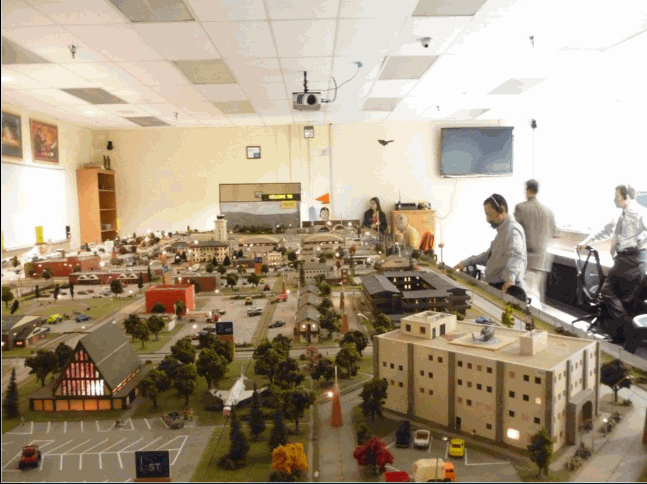 The new way looks like this: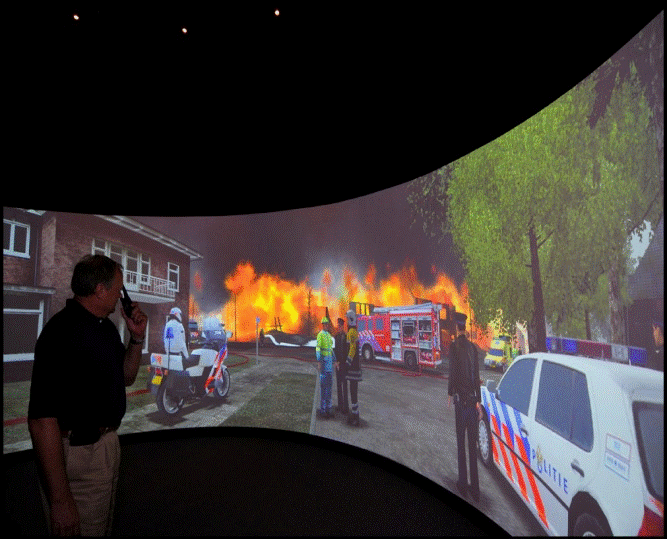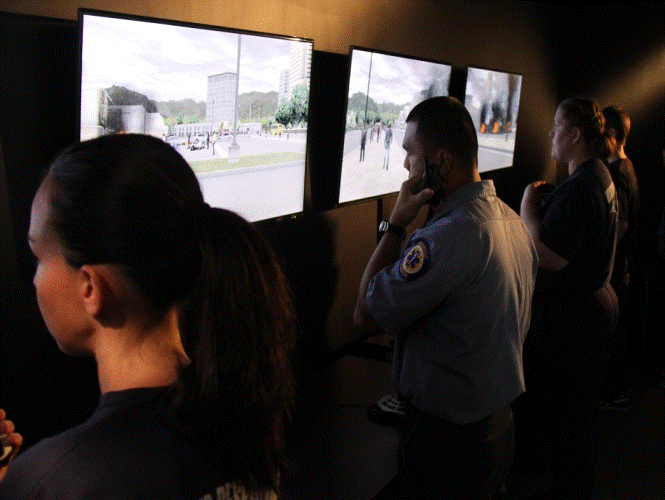 The ADMS can be installed in a training center but also comes in a portable version so you can take it on the road. You can use it to develop knowledge and skills, for promotional exams, for rehearsals and exercises, and much more. The simulations are based in reality so things happen as they would in real life. If you don't control the crowd - they riot.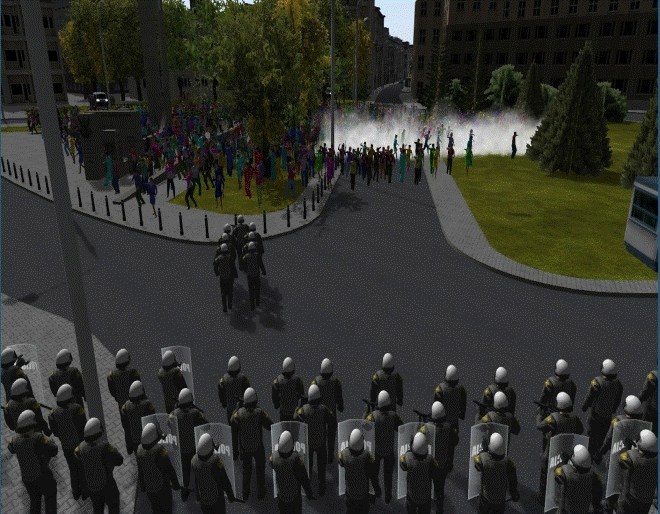 If you don't treat patients - they die.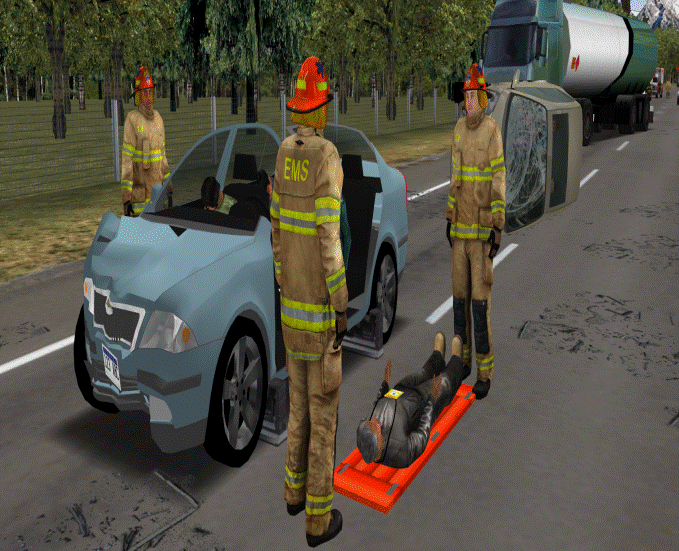 If you take too long - day turns to night.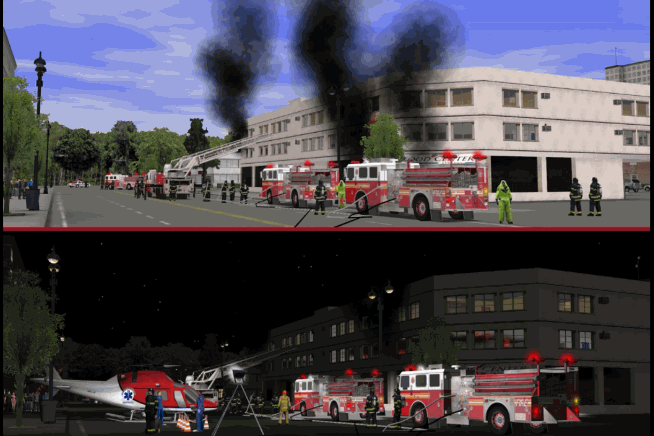 How will you deal with a hostage situation?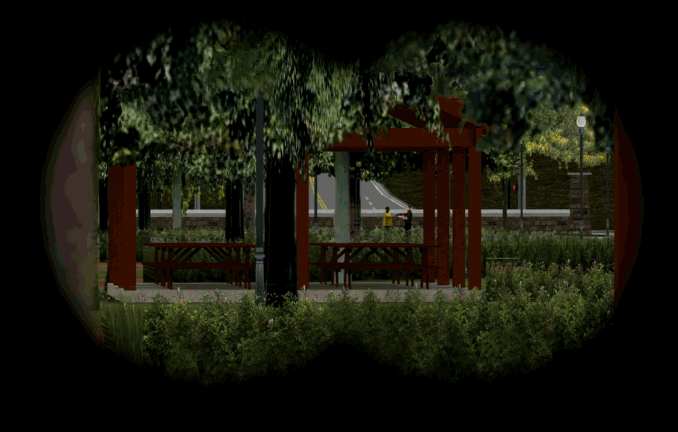 What Sets Them Apart

The ADMS solution is an all hazards, physics based and innovative simulation system designed to train incident commanders, first responders and incident command teams in a real-time, interactive virtual reality environment. With over 43 years of experience in simulation technology, ETC has developed a true to life, artificially intelligent simulation system placing them at the cutting edge of training. If you need a custom scenario, ETC will work with you to develop it. The scoring and after action reporting are important components that help make sure real learning happens, effectively bridging the gap between classroom theory and real-world experience. You can also include any other local agencies and supporting agencies such as utilities, transportation and more.

Final Thoughts

A training simulation solution can help your agency become more effective, save time and money, and help keep your people safe. Every public safety agency training center should have a portable version of a simulator and the ADMS from ETC is well worth a look.

Company Facts
Company Name: ETC Simulation Training Systems
HQ City & ST: Orlando, FL
Phone: 407.282.3378
Web site: www.ETCsimulation.com
Years in business: 18


2 comments
July 27, 2012
Introduction

No matter the size or complexity of an incident, data and information drive emergency response. If you want to provide the most efficient, effective, and coordinated emergency response to every incident, then you might take a look at some of the software applications that come under the heading of Common Operating Picture, Situational Awareness, Crisis Information Management, or Incident Command and Management. The best of these applications can be used for incidents of all types and sizes. ADASHI Systems has a flexible and well thought out application you might explore.

Solution Overview

The ADASHI solution has three applications that offer increasing functions and capabilities. You can start with the basic version, ADASHI Dispatch, which offers navigation and routing (AVL) to incidents along with your local GIS and pre-planning information; then move on to ADASHI First Response which can provide detailed incident guidance, hazard modeling, checklist support, and NIMS support functions; and finally the ADASHI Command Post offers comprehensive incident management capabilities including comprehensive incident and unit mapping, Incident Command, Resource Tracking and Management and much more.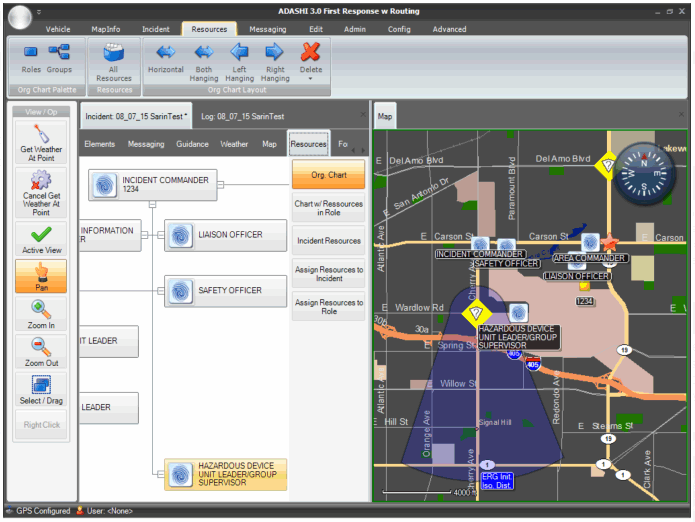 ADASHI Systems Resource View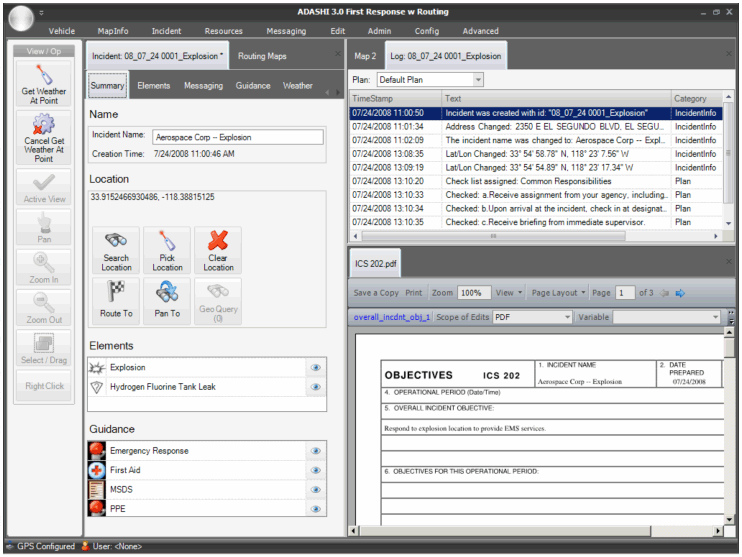 ADASHI Systems ICS Form

For Example

What this solution does for your operations is help you understand what is going on and what needs to be done. As even the most common incidents become more complex in our ever more complex world, these solutions and the ADASHI solution in particular, become more of a necessity than a luxury. A good COP, SA, CIMS, IC/M solution makes your crews more effective and efficient from day-to-day incidents to the most complex and wide-spread emergencies.

What Sets Them Apart

Two aspects of these applications are especially important. The first is the level of the view you get of the incident - which varies from Low to High. A low level view means you can see details at any incident location (e.g., apparatus, people, and equipment) and information associated with that location (e.g., CAD, RMS, and Pre-Plans). This is the view from across the street. A High level view does not provide the details. It is a roll-up or overall view of the larger situation. This is the view from 10,000 feet.

The second aspect is the level of incident engagement - which varies from Active to Passive. Active engagement is the ability to track and direct resources. This is actual incident command and management. Passive engagement is the ability to see what is going on but no ability to direct or command resources.

Most Common Operating Picture (COP), Situational Awareness (SA), and Crisis Information Management System (CIMS) applications tend to be High Level View and Passive Engagement tools. Most Incident Command/Management applications tend to be Low Level View and Active Engagement tools. The ADASHI solution provides all levels.

Client Quote

"Now our team can make better-informed decisions at the click of a mouse." Baltimore (MD) City Fire Department

Price Tag

Some of these COP, SA, CIMS, IC/M applications can run well over $250,000. The ADASHI solution is very reasonably priced in comparison. There will be some customization and integration costs if you want to connect the ADASHI to your CAD and other in-house applications.


ADASHI Dispatch starts at $1,595.
ADASHI First Response starts at 1,995.
ADASHI Command Post starts at $5,995

Final Thoughts

Every public safety agency should be looking at COP, SA, CIMS, IC/M applications. In these days of shrinking budgets and staffing levels, these solutions can help you operate better at lower costs. If you are not using one of these solutions, get out there and kick some tires.

Company Facts
Company Name: ADASHI Systems LLC
HQ City & ST: 2400 Boston St., Baltimore, MD 21210
# Employees: 12
Other locations: Ann Arbor, MI
Phone: (877) 563-9980
Email: info@adashisystems.com
Web site: www.AdashiSystems.com
Clients: > 1,500
Years in business: 8
Person Interviewed: Alex Menkes, CEO


Leave a comment
June 26, 2012
Introduction

While the private sector has embraced Software as a Service (SaaS) like a warm blanket in the wintertime (look at the success of SalesForce.com), public safety agencies have given it a bit of the cold shoulder. The hesitation seems to come from a lack of knowledge and a lack of trust in the reliability and security of these solutions.

But the more you get to know what a SaaS solution can do for you, no matter what size department you are, the more you might want to snuggle up. Every public safety agency should look at SaaS as a way to save money, time, and effort and still get exceptional value, functionality and capabilities. In other words, get the job done more efficiently and more effectively. What's not to like?

Emergency Technologies, Inc. (ETI) has two SaaS offerings worth at least a short snuggle if not a long hug. ETI provides excellent onsite solutions for Fire and EMS records management - Visual Fire & Visual EMS - and the same solutions where introduced about 18 months ago in SaaS or on-demand versions.


Solution Overview

ETI's Visual Fire and Visual EMS are a set of flexible, powerful, and integrated modules to help agencies manage fire prevention, suppression, and EMS patient information. The traditional version of Visual Fire has 21 modules, Visual EMS has 15, and the SaaS versions have the same.

While on-site software applications require hardware, software, administration, support, repairs, upgrades, lots of extra money, and an extra bottle of Ibuprofen (or Scotch), all you need to run the SaaS versions is a high-speed internet connection and a browser. You can't tell the difference between the on-site and on-demand versions other than you get to the SaaS version through a browser.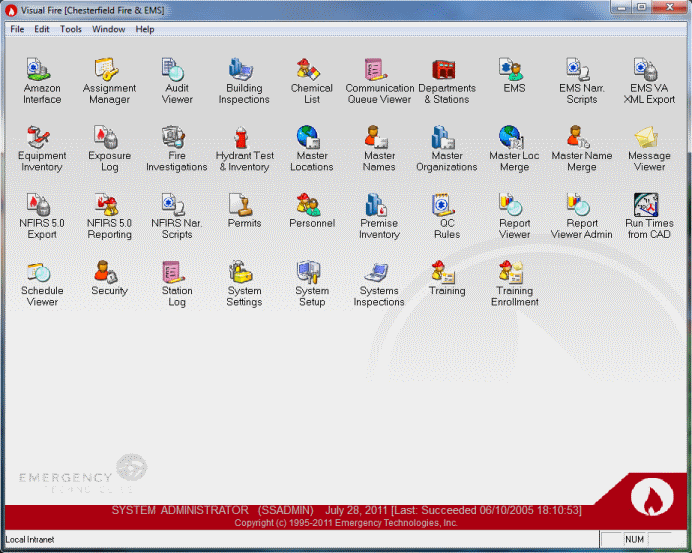 Visual Fire On-Demand Desktop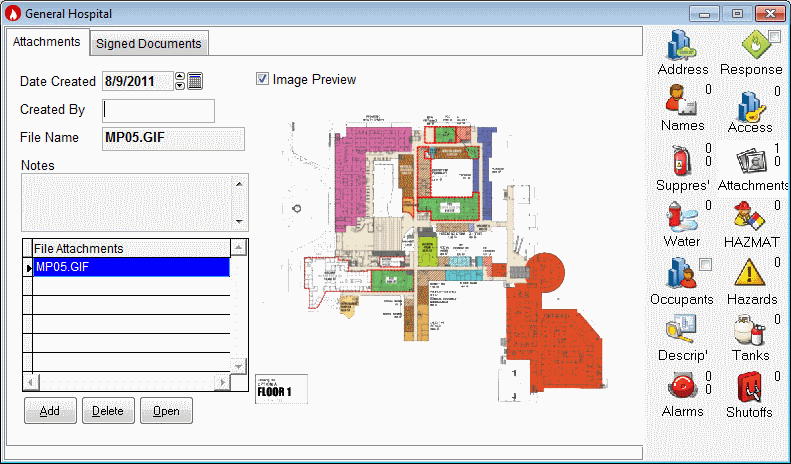 Visual Fire On-Demand Screenshot 1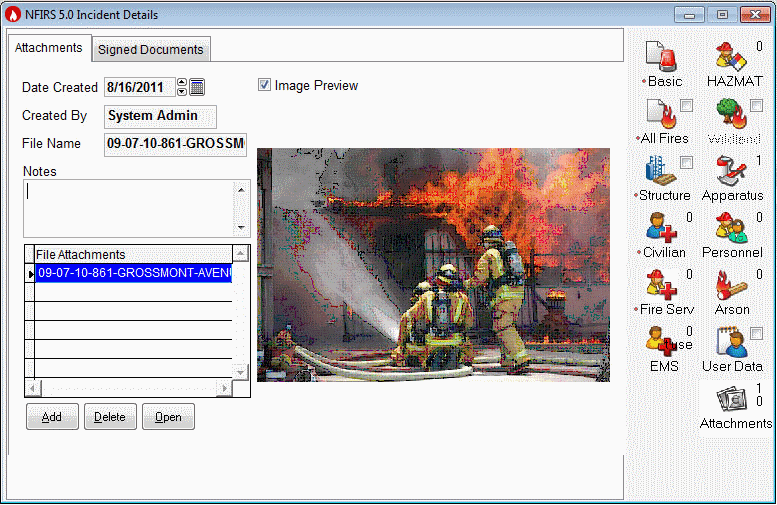 Visual Fire On-Demand Screenshot 2

What Sets Them Apart

ETI has been focused on Fire and EMS solutions since 1995. The underlying technology - the functionality and capabilities - have been honed to a fine edge. They can also handle multiple department situations very well – for example where you have a major city and surrounding smaller jurisdictions all using their solution and they all still need to have their individual system match their needs and preferences (how things look on the screen and what they are called). This is a great way to solve the information sharing issues you may be experiencing with your neighbors.

The biggest differentiator though is the ability to have their solution in two flavors: on-site or on-demand.

The Visual Fire On-Demand solution offers faster implementation timelines, lowers short-term and long-term costs, and removes the IT headache associated with servers, hardware, and infrastructure. ETI handles everything on the back-end, so you only need an internet connection and a browser to use their software from any location at any time.


Final Thoughts

Traditional applications are much more difficult and expensive to maintain over time compared to Saas solutions. SaaS solutions have been shown to have a much lower total cost of ownership and high levels of reliability and security. Another benefit is that a SaaS application can be purchased as an operating expense rather than a capital expense. SaaS can save cash.

So the next time your budget starts to look a little cold and frozen, snuggle up to a SaaS solution and see if it won't warm you up a bit. Especially the SaaS solutions from ETI: Visual Fire On-Demand and Visual EMS On-Demand.

Company Facts

Company Name: Emergency Technologies, Inc.
HQ City & ST: Raleigh, North Carolina
# Employees: 19
Other locations: None
Phone: 919-676-6200
Email: Sales@EmergencyTechnologies.com
Web site: www.EmergencyTechnologies.com
Clients: over 450 Departments
Years in business: 17


Leave a comment
June 13, 2012
Every public safety organization has data and information and is under threat of cyber-crime. The World Conference on Disaster Management will be held in Toronto, Canada on June 25-27 and a focus area of this year's conference is cyber crime. Robert Beggs, CEO of Digital Defence from Burlington, Ontario will deliver a plenary session titled Surviving the Coming Cyberstorm: Manage the Crisis, Win the War. I had a chance to talk with Robert about his perspectives on cyber-crime.

"The flow of information is where the value lies" said Robert. Data translates into money. For example, my medical records have value to me as they can help doctors make better decisions about my care if they know my medical history. Yet, according to Robert, doctors cannot see my medical record if I am across town let alone across the country. Why aren't my medical records available to any hospital worldwide?

My medical records have value to other less well intentioned people as well. If they can get their mitts on my information they can use it to make money and potentially make my life miserable. It can be easier for criminals to get my records than it is for a hospital.

Robert also said that "law enforcement is not configured to solve the problem". The problem has grown beyond the abilities of law enforcement - they have lost the initiative.

Robert suggests that every organization - public or private - should recognize that they will be compromised at some time. So every organization should plan accordingly and make your response to cyber-crime part of your business planning.

Robert suggests three key principles to handle this threat.

1. Cyber-crime is a technical, policy, and cultural issue. It is a business process and management issue so the effort to prevent or control it should be lead by the business operations people not the IT department. IT should implement the business needs.

2. IT is focused on technology. Business people focus on operations. Encourage more collaboration and cooperation between the two.

3. Acknowledge that data will be compromised. Prepare in advance and manage cyber-crime as any other incident. Plan ahead of time and execute your response to support the business. Use an Agile Incident Management methodology which stresses proactive planning in combination with a rapid and effective response to attacks. This approach not only reduces the possibility of being attacked, but minimizes the costs and recovery efforts.

Cyber-crime is worldwide problem. Organizations need to share information, discuss cross border needs, techniques, and tools about how to best respond. Data protection is still in infancy so communication between public and private organizations is critical to develop effective responses. The conference is a forum to explore the issues and the solutions.

Find out more at www.wcdm.org and www.digitaldefence.ca.

Robert Beggs can be contacted at: (905)681-3310 or Robert.beggs@digitaldefence.ca


Leave a comment
Latest Emergency Management News