Introduction

The Grant County Sheriff's Department has about 60 commissioned Deputies protecting a population of over 89,000 across 2,679 square miles in Eastern Washington. They work closely with regional fire departments and other law enforcement agencies in the area. When they went looking for a regional communications system that was affordable, effective, and easy to use they found an interesting solution.

One of the IT staff, an avid PC gamer, suggested they look at TeamSpeak – a PC based multi-player online gaming communications system. TeamSpeak has been used by millions of online gamers for over ten years now. These games can involve anywhere from just a few to a few hundred gamers that need to talk to each other at the same time about the same game they are all playing. Just like tens, hundreds, or thousands of people might need to talk to each other in an emergency or large scale disaster. All you need is a microphone, speakers, and an internet connection. The gaming industry has come to meet public safety. And you won't believe the price tag.

Solution Overview

TeamSpeak requires a client and a server application. Licensing for the server software can be purchased and operated in-house or you can rent one from an Authorized Team Speak Host Provider (ATHP). The client can be a Windows/Mac/Linux PC or laptop, an iOS device (iPhone, iPad, iPod), or Android phone.

Once the server is set up and connected to the internet, people with the client application can get set up and start using the system. You can talk to anyone listed in your current channel by clicking on and holding a preset key that acts like a radio push-to-talk (PTT) button or using voice activation. You can create multiple channels that can be designated for specific use or topics. Moving between channels is as simple as double clicking on the channel of your choice.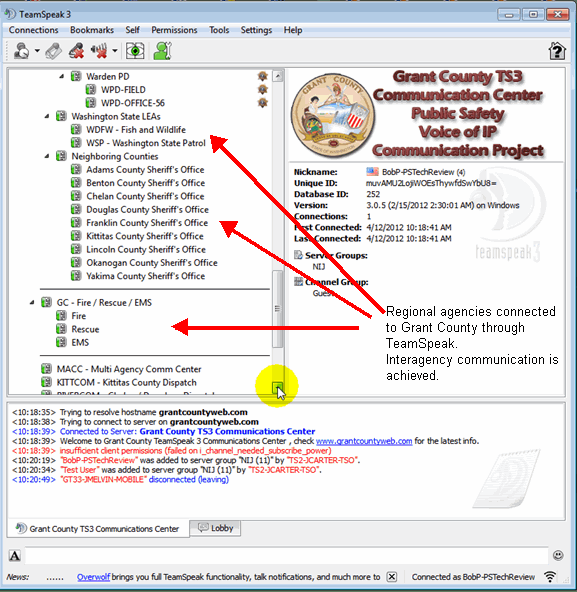 For Example

Let's say you have an incident where your fire and police department respond along with neighboring fire and police that can't talk to your people on the radios since they are on a different dispatch center and different frequencies. With TeamSpeak, as long as the responding units have a laptop or an iPhone or Android phone, everyone will all be able to talk to each other. Once they are logged in the responding units can be merged into a common talk group and Voila! – interoperable communications. You can even transfer files and documents to anyone who is signed in. And another nice aspect - scanners cannot pick up any of these conversations.

What Sets Them Apart

The folks at TeamSpeak have created a gaming communications platform that has been tested by some of the most demanding customers around – gamers. These folks have high standards when it comes to their online gaming. TeamSpeak has a product that looks rock solid.

Price Tag

This is a very affordable solution.

Annual Activation License* (AAL):


32 users, 1 virtual server - $30
64 users, 1 virtual server - $55
128 users, 5 virtual servers - $100
256 users, 5 virtual servers - $175
512 users, 10 virtual servers - $300
1024 users, 10 virtual servers - $500
* This type of license is for self-hosted implementations. Pricing varies if renting from an Authorized TeamSpeak Host Provider (ATHP) which can be found at http://hosting.teamspeakusa.com Subsequent years for an AAL includes a 20% discount. Example: A 128 slot AAL will cost $100 for the first year, and $80 each year thereafter.

Final Thoughts

TeamSpeak plus a little creativity equals better communications. The missing link here is that currently you can't place or receive land line phone calls with TeamSpeak. But they are a sharp group and I bet they can fill that need soon. If you are looking for a reliable and inexpensive way to achieve interoperable communications take a lesson from the gamers - take a look at TeamSpeak.

Company Facts

Company Name: TeamSpeak Systems GmbH
HQ City & ST: Krün, Germany
# Employees: 20+
Other locations: Chula Vista, California Sales and Business Development Office
Phone: Toll Free within USA (877)TEAM-SPEAK or +1(619)312-6255
Email: sales@teamspeak.com
Web site: www.TeamSpeak.com
Clients: Lockheed Martin, NASA, Engineering & Computer Simulations, Atlantis Cyberspace, Inc.
Years in business: 10+


Top