Introduction

No matter the size or complexity of an incident, data and information drive emergency response. If you want to provide the most efficient, effective, and coordinated emergency response to every incident, then you might take a look at some of the software applications that come under the heading of Common Operating Picture, Situational Awareness, Crisis Information Management, or Incident Command and Management. The best of these applications can be used for incidents of all types and sizes. ADASHI Systems has a flexible and well thought out application you might explore.

Solution Overview

The ADASHI solution has three applications that offer increasing functions and capabilities. You can start with the basic version, ADASHI Dispatch, which offers navigation and routing (AVL) to incidents along with your local GIS and pre-planning information; then move on to ADASHI First Response which can provide detailed incident guidance, hazard modeling, checklist support, and NIMS support functions; and finally the ADASHI Command Post offers comprehensive incident management capabilities including comprehensive incident and unit mapping, Incident Command, Resource Tracking and Management and much more.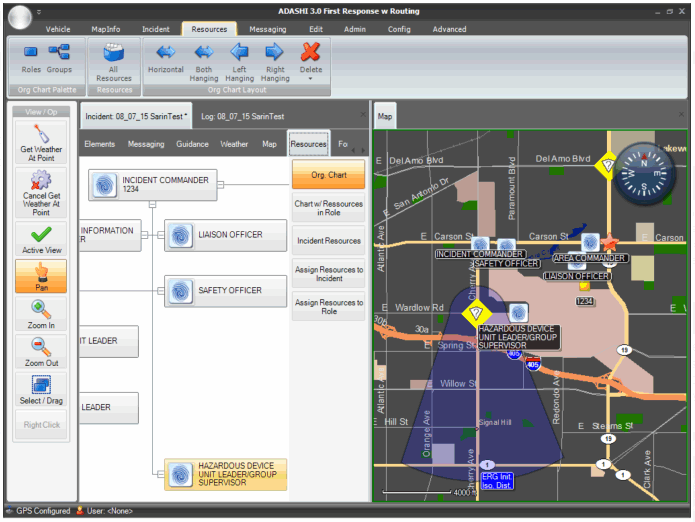 ADASHI Systems Resource View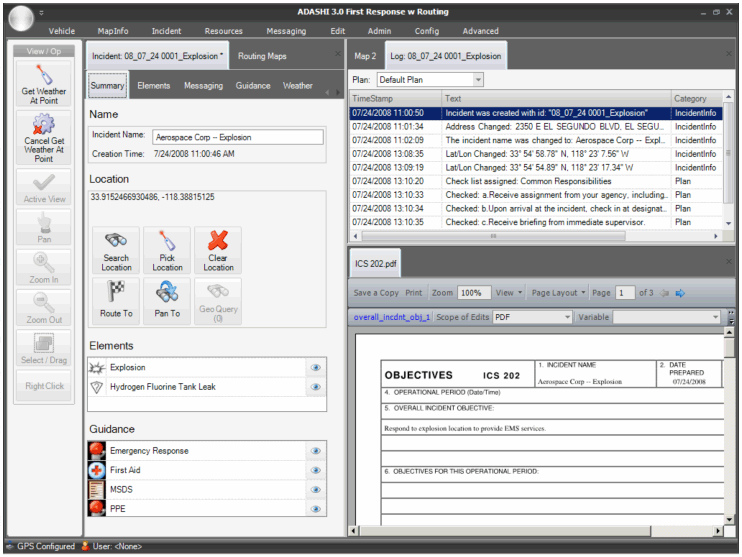 ADASHI Systems ICS Form

For Example

What this solution does for your operations is help you understand what is going on and what needs to be done. As even the most common incidents become more complex in our ever more complex world, these solutions and the ADASHI solution in particular, become more of a necessity than a luxury. A good COP, SA, CIMS, IC/M solution makes your crews more effective and efficient from day-to-day incidents to the most complex and wide-spread emergencies.

What Sets Them Apart

Two aspects of these applications are especially important. The first is the level of the view you get of the incident - which varies from Low to High. A low level view means you can see details at any incident location (e.g., apparatus, people, and equipment) and information associated with that location (e.g., CAD, RMS, and Pre-Plans). This is the view from across the street. A High level view does not provide the details. It is a roll-up or overall view of the larger situation. This is the view from 10,000 feet.

The second aspect is the level of incident engagement - which varies from Active to Passive. Active engagement is the ability to track and direct resources. This is actual incident command and management. Passive engagement is the ability to see what is going on but no ability to direct or command resources.

Most Common Operating Picture (COP), Situational Awareness (SA), and Crisis Information Management System (CIMS) applications tend to be High Level View and Passive Engagement tools. Most Incident Command/Management applications tend to be Low Level View and Active Engagement tools. The ADASHI solution provides all levels.

Client Quote

"Now our team can make better-informed decisions at the click of a mouse." Baltimore (MD) City Fire Department

Price Tag

Some of these COP, SA, CIMS, IC/M applications can run well over $250,000. The ADASHI solution is very reasonably priced in comparison. There will be some customization and integration costs if you want to connect the ADASHI to your CAD and other in-house applications.


ADASHI Dispatch starts at $1,595.
ADASHI First Response starts at 1,995.
ADASHI Command Post starts at $5,995

Final Thoughts

Every public safety agency should be looking at COP, SA, CIMS, IC/M applications. In these days of shrinking budgets and staffing levels, these solutions can help you operate better at lower costs. If you are not using one of these solutions, get out there and kick some tires.

Company Facts
Company Name: ADASHI Systems LLC
HQ City & ST: 2400 Boston St., Baltimore, MD 21210
# Employees: 12
Other locations: Ann Arbor, MI
Phone: (877) 563-9980
Email: info@adashisystems.com
Web site: www.AdashiSystems.com
Clients: > 1,500
Years in business: 8
Person Interviewed: Alex Menkes, CEO


Top