Introduction

When he was 17, Benjamin Franklin ran away from Boston to live in Philadelphia. He would also become the British postmaster to the colonies and would establish the first national communications network. And even though he was a firefighter at heart, Ben would be very proud of the Philadelphia Police Department (PPD) today - they now have one of the largest public safety Geographic Information System (GIS) implementations in the country. Twenty four servers power an Esri ArcGIS Server and Microsoft SQL Server based application environment that helps the PPD keep its officers and citizens safer. Philadelphia went big with GIS from Esri.

Solution Overview

The department knew its technology was getting old and out of date. They could not deliver services like they knew they could and should. Realizing that data and information were critical to better police work, they established executive buy-in and found the money to implement a 3-year, $350,000 project.

They are now using information from all the police divisions and most of the city departments to see what is going on around Philadelphia and respond better and faster and maybe even get one or two steps ahead of the bad guys.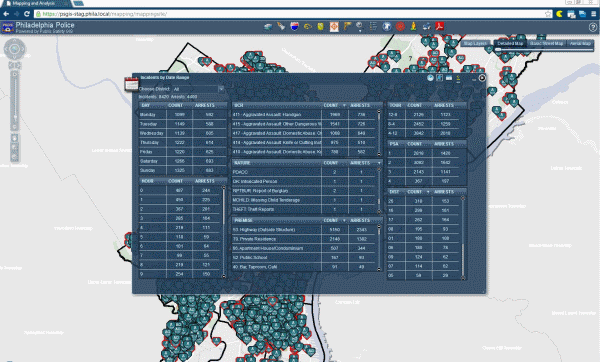 The new GIS application lets the PPD see incidents by date and much more.


For Example

A picture is worth more than a thousand words when it comes to policing - it might be worth someone's life. With the new application the PPD can see things they couldn't see before. If they rebuilt a park or added more street lights, did the crime rate go down? Is the burglar they just arrested likely to be involved in these other 12 burglaries over here? The PPD used the application to great effect during the occupy movement as well.

Grant Ervin, Public Safety GIS Program Manager for the City of Philadelphia in the Deputy Mayor's Office of Public Safety, said "Data is the most important thing for public safety. Without it you are basically flying blind." When you put information on a map the flash bulbs of realization go off. Now you can clearly see what is going on.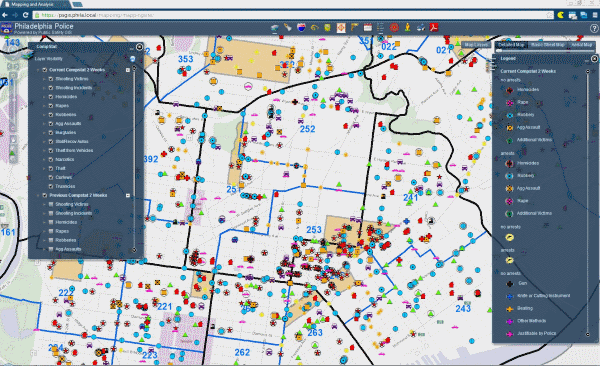 CompStat and more.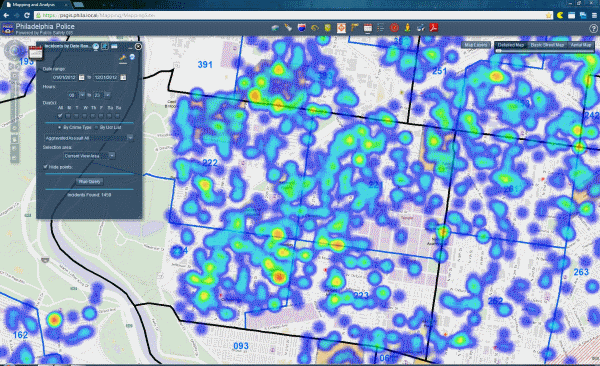 Heat Map - How many robberies have been committed throughout the city in a given time period?

A Word to the Wise

Grant has a few thoughts for other public safety people who might be thinking about doing this:


Put some dots on a map so you can start to understand where things are happening.
Start small and simple.
Quit looking at the top of the mountain and take a few steps in that direction. Before you know it you are at the summit. Put your head down and start.
Prime the creative pump and then let others think on it.

Grant added "It was a learning experience for everyone here, so hopefully people will reach out with some questions and we'll be able to give them some good advice."

Final Thoughts

The PPD is using a software solution to fill in some operational and financial gaps. The solution helps them save time and money and be more effective. For the PPD this is really just the start of something even bigger and better. When they combine this solution with analytics and common operating picture applications, the level of service for the public will be exponentially better. And that is something Benjamin Franklin would be glad to write about.

Philadelphia Police Department Contact:

U.S. Grant Ervin, Public Safety GIS Program Manager
City of Philadelphia, Deputy Mayor's Office of Public Safety
Police Headquarters, Room 205
750 Race Street
Philadelphia, PA 19106
Mobile: 215-821-4628
Fax: 215-686-3247
Email: grant.ervin@phila.gov

Esri Contact

HQ City & State: Redlands, CA
Phone: 909-793-2853 ext. 3427
Email: publicsafetyinfo@esri.com
Website: http://www.esri.com/industries/public-safety
Top