June 11, 2012
Introduction

The Grant County Sheriff's Department has about 60 commissioned Deputies protecting a population of over 89,000 across 2,679 square miles in Eastern Washington. They work closely with regional fire departments and other law enforcement agencies in the area. When they went looking for a regional communications system that was affordable, effective, and easy to use they found an interesting solution.

One of the IT staff, an avid PC gamer, suggested they look at TeamSpeak – a PC based multi-player online gaming communications system. TeamSpeak has been used by millions of online gamers for over ten years now. These games can involve anywhere from just a few to a few hundred gamers that need to talk to each other at the same time about the same game they are all playing. Just like tens, hundreds, or thousands of people might need to talk to each other in an emergency or large scale disaster. All you need is a microphone, speakers, and an internet connection. The gaming industry has come to meet public safety. And you won't believe the price tag.

Solution Overview

TeamSpeak requires a client and a server application. Licensing for the server software can be purchased and operated in-house or you can rent one from an Authorized Team Speak Host Provider (ATHP). The client can be a Windows/Mac/Linux PC or laptop, an iOS device (iPhone, iPad, iPod), or Android phone.

Once the server is set up and connected to the internet, people with the client application can get set up and start using the system. You can talk to anyone listed in your current channel by clicking on and holding a preset key that acts like a radio push-to-talk (PTT) button or using voice activation. You can create multiple channels that can be designated for specific use or topics. Moving between channels is as simple as double clicking on the channel of your choice.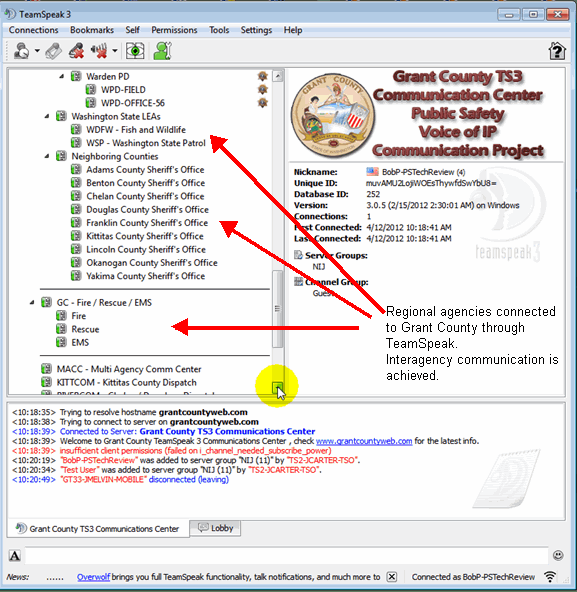 For Example

Let's say you have an incident where your fire and police department respond along with neighboring fire and police that can't talk to your people on the radios since they are on a different dispatch center and different frequencies. With TeamSpeak, as long as the responding units have a laptop or an iPhone or Android phone, everyone will all be able to talk to each other. Once they are logged in the responding units can be merged into a common talk group and Voila! – interoperable communications. You can even transfer files and documents to anyone who is signed in. And another nice aspect - scanners cannot pick up any of these conversations.

What Sets Them Apart

The folks at TeamSpeak have created a gaming communications platform that has been tested by some of the most demanding customers around – gamers. These folks have high standards when it comes to their online gaming. TeamSpeak has a product that looks rock solid.

Price Tag

This is a very affordable solution.

Annual Activation License* (AAL):


32 users, 1 virtual server - $30
64 users, 1 virtual server - $55
128 users, 5 virtual servers - $100
256 users, 5 virtual servers - $175
512 users, 10 virtual servers - $300
1024 users, 10 virtual servers - $500
* This type of license is for self-hosted implementations. Pricing varies if renting from an Authorized TeamSpeak Host Provider (ATHP) which can be found at http://hosting.teamspeakusa.com Subsequent years for an AAL includes a 20% discount. Example: A 128 slot AAL will cost $100 for the first year, and $80 each year thereafter.

Final Thoughts

TeamSpeak plus a little creativity equals better communications. The missing link here is that currently you can't place or receive land line phone calls with TeamSpeak. But they are a sharp group and I bet they can fill that need soon. If you are looking for a reliable and inexpensive way to achieve interoperable communications take a lesson from the gamers - take a look at TeamSpeak.

Company Facts

Company Name: TeamSpeak Systems GmbH
HQ City & ST: Krün, Germany
# Employees: 20+
Other locations: Chula Vista, California Sales and Business Development Office
Phone: Toll Free within USA (877)TEAM-SPEAK or +1(619)312-6255
Email: sales@teamspeak.com
Web site: www.TeamSpeak.com
Clients: Lockheed Martin, NASA, Engineering & Computer Simulations, Atlantis Cyberspace, Inc.
Years in business: 10+


2 comments
May 10, 2012
In 1968, AT&T announced that it would establish the digits 9-1-1 as the emergency code throughout the United States. AT&T has been in the 9-1-1 business from the beginning and is in the forefront of the current shift to NG911. I recently had the pleasure to interview Jodi Chapin - AT&T Director, State and Local Government Marketing and Pat Thetford - AT&T Sales Director, Public Safety Solutions about AT&T's perspective on NG911 solutions and to also interview David Alexander - Director, Hardin County TN 911 Services, and Deborah A. Sands - 911 Administration Manager/911 Coordinator, Brevard County FL about their experience implementing a NG911 solution from AT&T.

For the vast majority of PSAPs, when someone calls 9-1-1 the only information the call taker gets is a phone number and an address. That works just fine when the caller is using a regular phone in their home, but over the past few years, as David Alexander pointed out, "we have moved from a localized community to a mobilized community." That creates problems for PSAPs. While Enhanced 911 can get location information, people using mobile phones expect to be able to leverage the functionality they provide – images, video, texting, and especially call routing to the right PSAP when they are on the move. Pat Thetford expressed some concern that people don't know that they can't fully utilize their cell phones when calling most 9-1-1 centers today. NG9-1-1 solves this problem.

Solution Overview

With a NG9-1-1 enabled PSAP people can call using voice or text, send pictures and videos, send accurate location information, and get routed to the closest PSAP quicker. As our society embraces mobile communications the 9-1-1 system must keep up.

But wait, there's more! NG9-1-1 solutions let you use and share data and information in new ways; supports better integration with other applications; and provides great flexibility in how people can communicate - meaning a NG9-1-1 solution can help you do your job better, faster, and even cheaper.

For Example

Hardin County, TN has been and AT&T client since they first implemented 9-1-1. When it came time to build a new communications center, David saw the opportunity to make the move to NG9-1-1. One incident stood out as a prime example of why they should do it. They got a call one day from a grandmother who said her grandchildren were texting her explaining that they were in the car with their mother who was drunk and they were afraid for their lives. The children did not know where they were. The dispatcher had the creativity to have the kids call 9-1-1 (enhanced 9-1-1) and just leave the line open. They finally tracked the mother down through the GIS capability in the cell phone and arrested her. The kids were safe. They knew they dodged a bullet on that call - it took too long to locate the car. If they had a NG9-1-1 solution in place the kids could have texted 9-1-1 directly.

What Sets Them Apart

AT&T has been in this business from the start. Their experience with over 2,500 PSAPs puts them in the top category of knowing how to do this. The company also has a strong history of innovation through AT&T Labs research, a significant group of people dedicated solely to public safety solutions, and one of the strongest communications networks in the world. And one more thing, they are committed to working with the public safety community through various associations they support.

More Information

AT&T Public Safety websites for First Responders, Command & Control, and Continuity Solutions http://www.corp.att.com/stateandlocal/public_safety/

AT&T Labs Research:
http://www.research.att.com/projects/Geocast/index.html?fbid=bljyLl-l-Tb

Whitepaper: Digital Communities - Next generation networks for public safety. Build locally to achieve nationally (start on the bottom of page 8 "Solution: Next Generation 911"). http://www.corp.att.com/stateandlocal/docs/ps_next_gen_network.pdf

Video of AT&T Disaster Response Capabilities http://www.corp.att.com/stateandlocal/media/apco.mp4


Tips for Success

David and Deborah had some helpful tips for other agencies looking into NG911.
Do your homework and make sure you have stakeholder buy-in.

Make sure you set up effective communications. Keep everyone involved in the project involved and up to speed. David found www.MavenLink.com to be very helpful. It is a free to very cheap way to collaborate with multiple people and teams.

Be wary of wolves on sheep's clothing – vendors may take advantage of you.

Make sure you are not buying beta software.

Talk to the vendors and more importantly talk to others who have used their solution.

Be patient and flexible.

Final Thoughts

The 9-1-1 system must keep pace with how citizens communicate. NG911 is a solution you must at least look at and see if you can get your system up to speed with your community. AT&T has done this for a long time - they know the ropes and know how to get it done. They have the people and recourses to help you make this happen. Give them a call.

Company Facts
Company Name: AT&T
HQ City & ST: Dallas, TX
# Employees: 256,210
Web site: www.att.com/publicsafety
PSAP Clients: Over 2,500 PSAPs
Years in business: 136 years
Leave a comment
April 25, 2012
Introduction

If your department provides Emergency Medical Services, then you are probably interested in anything that will help improve patient care, lower liability risk, increase revenues, and help you manage and analyze information better. Electronic Patient Care reporting (ePCR) systems can help you do just that.

An ePCR solution can help you deliver the ultimate service to your citizens – it can save lives. The key components of a good ePCR system are the ability to go beyond replacing paper and provide protocols and guidelines to first responders in the field and to capture all the information generated for a multitude of purposes later on. SafetyPAD EMS Information Systems from Minneapolis, MN makes the SafetyPAD ePCR solution, and it's a good one.

Solution Overview

The SafetyPAD ePCR system has two components - SafetyPAD Mobile and SafetyPAD Enterprise.

SafetyPAD Mobile is used on a ruggedized laptop for patient care and front end data collection. It allows responders to collect, reference, and communicate call and patient information. It also provides customizable patient care protocols and guidelines. This component helps provide better patient care and lowers liability risk. It also collects all the data and information necessary for billing, analysis, reporting, and alerts and sends it to the server.

SafetyPAD Enterprise is a web based server used for data storage, analysis, reporting, and alerts and also supports patient information sharing with hospitals. SafetyPAD BioView and Reconciler applications also reside on the server.

The BioView application can help you spot trends in incidents, patients, or clinical assessments based on your customizable rules and parameters (think H1N1 analysis, find frequent users of the EMS system, etc.). Reconciler will help you make sure you are billing correctly.

For Example

Miami Fire & Rescue uses SafetyPAD to establish Active and Interactive Guidelines. They define and require questions, answers and reference materials for clinical parameters and a narrative is generated for each parameter. They have created a Miami Fire & Rescue specific 'protocol to-do list'. After these guidelines were in place they experienced dramatic improvements in their documented protocol compliance (and no additional training was required).

The following shows the improvement in protocol compliance for Chest Pain complaint/impression:



This is what technology solutions should do for you – help you deliver on your mission.

What Sets Them Apart

SafetyPAD doesn't just replace a paper EMS form. This is an integrated system to help improve patient care, reduce liability risk, increase revenue, and manage information.

Client Quote

Lt. Sheehan, Cincinnati Fire Department controlled medication officer notes "I don't have to log on and search for the specific ePCR to verify narcotic usage, it saves me time. [The alerts are pushed to me] so I can have the medication and paperwork ready when the unit comes for replacement, makes the process more efficient"

Final Thoughts

If one of your goals is to provide the best patient care possible, take a good hard look at SafetyPAD. This solution can help you improve your EMS services in more ways than one.

Company Facts

Company Name: SafetyPAD EMS Information Systems (OPEN Incorporated)
HQ City & ST: 7760 France Avenue South, 11th Floor, Minneapolis, MN 55435
Person Interviewed: Scott Streicher, PMP / NREMT-I
Title: Director of Operations
Phone: (888) 415-1399
Email: info@safetypad.com
Web site: www.SafetyPAD.com
Clients Include: Chicago Fire Department, Miami-Dade Fire & Rescue, D.C. Fire and EMS, Boston EMS, Columbus Fire Department, Cincinnati Fire Department and numerous others.
Years in business: Started in 1993


1 comment
April 19, 2012
Introduction

Saving lives is all about getting information. When someone calls 9-1-1, the only information a dispatcher gets is a phone number and an address. The dispatcher has to ask a lot of questions to get additional critical information. What if that information came up on a screen as the call came in? That would save time - and if you can save time you can save lives. The smart way to do 911 is to have important information attached to the caller. This is what Smart911 from Rave Mobile Safety can do for you.

Solution Overview

The Smart911 solution starts with residents adding their Safety Profile on a secure and private data repository. They register their phone number (for free) and supply potentially life-saving information they want to make available to 9-1-1 in case of an emergency. When the user calls 9-1-1 from a registered phone number, the data automatically displays on the 9-1-1 call takers work station. This helps them respond more quickly and effectively.


Figure 1 - Smart911 Overview

The 9-1-1 dispatcher can forward the information to fire, police, or other responding units so they can be better prepared and render assistance more effectively – they get better situational awareness.

Information in the profile looks like this: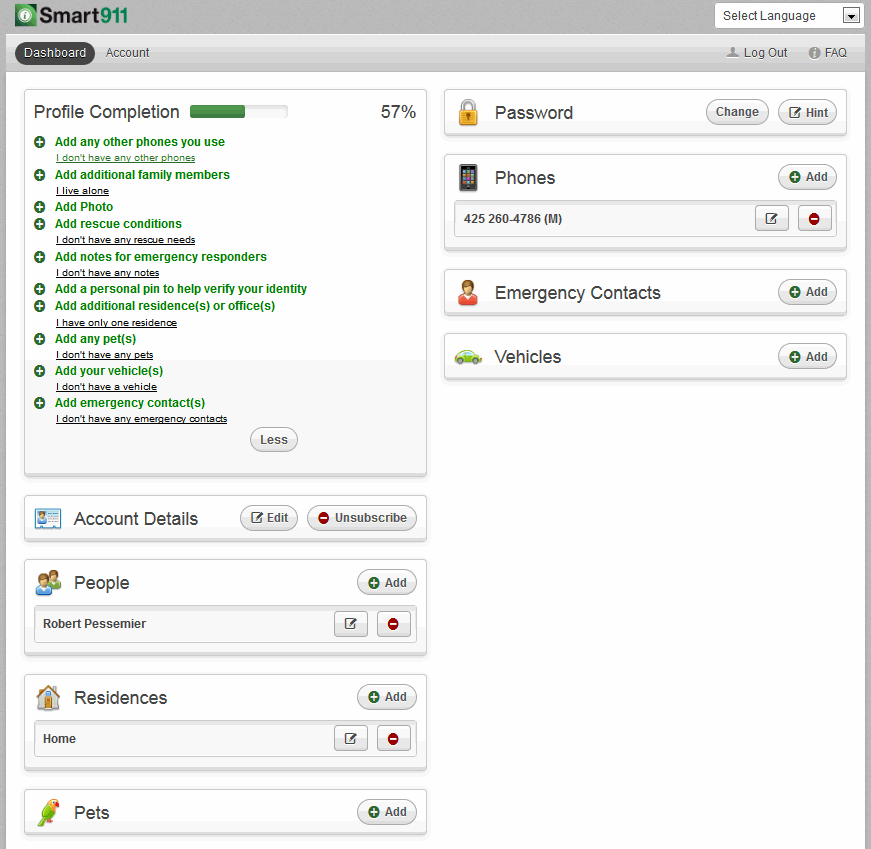 Figure 2 - Citizen View of Data
And this is what the call taker or dispatcher sees: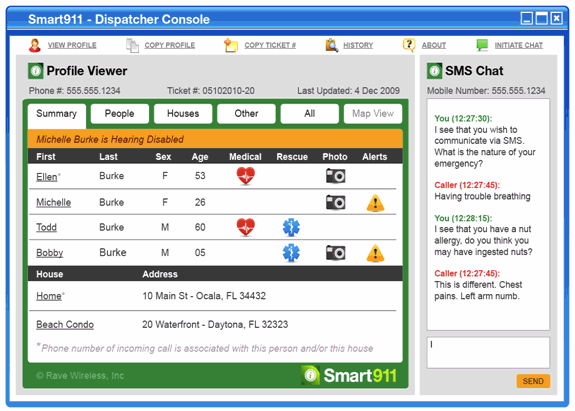 Figure 3 - Call-Taker / Dispatcher View

The details on each individual include rescue and medical information. Users can also include information about their house (I included a picture that shows where the closet hydrant is located), utility shut-offs, access information (which I also included since the cross street where we live is confusingly mis-marked), and any other features that might be important for firefighters or police officers. Users can also include information about pets (aka guard dogs), emergency contacts, and more.

For Example

1. Users can let responders know if someone is confined to a wheelchair, uses oxygen, is deaf, has allergies, what medications they take, and any other important information first responders should know about. This kind of information may have saved the life of a Homewood, IL firefighter who was killed in March of 2010 when oxygen tanks exploded while he was fighting a fire in an elderly couple's home. The elderly man who lived there (and used the oxygen) was confined to a wheelchair and also died.

2. A deaf person who calls 9-1-1 from a cell phone can start text messaging with the dispatcher to communicate. This call-then-text method allows the call taker to recognize the person has requested text messaging and then initiate a 2-way SMS communication in response to an inbound voice 9-1-1 call.

3. Some recent life saving examples include: a caller who was unable to speak because of an allergic reaction, a caller experiencing a massive heart attack, a child with a rare-breathing disorder whose mother had provided detailed pre-arrival instructions, and a attempted sexual assault where the call was disconnected before the victim could provide her apartment number.

What Sets Them Apart

The Smart911 service is a SaaS (Software as a Service) solution so set up and maintenance is easy. This also makes the long-term TCO (total cost of ownership) lower. It can be deployed in conjunction with any 9-1-1 call taking and CAD system combination and work across all phone types. A great additional benefit of this solution is the ability to geo-locate wireless callers even if the call is dropped or requires a call back – situations where the dispatcher is normally required to go through a painfully long manual process of contacting the wireless carrier directly with a subpoena.

Rave is working with a number of regional and national associations to help vulnerable populations including people with hearing impairments, Autism, Cerebral Palsy, Epilepsy, United Way, American Lung Association, and more.

Smart911 is resonating with a few other folks as well as demonstrated by some of their awards:


IACP/iXP Excellence in Technology Award - 2011
APCO People's Choice Award - 2011
Mobile Star Award - 2011
IDG's Computerworld 21st Century Achievement Award - 2010
Stevie Finalist - 2009
CTIA Emerging Technology Award – 2009

Rave Mobile Safety and Smart911 are helping protect millions of people right now. It works.

Client Quote

"We have found that additional information is especially helpful when we receive 9-1-1 calls from mobile phone users, citizens with disabilities or impairments, as well as calls from homes with young children and the elderly. Those individuals need special consideration and Smart911 can better prepare our team to help." - David Lucas, Director - Lexington 9-1-1, Lexington, KY.

"The fact that I can not only tell the responders what to expect when they arrive on scene, but that they can view the Safety Profile in their vehicles too is such a benefit. It cuts down on the time we are taking to determine the exact situation and gets our responders on-site faster." - Donna Hargis, Operations Manager - Public Safety Joint Communications, Columbia, MO.

You can also search www.YouTube.com for Smart911 and watch newscasts and interviews.

Final Thoughts

The more information you can get to dispatchers and first responders the better the incident goes. Give the people you protect a better chance for a better outcome – provide them the opportunity to help you help them. Do 9-1-1 the smart way. Take a look at Smart911.

Company Facts
Company Name: Rave Mobile Safety
HQ City & ST: Framingham, MA
Employees: 50
Phone: 888-605-7164
Contact: Tom Axbey, President
Email: taxbey@ravemobilesafety.com
Web site: www.RaveMobileSafety.com & www.Smart911.com
Clients: 500+
Years in business: 8


Leave a comment
April 04, 2012
Introduction

If a picture is words a thousand words then a geo tagged picture or video could be worth even more -especially for public safety. Images of incidents or disaster scenes can provide vital information for decision makers. Red Hen Systems from Fort Collins, CO provides hardware and software to collect geo-referenced video and photo data in the field and brings that data into desktops and Web-based maps for improved decision making. And now they can do that through an Android phone with their MediaMapper Mobile solution. The Android phone acts as an information collection unit in the field. Images and additional information are sent back to a server for others to see and use.

Solution Overview

The Red Hen solution lets you not only geo tag a picture with location and time but to also add any other information you want including a voice memo. This provides important operational information about the image. Now you can have not only location and time but searchable keywords and other information that help explain and identify what that image means.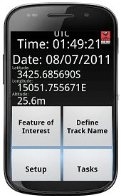 For Example

With this solution you could have an inspector in the field take a picture of propane tanks at a commercial business and add keyword search phrases like "propane tanks", the location of the tanks, an audio description of the area and potential hazards to the community and firefighters. This information is uploaded to a server. Let's say the Fire Department is dispatched to a fire at the address next to the one with the propane tanks. The CAD system could bring up the information from the server that has any hazardous materials with 1 block of the dispatched address. The propane tank information would come up and be displayed to the responding units. This helps provide them with better situational awareness.

What Sets Them Apart

Red Hen was one of the first companies to provide geo tagged solutions. They have been at this for over 18 years now. They have a very stable and field tested solution that has been used by the military and by clients in transportation, utility, pipeline, and other industries.


Website Quote

MediaMapper Mobile is an Android device app that geotags images with GPS coordinates for fast data collection and storage. Uses remote trigger capture based on time or distance for automatic image collection. Allows audio comments, tracks features of interest and connects to external GPS devices from a single tablet or smart phone.

Final Thoughts

Geo tagged pictures and video help public safety agencies see and understand more of what is going on during an incident. Red Hen's solution provides a way to add more operational information to those images. Solid technology and a little imagination will help your agency deliver information to the field that will help them deal with emergencies even more effectively. If a picture is worth a thousand words, a geo tagged image from Red Hen can be worth much more.

Company Facts

Company Name: Red Hen Systems
HQ City & ST: 2627 Redwing Rd. Suite 235 Ft. Collins, CO. 80526
Phone: 970-493-3952
Email: info@redhensystems.com
Web site: www.redhensystems.com
Years in business: 18


Leave a comment
March 05, 2012
Introduction

How do you connect Buffalo Bill Cody with criminal justice & law enforcement data sharing? David Heffner, VP of CODY Systems, has a great story about his father (the founder of CODY Systems) and Buffalo Bill's grandson (also named Buffalo Bill) that involves WWII, Vietnam, secret military cryptology work, singing, 12-string guitars, rodeos, and a chance meeting at a bar that led to a lasting friendship. Ask Dave to tell you the story, he tells it much better than I can. But CODY Systems in Pottstown, PA carries the CODY name and Buffalo Bill would be proud.

Back in the old west, the outlaws knew that lawmen had limited information. One town Sheriff probably had no idea what was going on in the next town let alone the next county. It's a problem law enforcement has struggled with for a long time. But CODY Systems can help with its C.O.B.R.A. solution.

Solution Overview

C.O.B.R.A. is a unique way to enable real time sharing of information between public safety agencies. Originally developed in the late 90's (way ahead of its time), C.O.B.R.A. is like a U.N. translator service. Different records management systems and other data systems are like different languages. If the Italian ambassador is speaking at the U.N., people have to translate the words into many other languages and do it with all the slang and colloquialisms that give it full meaning. No small task.

Let's say you are part of a regional effort to collaborate and share information with two other jurisdictions. Your agency has a Microsoft SQL Server based RMS system, agency #2 an Oracle based RMS system, and Agency #3 has an Advantage Database Server-base RMS system. One of the biggest issues is that each of these systems will have very different database structures and conventions (much like different human languages) - how do you get all of these sources talking to each other efficiently and effectively, in a database language they ALL understand, and do it in real time?

An officer in the field needs accurate and up-to-the-second information - lives may depend on it - and C.O.B.R.A. helps make this happen. C.O.B.R.A. links and translates databases in real time and makes data available from any number of connected sources with ONE search to users in the field, as well as investigators, prosecutors, intel analysts, really anyone who has a need to see a complete picture of information on a subject, entity or incident. This solution has application for field-tactical use, investigations, fusion centers, analytics, intelligence analysis, and more.

It's a many-in /many- out translator that can provide actionable information to virtually any output tool or application you want to use. Agencies can link tactical search tools, visual analysis tools, situational awareness tools, GIS mapping tools, reporting tools, CAD, RMS and much more.

The key to C.O.B.R.A. is regional participation. The more agencies participate, the better and more useful the information is for all. All for one and one for all! (And you thought I could not connect Buffalo Bill with the Three Musketeers.)

How do you get at all this wonderful information? CODY provides a unique tactical tool for C.O.B.R.A. through C.tac (C.O.B.R.A. Tactical), a search application that can run from a vehicle or the desktop and is fueled by data from C.O.B.R.A. C.tac is secure, completely web-based, and cloud-ready so users can search instantly across any or all sources connected to their regional collaboration network. C.tac also provides one-stop search access to other outside sources such as NCIC, state sources, biometric sources, sex offender registries, and many more.

The key to C.tac is that users can search multiple data sources from one front-end application with one search.

For Example

A police officer makes a traffic stop and runs a plate and driver's license through their agency's database and a few national databases like NCIC. But this person has also been busy in a few neighboring towns and there is information in other records systems across the county/region/state that describe this person as a threat. Without a system like C.O.B.R.A. with C.tac in place, the officer will not know, just like the lawmen of the old west, that this person has a record and is dangerous. With C.O.B.R.A., this officer could run a query that would search all the participating agencies within the C.O.B.R.A. network and would get a much more complete picture of the suspect. Most importantly, the officer can have confidence that the information coming from these sources is refreshed up-to-the-second, not hours or days old. This helps keep the officer safe and the bad guys nabbed.

What Sets Them Apart

Here is a short list of what I think makes the C.O.B.R.A. solution unique:


C.tac 5 One-stop Search – Do ONE simple search and get results back instantly from all connected RMS/CAD databases, JMS databases, Courts, NCIC, state databases, federal sources, and other sources (e.g. sex offender registries, warrants, corrections, etc.).
Universal data source translator – translate many sources in… send to many destinations all speaking different data 'languages', IEPDs or standards… simultaneously and in real-time.
C.tac 5 is built for the field – delivers instant actionable 'one-stop' search data to agents in the field to enhance situational awareness and most importantly field agent/officer safety.
Data is never commingled - each agency's data gets its own silo that is secured,
Data is translated and synchronized within seconds.
Delivers instant, actionable data to fusion center analysts, investigators and intelligence personnel.
Standards compliant - works with NIEM/GJXDM, SOAP, etc. but does not require them
Field-proven - C.O.B.R.A. is in its fifth generation.
C.tac is a fully .NET web application delivered 100% within an internet browser
Template based – makes connecting to and synchronizing data sources far easier.
Links to other data sources – CAD, LPR, Biometrics, Jail Management, Courts, etc.
Cloud version available – for quick, easy, and cost effective implementation.
Works in conjunction with any other application.
Integrated data can be accessed by third party tools for other purposes (visual analysis, COMPSTAT, GIS mapping, statistical reporting, community-oriented policing tools, regional crime trending, etc.)
CODY does the work - minimal need for your IT staff or source application vendor participation.

Other CODY Systems solutions include:

CAD, RMS, hosted RMS, Mobile RMS/dispatch/field reporting, and other modules.

Client Quote

The link below is a video where Newtown Borough Police Chief Anthony Wojciechowski recalls the events of the tragic night when one of his officers, Brian Gregg, was brutally murdered by a known offender in Bucks County, PA. CODY Systems' donated their tactical, cloud-ready, information-sharing platform, C.O.B.R.A., to the county to help ensure tragedies such as this never happen again.

C.O.B.R.A. Video Link Here

Final Thoughts

Information drives emergency response. The more information first responders have access to the better. This was true in the days of Buffalo Bill Cody, and even more so today. CODY's C.O.B.R.A solution can help firefighters and police officers do their jobs better and help keep them and the public safe. If you are looking for a way to share information across many applications and multiple jurisdictions, give CODY a call. And remember to ask Dave about how Buffalo Bill and his father.

Company Facts
Company Name: CODY Systems
HQ City & ST: Pottstown, PA
Other locations: None. And, we do not outsource ANY of our operations. All of our support is handled in house at our Support Center in Pennsylvania.
Phone: 610-326-7476
Email: info@codysystems.com
Web site: www.codysystems.com
Clients: over 400 agencies nation-wide, ranging from 2-man rural PDs, up to large single agency and multi-agency (county/region/state-wide) deployments, as well as state and federal agencies.
Years in business: 33


Leave a comment
February 28, 2012
In the 1800's, if you could jump a candlestick without putting out the flame then good fortune was coming your way. It was a form of fortune telling. The modern version of an old poem might go something like this:


Jack be nimble
Jack be quick
Jack - jump over the technical, financial, and operational candlesticks so public safety agencies can achieve a new level of situational awareness right now.

You might say that situational awareness is, for public safety agencies, the modern version of fortune telling - and JackBe can help you be good at it.

I recently had the pleasure of interviewing Luis Derechin, President of JackBe. JackBe's solution provides real-time intelligence dashboards that are connected to any data or information source you need to see to help you understand any situation and respond more effectively.

Dashboards have been used in private sector business intelligence applications for a long time. As public safety agencies come to understand the value of analytics and business intelligence for their operations, these solutions have gained momentum. Dashboards can include charts, graphs, links, maps, camera feeds, documents, and more are linked to real-time information anywhere you need it.

A key to high-value common operating picture / situational awareness applications is to be able to use them for day-to-day operations, and for large scale emergency incidents. If you can also add value to planning and administration, you just about have it all – and this is what JackBe can do for you.

You can set up operational dashboards for incident management; more dashboards for analytics and business intelligence to monitor services and effectiveness; use it for the fire department, police department, emergency operations center, or planning and administrative operations - all with one tool.

JackBe brings a new way perspective to how real-time intelligence (RTI) can impact situational awareness (SA) as the table below illustrates: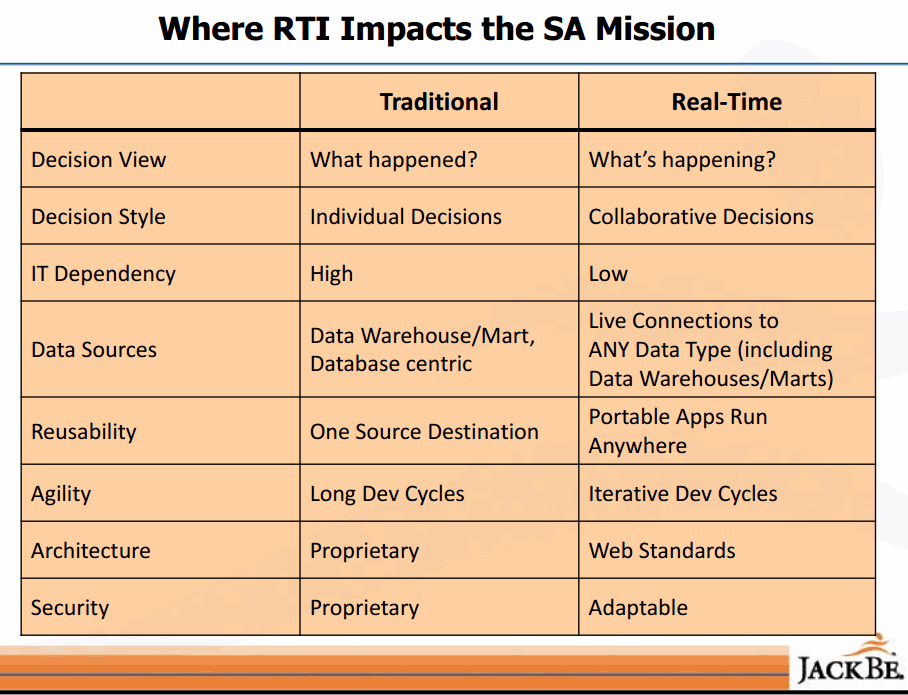 JackBe is used by a number of defense agencies and has been proven in the field. It has also been used in the public and private sector for a variety of analytics and business intelligence solutions. This is a great example of an application with roots in the military, public, and private sectors that is now being brought to the public safety community.

Operational intelligence dashboards (or what are called BI dashboards in the private sector) can help public safety agencies make better decisions in the field and in the office. They can help you understand a single incident, or the long-term trends in your community. Analytics and operational dashboards will be one of the next big solutions for public safety.

"It's all about analytics. If you are given the ability to take advantage of access to any data you need for situational, operational, or planning purposes, then that creates a myriad of possibilities to save lives, to save money; to do things better, faster, and cheaper. Leaders in the public safety community need to use data to their advantage, and we help them do that" said Luis.

If you are looking for a situational awareness, real-time intelligence, analytics, or business intelligence dashboard solution, that can be done in less time and with less funding than you thought possible, I encourage you to take a look at JackBe.

If you are a public safety focused software provider or technology services company looking to embed real-time analytics and dashboards into your solution, you might be interested to know that JackBe is looking for a few good partners to help bring their solution to public safety agencies worldwide. You might check out their partner opportunities.

Company Facts
Company Name: JackBe
HQ City & ST: Chevy Chase, MD
Other locations: Fremont, CA and Mexico City
Phone: 240-744-7620
Email: sales@jackbe.com
Web site: www.JackBe.com
# Employees: 60+
# of Clients: 100+
Years in business: 8+


Leave a comment
February 13, 2012
Introduction

Drivewise, located in Barrie, Ontario Canada, has come out with a very interesting incident command simulator. XVR is a safe, effective, and affordable way to practice your department procedures, scene assessment, risk management, crew communications, and interagency procedures - all from the comfort of your computer.

With the XVR simulation system, emergency management professionals can prepare, practice and train on tactical solutions, strategic planning and emergency response using an interactive, customized and hands-on method.

Solution Overview

XVR is interactive and instructor-driven. Learning outcomes are determined by both the trainer and client. The scenario can increase or decrease in difficulty depending on how the student is progressing. Scenarios are created with the client present, so the challenges your unit faces will be incorporated into your training program.

DriveWise has in-house subject matter experts that work with our emergency management clients to build a program that is focused on any areas requiring more intensive training. This ensures that all personnel have the knowledge and prioritization skills when they arrive on-scene.

The XVR system works for all levels of emergency response. From chiefs and high level officers to front-line officials, responders get hands-on experience within their role either as a stand-alone unit or as part of a multiple-station exercise. It is also capable of inter-agency response to encourage open lines of communication between law enforcement, fire and rescue and to help define roles and tasks assigned to their position.

For Example

When you arrive at the scene of an incident, the first five minutes will determine the next five hours. By utilizing the XVR simulation system, emergency management professionals can prepare, practice and train on tactical solutions, strategic planning and emergency response using an interactive, customized and hands-on method.

What Sets Them Apart

XVR Incident Command System is instructor driven and the level of difficulty can increase or decrease depending on how the student is progressing through the scenario. Unlike most script and fixed-based incident commanders, the instructor is in full control over the elements as the scenario is running. Objects can be added or subtracted on-the-fly, depending on how the facilitator feels the student is advancing. The instructor console is also unique; it does not require any programming knowledge in order to create powerful scenarios. The instructor or subject matter expert starts with an environment and can easily drag-and-drop objects in to create a library of useful and educational scenarios.

Client Quote

Fire Training Officer, Don Hebner said "The simulator is very realistic and job related. Although it has more of a European flair, we look forward to taking it to the next level by adding portable communications, Canadian specific objects, and task level strategic play. It's a great experience and brings home the incident command system. XVR is a great tool to hone your skills on and play out scenarios. I think that a lot more departments should take advantage of it."

Company Facts

Company Name: DriveWise Canada, a division of Knowledge Surge Learning Solutions
HQ City & ST: Barrie, Ontario Canada
Phone: 705.730.1130
Email: info@drivewisecanada.com
Web site: http://www.drivewisesafety.com/ or http://www.drivewisesafety.com/about-xvr


Leave a comment
January 26, 2012

When it comes to software and technology services, there is a need in the public safety community for more collaborative ways to bridge the gap between the private sector and public safety end users. The biggest challenges for end users are:
The lack of knowledge about the wide variety of software and services currently available.
The difficult and frustrating search process.
The absence of resources (especially peer reviews) to help end users make good decisions.
The biggest challenges for software and services providers are:
Getting visibility in the public safety community.
Establishing trust.
Creating effective and collaborative communications with prospective clients.
These realities are why I created the Public Safety Technology Review. The PSTech Review makes it easier for public safety agencies to find, evaluate, and compare software and technology services. It also makes it easier for software and services providers to be found by public safety agencies who have a need. Both sides benefit.

Many public safety agencies go looking for a software or technology services solution only to find the process difficult. With over 7,000 software and services companies providing solutions to public safety agencies, the search process can be tedious, frustrating, and confusing. The Public Safety Technology Review makes this process much easier.

This is a free service for the public safety community and includes: Comprehensive Software and Technology Services Listings
Detailed Ratings & Reviews
Advanced Search Options
Articles, Interviews, and White Papers
Webinars and Guest Speakers
Discussion Groups
The PSTech Review is your trusted source for information, articles, ratings and reviews - a place to learn and share your experiences and best practices with your colleagues around the world. The more you participate, the more reviews you submit, the more useful the site becomes for the entire public safety community.

If you are a software or technology services provider, make it easier for end users to find you - Register as a PSTech Solution Provider and for a limited time you can list 5 solutions for free for 1 year. You can also respond to reviews, connect with the public safety community, submit articles, offer webinars, and participate in select discussion groups.

I hope you will take a few minutes to find out more at www.PSTechReview.com.
Regards,
Bob





Leave a comment
January 16, 2012
While there are some folks in public safety who embrace the idea, many others are still on the fence or down-right resistant to the whole concept. If you are on the fence or holding social media at arm's length, Brett Hicks is out to change your mind.

Brett has authored A Guide to Incorporating Social Media into Public Safety Communications. This 38 page "How-To" booklet will help you understand what social media can do for your agency and how to get started. The main reasons Brett sees for using social media in public safety are:


It's free. Tools like Facebook and Twitter are available at no charge.
There are real world examples of how social media benefits public safety agencies (he describes some in the guide)
It is not technically complicated.

One of the big benefits of social media is the ability to communicate more effectively with the population you serve. For example, The Los Angeles Fire Department used Twitter to update the public about the Chatsworth train derailment in September 2008 and uses it on a daily basis to update the public structure fires and other incidents. Facebook has set up Amber Alerts pages for all 50 states including the District of Columbia, Puerto Rico, and the U.S. Virgin Islands. Another great way to use social media is for day-to-day basis is alerts for snow days and road closures.

Private companies make extensive use of Twitter and Facebook. They see the value in this form of communication. Ever so slowly the public sector is coming to recognize it as well. Part of this, according to Brett, is a cultural issue, some of it is generational , and some of it is just fear. But Brett reassures that "it is not as scary as some people think". The top three things to keep in mind are:


Get to know it and start slow.
Choose your applications wisely and align the social media effort with your overall communications strategy.
Monitor and manage the content from both directions (what you send out and what comes back).

Brett sees a number of areas where social media can help you including:


To educate and inform the public during emergencies
To educate the public before emergencies happen
Fundraising
Day-to-day alerts and messages

A key component is to develop a social media strategy which means you will need to


Identify Your Audience
Determine Objectives
Identify and Understand Social Media Applications
Agree on Investment of Resources (time and effort)

To give you even more fuel for fire, Brett also discusses Crisis Informatics, Social Convergence, and Social Dynamics which all add to the reasons to look at social media. Brett's guide is an easy and practical read. It will help you understand what social media can do for you and how to get started. It is well worth the time.

About Brett Hicks

Brett is an Assistant Professor as several universities across many programs of study. He has been involved with the delivery of education for more than 15 years in multiple learning management platforms and educational modalities.

Brett possesses an extensive international background in curriculum development, social media implementation, and educational leadership. In addition, his professional accomplishments in health care administration, emergency management, global health, humanitarian assistance and disaster relief brought him individualized and team recognition during over 19 years and practiced in countries such as the Philippines, Australia, Bangladesh, Kenya, Pakistan and Iraq.

Contact Brett at bretthicks58@gmail.com

Brett's book, A Guide to Incorporating Social Media into Public Safety Communications, can be purchased at Lulu.com: http://www.lulu.com/product/paperback/a-guide-to-incorporating-social-media-into-public-safety-communications/18631667?productTrackingContext=search_results/search_shelf/center/1

For those looking for even more information, Brett has also developed an undergraduate class at American Public University - EDMG321 Social Media Application to Emergency and Disaster Management. More at http://www.apus.edu/.


5 comments
Latest Emergency Management News