January 10, 2012
If you are a first responder you are probably familiar with WISER which provides a broad range of information about hazardous materials. You may not be familiar with CHEMM-IST (Chemical Hazards Emergency Medical Management Intelligent Syndrome Tool) which is an online decision support tool to help you make rapid and competent medical treatment decisions in the field. The goals of this resource are to:

1) Enable first responders, first receivers, other healthcare providers, and planners to plan for, respond to, recover from, and mitigate the effects of mass-casualty incidents involving chemicals
2) Provide a comprehensive, user-friendly, web-based resource that is also downloadable in advance, so that it would be available during an event if the internet is not accessible

CHEMM-IST takes a unique approach. Instead of needing to memorize hundreds of chemicals and their effects and treatment, CHEMM-IST asks you a series of questions and tells you what syndrome the patient is most likely suffering from and the treatment options. The site is in beta testing and they are looking for some first responders to take a look and give them feedback. CHEMM-IST needs you!

CHEMM-IST was produced by the U.S. Department of Health and Human Services, Office of the Assistant Secretary for Preparedness and Response, Office of Planning and Emergency Operations, in cooperation with the National Library of Medicine, Division of Specialized Information Services. I had the opportunity to interview Dr. Mark Kirk who is a medical toxicologist, on the faculty at the University of Virginia, and one of the original developers of the concept.

CHEMM-IST arose after Dr. Kirk worked for many years in the EMS field and worked closely with the Indianapolis Fire Department on how to respond better to chemical emergencies large and small. He found that working with syndrome (grouped symptoms) was a much easier and more effective way for the fire department to respond and treat patients. So instead of trying to identify a chemical you only need to identify the syndrome and that will lead you to treatment.

The online site is at http://chemm.nlm.nih.gov/chemmist.htm. You start by answering a set of questions.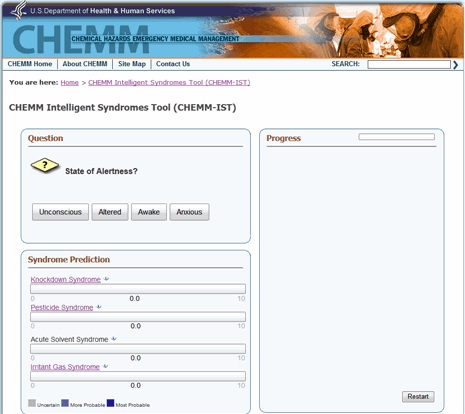 Once you have gone through the questions the application tells you the most likely syndrome.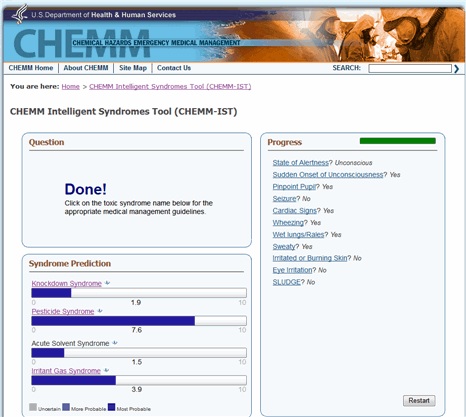 In this case the Pesticide Syndrome is most likely so you click on that syndrome for more information.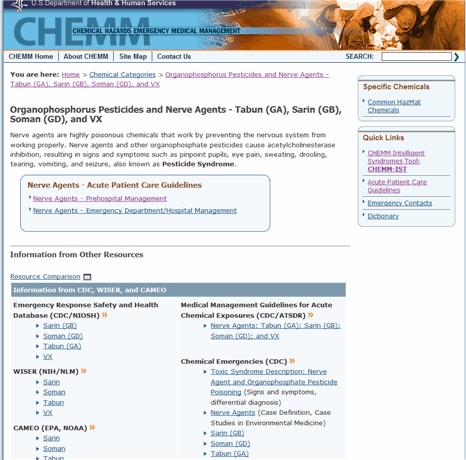 The Acute Patient Care Guidelines link takes you to treatment options. Links to other resources and information are also available.

This tool will help you recognize the correct syndrome and take appropriate action. The application has two primary uses:

1) Patient management in the field

2) Patient assessment, triage, and management training

Dr. Kirk and the CHEMM-IST team would like your feedback. Take a test drive and then let them know what you think. You can go to the Contact Us page and the email link to provide feedback (nlmchemm@mail.nih.gov).





Leave a comment
January 09, 2012
Introduction

Public safety software saves lives. Public safety agencies the world over depend on software to deliver services. Computer Aided Dispatch, Records Management, Jail Management, Courts Management, Human Resources, Resource Tracking, Common Operating Picture, Emergency Management, Communications, and other software applications help public safety agencies achieve their operational mission every day. Software applications form the building blocks to deliver services better, faster, and cheaper. Well, sometimes they do. The 2009 CHAOS study found that 68% of government IT projects fail to be delivered on time, on budget, and with the required features and functions. That is dismal considering the current economic pressures. No public safety agency can afford to fail in their effort to find and implement the right software solution.

If you have ever been anywhere near the process of purchasing software, you have heard the horror stories. They go something like this:

• After X months/years of study and
• After paying consultants X thousands/hundred-thousand dollars and
• After X months/years of an RFP process and
• After X months/years of implementation effort and
• After spending X thousand/hundred-thousand/million dollars
• The We-Thought-It-Was-A-Good-Idea-At-The-Time software is scrapped

Not a happy ending. No matter the amount of time or money, that ending hurts. So what happened? It all starts out with the best of intentions and then something goes horribly wrong. Even if it does not end in a Techno-Mulligan (a do-over for you non-golfers) or an IT equivalent of the French Revolution (Off with their heads!), there are other levels of semi-failure available depending on how poorly the solution meets user needs, or how little it gets used, or how much extra time and money it costs. The best way to make sure your project is a success in the end is to avoid the most common mistakes in the software acquisition process.

After four months of gathering research and conducting numerous interviews with public safety leaders and software company executives, I found the following five mistakes to be the most common:

Mistake #1 - Poorly Defined Goals and Operational Outcomes

The number one mistake is not starting out with clearly defined goals and desired operational outcomes that can be measured or at least described clearly.

Goals and operational outcomes define the value the software solution will bring to your agency and the public you serve. You need to clearly define the operational need and the impact the solution is expected to provide. Clear and complete answers to the following questions should help you define these:

1. What is the problem we want to solve?
2. How much is the problem costing us now?
3. What are the operational needs?
4. What is the expected impact?
5. Why is that important?
6. What will the new software allow you to do that you cannot do now?
7. Who will benefit most and how will they benefit?
8. How will it benefit your agency?
9. How will it benefit the public you serve?
10. Where will it be used?
11. Who will use it?
12. When will it be used?
13. What are the measurements of success?
14. Who will pay for this?
15. What is the expected return on this investment in terms of time, efficiencies, or money?
16. What happens if we don't buy any new software?

Mistake #2 – Trying to Solve the Wrong Problem

Software applications operate in a system. In public safety, the system includes processes, procedures, people, and resources. What software applications do well is facilitate the flow of information in the system. A software application, by itself, will never completely solve a problem. The other parts of the system also need to be operating well for software to help them. So a shortage of resources can't be solved with software, but tracking those resources and maybe explaining to the budget people why you need more resources can be facilitated through software. Poor leadership in the field is a people and operational problem. Software can help you solve that problem but cannot do it by itself. It must operate in a system that includes interactions among people. You can't solve a policy, procedure, or training issue with software alone.

To make sure you solve the right problem ask:

1. How much of the problem can software really solve?
2. How much of the problem is related to policies, procedures, or training?
3. If you could not buy any new software how would you try to solve the problem?

Mistake #3 - Poor Requirements/RFP Document

This is a corollary to mistake #1. If you do not have clear goals and outcomes you end up with poorly defined and poorly worded requirements definitions which lead to a poorly written RFP. A poorly written RFP makes it difficult for vendors to respond appropriately.

Most software requirements are either Functional or Technical. Functional/Operational requirements should be described in terms of operational needs. Describe what it is you want to be able to do. One requirement on a recent RFP was one word "Accidents". That is not helpful. What do you want to know about accidents? What do you want people to do with that information? Try to give specific examples of what you want to do.

Technical requirements are usually easier to write but make the effort to describe them in terms and language that are clear and precise. Too many technical requirements use abstract terms and language that require too much interpretation.

In general, put requirements in context and explain them in detail. Tell a story. The requirements definitions and RFP process usually focus too much on the quantitative and not enough on the qualitative aspects.

Mistake #4 – Lack of Coordination, Cooperation, Communication

The software selection process usually involves a lot of people. You might have an Executive Team, a Project team, Stakeholders, and field operators who all need information to make decisions. Make sure each team members role is defined and clarified and that you have a system in place to share information as needed, when needed. Key components include:

1. Provide Strong Leadership
2. Provide Clear Governance
3. Create a Charter Document
4. Radiate Information Regularly
5. Communicate the Right Amount of Information to the Right People
6. Listen to Others
7. Meet Regularly (in person or on the phone) to Discuss Progress and Issues
8. Document Important Information and Decisions

Mistake #5 – Not Getting Peer Reviews

The most important way to find out how a software solution works is to ask the software providers customers - ask your peers and colleagues who are using it now. While this is one of the most important efforts you can make, it may also be one of the most difficult. Searching the web can be frustrating since it will usually bring up all kinds of unrelated and tangential links.

You could ask a software provider for references but they are going to refer you to their happiest clients. Those references may be able to provide good information, but you also want to talk to other clients who might have had a tougher time implementing the software solution. You need to talk to as many clients as you can to get a realistic picture of what the solution can really do, what it is like to work with the provider, and what issues or problems they had along the way. Here are some suggestions to help you find other public safety organization using the software you are looking at.

1. Search www.PSTechReview.com for reviews of the software on your short list.
2. Search www.PSTechReview.com for keywords relevant to what you are looking for (ex: CAD, Situational Awareness, etc).
3. Ask other agencies or departments like yours if they have had the same problem and what software they used to solve the problem.
4. Search Linked-In Groups or ask if anyone has used the software solution you are considering.
5. Ask some the software companies you have worked with ion the past if any of their business partners might have a solution (ex: ask your CAD vendor if they know any companies who provide the kind of software you need).

Once you have talked to as many actual users as you can, make a list of the positive and negative reports from users. Share this with the various teams and see what they think about the results. You might also take this information back to the software provider and discuss the major issues.

Conclusion
Finding and selecting the right software can be done. Avoiding these top five mistakes should help.


1 comment
November 10, 2011
Anyone who has ever been around the process of purchasing software or technology services has heard the software acquisition horror stories. They go something like this:
After X months/years of study
After handing over X thousand/hundred-thousand dollars to consultants
After X months/years of an RFP process
After X months/years of implementation effort
After spending X thousand/hundred-thousand/million dollars
The We-Thought-It-Was-A-Good-Idea-At-The-Time software is scrapped.
Not a happy ending. No matter the amount of time or dollars, that ending hurts. The 2009 CHAOS study found that there has been a marked decrease in project success rates, with 68% of all projects failing to be "delivered on time, on budget, with required features and functions".
So what happens? It all starts out with the best of intentions and then something goes horribly wrong. Even if it does not end in a Techno-Mulligan (a do-over for you non-golfers) or an IT equivalent of the French Revolution, there are other levels of semi-failure available depending on how poorly the solution meets user needs in the end, how little it gets used, or how much extra time and money it took. So what can you do to make sure your project has a happy ending?
I had the pleasure to interview David Roberts last week. Dave is the Senior Program Manager of the International Association of Chiefs of Police (IACP) Technology Center. He has served as Principal of Global Justice Consulting and Director of the Justice & Public Safety Practice-Global Public Sector, for Unisys Corporation. Dave also spent 17 years as Deputy Executive Director of SEARCH, The National Consortium for Justice Information and Statistics. He is a frequent speaker on justice information technology and integrated/joined-up justice both in the United States and abroad, and a published author. Dave holds graduate degrees in criminal justice from the State University of New York at Albany and Oklahoma City University. We talked about how to have happy endings when it comes to software projects in public safety.
The first question for Dave was - what kinds of software applications can make the biggest impact in public safety?
"The high volume, high business value solutions" Dave said. One law enforcement example Dave talked about is software and solutions that will help officers in the field get positive identification of people they are talking to. "Any time you can put in the hands of officers technology that allows them to immediately establish or verify identify, that is crucial" Dave said. Getting timely, accurate, and complete information in the field, especially location-based services through mobile and multi-functional devices (like Smartphones), is another high impact solution Dave likes.
Dave pointed out that to understand which operations are high volume and high value you have to measure things. It all starts with good performance measurement and management (PMM), no matter what public safety agency you are with or what department. If you have effective PMM going you can identify the high volume/high value operations and where a little sprinkle (or a heavy dose) of technology may be able to improve outcomes. This will also help you discover what kind of ROI a solution might bring to the table.
Another key for happy endings is to start with a clear idea of the operational needs or requirements involved. Software solutions are tools, they support the operational mission. Don't become the pawn of technology or chase "shiny things". Technology supports the business practices and policies that are in place (are they good ones?) – understand what technology can and cannot do for you. There is no software in the world that can fix poor operational practices. Look at your operational priorities and requirements and you will find the value and the problems that need solving.
Dave also pointed out that there are two justice systems – one that moves people and cases, and one that moves data and information. This may apply to any public safety agency. One system carries out the operation mission while the other supports the mission and informed decision making by moving data and information. I've heard it said that data and information drive emergency response. It drives more than that. But the key here is to have a strategic plan for your agency and a strategic plan for IT support of that plan.
So you can increase the likelihood of a happy ending if you can answer at least these questions:
What is the problem you want to solve and why – what is the outcome you want?
How are you going to measure it?
What is the estimated ROI?
What are the priorities?
A couple more tips include:
Break larger projects into small chunks (you might break down a multi-year project into 3 month development or delivery cycles)
Make sure you have the right mix of people with Project Management, IT Management, and Operational knowledge and experience.
One resource law enforcement agencies can tap for help is the IACP Technology Center which is designed to function as a comprehensive resource for law enforcement agencies and IACP Members in planning, implementing and managing technology to a) improve public and officer safety, and homeland security, b) enhance the effectiveness of operations and the efficient use of resources, and c) support and encourage the professional development of law enforcement personnel, public safety agencies and IACP Members.
Technology programs addressed by the Center are broadly arrayed, ranging from Automated License Plate Readers (ALPR), in-car cameras, and biometric identification technologies to national information sharing initiatives such as the National Data Exchange (N-DEx) program and the Nationwide Suspicious Activity Reporting Initiative (NSI). In each program area, the Technology Center provides technical insight and expertise, rigorous analytic and research capabilities, and practical experience and operational support to ensure that technologies are effectively implemented and managed, and that they meet the day-to-day needs of law enforcement practitioners.
You can contact Dave at is roberts@theiacp.org.
If you have a software acquisition story to share, happy ending or not, I would love to hear about it.

Hope this helps.
Regards,
Bob
Leave a comment
October 05, 2011
Introduction

While I usually look at software and services, this hardware solution caught my attention.

Communication is critical for firefighters. People need to know what is going on at the scene. Safety and effective operations depend on clear communications between everyone. Intercoms in fire department apparatus have been around for quite a while. The problem is that communication is limited to the length of a cord or the range of a wireless headset. Firecom's new wireless headsets help improve and extend incident communication.

Solution Overview

Firecom's new 50-Series wireless headsets use an encrypted DECT6 1.9Ghz frequency which means they provide 30 times the coverage area of a Bluetooth solution with no interference. You get clear communications all the time up to 1,600 feet line-of-site and 500-800 feet at a scene depending on buildings and other structures. And these are truly wireless - everything is contained in the headset so you do not need to fumble around trying to connect to a belt unit.

These headsets allow you to transmit hands-free over the radio or just listen in. All you do is flip a switch on the headset to go between radio and intercom. You can even switch between high and low background noise modes. The extended battery life means you can get up to 24 hours of continuous operation from a two-hour charge.

For Example

If everyone has a headset you can achieve full communications with everyone on a scene. The incident commander will be able to talk on the radio and hear all radio and intercom communications between crews. Everyone can hear and be heard. This improves safety and operational effectiveness.

What Sets Them Apart

Firecom has been doing this a long time. They listened to hundreds of thousands of current users to design this new series of headsets. One thing they have heard is that budgets are tight as a drum. So they have started a trade-up program. You can trade-in any Firecom headset purchased in the last 20 years and get credit of up to $150 towards the new wireless solution. That is outstanding.

Client Quote

"Representing the second-generation of Firecom's wireless technology, the 50-Series is the most advanced team communication system on the market," Stager said. "Firecom continues to invest in product improvements and programs like the Wireless Made Easy Trade-Up Program to increase the safety and effectiveness of firefighters worldwide by ensuring that they have access to the most advanced technology solutions."

Price Tag

You can outfit an apparatus for $600 to $1,200 per user depending on options. So a four person engine is $2,400 to $4,800. Take $600 off for four trade-ins and it runs $1,800 to $4,200.

Final Thoughts
If you are looking to improve incident communications and keep your people safer and more informed, give the FireCom wireless solution a good look.
Company Facts

Company Name: Firecom
HQ City & ST: Portland, OR
# Employees: 40
Other locations: Firecom products are sold through a network of over 800 dealers and resellers.
Phone: 800-527-0555
Email: Info@firecom.com
Web site: www.firecom.com
# Clients: Over 2,800 organizations use Firecom products.
Years in business: 22



Leave a comment
September 28, 2011
Introduction

What do you get when you invest $14 million and 6 years of field tests in an emergency medical services telemedicine system? You get DREAMSTM – Disaster Relief and Emergency Medical Services – described as the most advanced EMS telemedicine system in the world. The $14 million came from the U. S. Army Medical Research and Materiel Command and the Telemedicine and Technology Research Center (TATRC) through a Congressionally Funded military research project. The six years of field tests were done in Liberty County Texas. LifeBot® is the company bringing DREAMSTM to the public safety, EMS, and hospital emergency medicine markets. I had the pleasure to interview Dr. James "Red" Duke and Roger Heath recently about DREAMSTM and what this solution can do for emergency medicine.

Solution Overview

DREAMSTM is a complete telemedicine system to connect EMS field units to hospitals and doctors who may be hundreds of miles away and spread out across the country or across the globe. You can transmit voice, video, patient data, and even instruct field personnel on medical procedures. The system integrates voice, video, data, wireless networking, and radio-telephone communications systems.

The solution can be installed in ambulance or EMS units to create a Super Ambulance or Mobile Primary Care Unit and can also be used by field personnel on an HP Slate 500 tablet PC. Hospitals can connect the emergency department with the field units using the HP TouchSmart 9100 in the hospital.

The goal of the system is to provide better triage, diagnosis, and treatment on the scene. DREAMSTM is designed to help public safety agencies and hospitals save lives, lower liability risk, and reduce costs.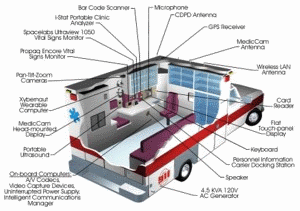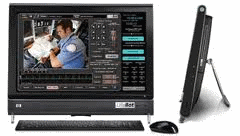 A DREAMS aid/ambulance unit. DREAMS on an HP TouchSmart 9100.

For Example

Let's say you have a Medic unit set up with the DREAMSTM solution and they respond to a car accident that is 100 miles from the nearest hospital. Doctors will be able to view the patient and their injuries with one of the three cameras mounted in the unit and the even view the scene so they can determine method and extent of injuries. They can look up patient records from a hospital database and consult in real time with a hospital trauma department. Patient vital signs and other telemetry data are transmitted to the hospital. A doctor in the trauma center could help the paramedics close a large laceration (something they are not trained to do) that is critical to a patient's survival. Triage and patient care becomes much more effective and efficient. They can also communicate with anyone they need to even if they are on a cell phone, land line, or a completely different radio system.

What Sets Them Apart

A major differentiator of DREAMSTM is that it is an all-in-one integrated system designed to work seamlessly from the field to the hospital in any technology environment. This system was used for six years in Liberty County Texas and is the only telemedicine system used in actual disasters (Katrina, Rita, Ike).

The people behind this solution are also unique. Dr. James Duke is a renowned trauma surgeon, introduced the first helicopter life flight program in the U.S., attended to Governor Connally's wounds during the JFK assassination, and hosted the former PBS series, "Bodywatch". His credentials and involvement in EMS is on the scale of legendary.

Roger Lee Heath is an entrepreneur and inventor who is credited with bringing the Automated External Defibrillator (AED) to the EMS world. Mr. Heath is another legendary figure in telemedicine technology.

Dr. S. Ward Cassells received the General Maxwell Thurman Award for his participation in the design of the DREAMS Digital Ambulance telemedicine system, is the former Assistant Secretary of Defense (Health Affairs), and is the John E. Tyson Distinguished Professor of Medicine and Public Health, and Vice President for External Affairs and Public Policy at the University of Texas at Houston, and Senior Scholar at the Texas Heart Institute.

The contribution these three have made to health care and telemedicine over the years is very impressive. They should know what they are doing with LifeBot and DREAMS.

Client Quote

"Through our close collaboration with innovative technology leaders like LifeBot, HP mobile technology products bring physicians closer to the point of care, regardless of their location. In the back of an ambulance where every second counts, this type of technology is particularly critical, said Chris Mertens, vice president, Healthcare, Personal Systems Group, HP. "Combining our HP Slate 500 and HP TouchSmart PCs with Lifebot's DREAMS™ ambulance teletriage system is revolutionizing speed of care in emergency health situations and truly saving lives."

From Roger Heath: "DREAMStm has many applications beyond ambulance telemedicine – the software can be used on hospital mobile telemedicine carts and desktops, or by neurologists on LifeBot's hub and spoke system to meet American Heart Association recommendations for telestroke. DREAMStm can expand those capabilities to include teletrauma, e-ICU, and disaster management. With the 1.5 pound HP Slate tablet PC, a physician or intensivist can remotely connect hospital-to-hospital or hospital-to-ambulance from almost anywhere, and at any time, to save lives. Call centers, or "telemedicine hubs" may quickly triage and dispatch higher levels of care. Improved communications and care coordination provides for new efficiencies significantly lowering healthcare delivery costs."


Price Tag

The cost to outfit an ambulance or EMS unit is about $25,000 to $50,000 depending upon the amount of equipment or features desired.


Final Thoughts

The DREAMSTM solution from LifeBot will help Fire Department Aid and Medic crews, ambulance crews, hospitals, and clinics deliver better care to patients. If this is one of your goals you might give them a call.

Company Facts

Company Name: LifeBot, LLC
HQ City & ST: 2303 North 44th Street, Ste. 14, Phoenix, AZ 85008
Phone: 877-466-1422
Email: info@lifebot.us.com
Web site: www.lifebot.us.com
Years in business: 2yrs.


Leave a comment
September 13, 2011
Introduction

When you think about public safety technology solutions which companies come to mind first? If you want to link information, people, processes, and systems who are you going to call? I was a bit surprised to find out that you might try IBM. I interviewed Mark Cleverly recently, IBM's Director of Public Safety Solutions, and he enlightened me about what IBM is doing for public safety agencies large and small.

I have seen the Smarter Planet commercials on TV but did not know much about their efforts to help create smarter cities and even smarter public safety agencies. They focus on cities because that is where most people live and they see the perceived level of public safety as a key part of individuals and corporate decisions to locate in a particular city.

Solution Overview

Mark describes three key observations that drive IBM's solutions – the three I's. The first I is Instrumentation. More and more instrumentation is being used in public safety that captures more and more data and information about what is going on in the world. The second I is about the level of Interconnection between people, public safety and other government agencies, and the private sector. The third I is Intelligence and Mark pointed out that as you have an ever increasing volume of data and information coming from ever more diverse systems being shipped around to people who need to use it, you better make sure you are equipped to analyze that information so you can actually make a difference. And this is the main focus area of IBM's solutions for public safety.

IBM helps public safety agencies achieve their operational mission through the use of their Intelligent Operations Center (IOC) and through the use of analytics and predictive analytics. The IOC is a group of IBM solutions that allow all city agencies to share data and information. The analytics and predictive analytics help them understand what is going on and how to best address current needs most effectively.

For Example

The FDNY uses the IBM analytics solution to conduct inspections based on risk and use their limited resources most effectively. The NYPD built a Real Time Crime Center with IBM solutions.

Here is an overview from the IBM web site about how Memphis PD uses IBM solutions:

When Larry Godwin took over as director of the Memphis Police Department in 2004, crime across the metro area was surging, and city leaders were growing impatient. "The mayor told me I want this crime problem fixed," recalls Godwin, a 38-year veteran of the MPD. But the new director understood that a business-as-usual approach to crime fighting would no longer be good enough.

Business need:
The Memphis Police Department saw an opportunity to better understand and fight criminal activity by mining the department's huge digital repository of crime records and police reports. By identifying crime patterns by time and location, the department would be able to pinpoint "hot spots" of activity and better deploy police details to deter crime.

Solution:
The department turned to IBM® SPSS® predictive analytics to chart and analyze crime patterns and develop effective strategies for reducing crime rates while optimizing police manpower and resources.

Results:
Since the data-driven Blue CRUSH program was launched in 2006, the city has seen a 27 percent reduction in serious (Part One) crimes.

Benefits:
The MPD can analyze huge volumes of rime records in seconds, and revealing patterns of criminal activity and allowing more timely and targeted deployment of manpower and resources.

Annual return on investment (ROI): 863%
Payback period: 2.3 Months
Average annual benefit: $7,205,501

IBM also offers these solutions through a cloud computing model which makes them very cost effective for smaller agencies or for regional use.

What Sets Them Apart

IBM is a company people trust. They have been around a long time and done work for all kinds of organizations from around the world. Their depth of experience and capabilities is outstanding. Every client, large or small, benefits from this deep well of experience. They also have one of the largest research organizations in the world and are constantly working to find better ways to serve the public safety community.

Client Quote

Fire Commissioner Nicholas Scoppetta - "Combining different existing databases, and linking them with those of other city agencies such as the Department of Buildings, will dramatically improve the information available to our firefighters and result in a smarter, more productive inspection program."

Final Thoughts

If you want to find out more about what is going on in your jurisdiction, if you want to take a good look at data and information and turn that into knowledge and effective and efficient operations, then call IBM. They have solved a lot of different problems for a lot of agencies around the world. They might be able to help you.

Company Facts

Company Name: IBM
HQ City & ST:
1 New Orchard Road
Armonk, New York 10504-1722
# Employees: 426,751 (2010)
Other locations: 170 countries
Primary Contact: Mark Cleverley
Phone: +1-201-608-8213
Email: mark.cleverley@us.ibm.com
Web site: http://www.ibm.com/smarterplanet/us/en/public_safety/ideas/index.html
Clients: See Website
Years in business: 100
Leave a comment
August 29, 2011
Introduction

If data and information drive emergency response then why don't public safety agencies spend more time analyzing their data? The main obstacles have been the cost and complexity of these systems. Business intelligence solutions can be very expensive and very complex, which translates into difficult to implement and operate.

But what if you could look at your data and see on a map that one neighborhood of your jurisdiction has more kitchen fires than any other, and see that these happened in older homes, with certain kitchen appliances, to people with certain socio-economic characteristics and cultural backgrounds? Then you could develop an information and education campaign for the people of that neighborhood and fix that problem. That is the power of analysis. That is what some fire departments are doing right now with analytic dashboards.

While law enforcement agencies tend to do more of this (think COMPSTAT and intelligence led policing), fire departments are finally seeing the light of data analysis. And one of the reasons is that the software is getting less expensive and easier to use. The Omega Group provides one of these solutions.

Solution Overview

The Omega Group helps Fire and Police departments see what is going on in their jurisdictions. The information is presented through a dashboard with maps, charts, and graphs that can be customized quickly and easily to meet anyone's need. So the Chief sees one set of information and the Shift Commander sees another.

Their FireViewTM solution comes in two flavors – a Desktop and Dashboard.

The Desktop solution is a set of mapping tools to help analyze how resources are deployed. This tool will help you identifying incident patterns and response effectiveness.

The Dashboard solution is a set of maps, charts and reports that analyze data and provides a snapshot of recent events (like those kitchen fires described above).
The data can be sliced, diced, chopped, mixed, and matched in any number of ways.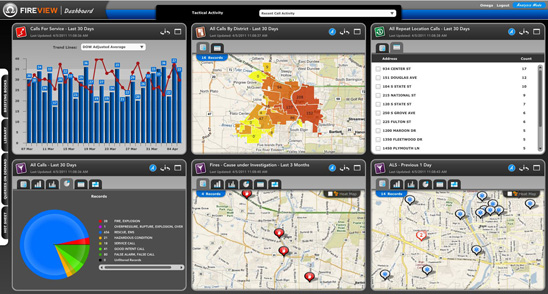 The FireView dashboard.

For Example

You can use these tools to:

• Analyze resource allocation (station locations, response times, and more)
• Do predictive modeling (if we close this station what happens?)
• Develop strategies to improve service
• Share information between other shifts, department, or agencies
• Analyze operational effectiveness

What Sets Them Apart

What makes this solution different is ease of use. You don't have to have a PhD to get this solution up and running and start seeing results (it's so easy even a Fire Chief can do it). The Omega Group staff also has extensive background and experience in public safety policy, planning, and operations. They have been there and know what you are facing.

Client Quote

"Implementing FireView has proven to be both rewarding and profitable. We look forward to maximizing our use of FireView throughout our agency."

Randy Godwin, Deputy Fire Chief, Wilson Fire/Rescue, North Carolina

Final Thoughts

This is the kind of tool that is only limited by your imagination and creativity. You can connect to all sorts of data sources and all you need to run it is a browser. They even have a SaaS delivery model which makes it even easier and more cost effective. FireView™ Dashboard would also be a great tool for a regional purchase by a group of smaller departments that thought they could never afford this kind of solution.

Company Facts

Company Name: The Omega Group
HQ City & ST: 5160 Carroll Canyon Road, Suite 100 San Diego, California 92121
# Employees: 30
Phone: (858) 450-2590
Email: sales@theomegagroup.com
Web site: http://www.theomegagroup.com
Number of clients: 600
Clients Include: Elgin FD, IL, Wilson FD, NC, Norfolk FD, VA, Boise FD, ID
Years in business: 19


Leave a comment
August 02, 2011
Introduction

PURVIS Systems is probably not the most well known public safety services company out there, but they do some good work. I came by them after they were awarded a $2.63 million contract for the District of Columbia to implement their Fire Station Alerting System. The solution will be installed district-wide including the Public Safety Command Center, the Unified Communications Center, the Fire Boat, the Radio Shop, and 33 fire stations. Their strength is technology engineering services and their engineering expertise and total dedication to their clients won them the contract.

Solution Overview

Fire Station Alerting Systems (FSAS) technology has come a long way. Back in the day we were lucky to have the power turned off to the kitchen and the lights turn on. Today, FSAS can turn off the kitchen appliances, turn on the lights, change the lights out on the street corner, open the bay doors, talk to the firefighters, display information on TVs and reader boards, print run cards, and give you nine cents change. You can connect just about any device to the system and control it any way you need. I want the one with the automatic coffee maker.

The goal is to help responders get out the door faster with more information and to improve communications. Communications can be done over an IP or phone connection so the conversation between dispatch and responders is secure and private. I learned something new by talking with Rick Foster from PURVIS – the FDNY uses a PURVIS solution that relies on land lines direct to the stations as a primary mode of dispatch (they also did the alarm box upgrade for NYC).

What Sets Them Apart

PURVIS is one of those companies that may not have a client list as long as your arm, but the clients they have are notable and have been clients for a very long time. That says something about the level of mutual respect they have for each other, and how much PURVIS has been able to help them achieve their operational missions. PURVIS is one of those engineering focused companies that can actually talk walnuts with the squirrels. They know public safety and they know how to get things done. One of their strengths is the ability to be flexible. They can move and change with their clients and it does not matter how big they are.

For Example

PURVIS provides the Fire Department of New York (FDNY) with ongoing technology and communications system upgrades and support for over 35 years. They have become an extension of the FDNY's team, handling a range of projects including making its emergency response and voice alarm systems Y2K compliant to providing around-the-clock support in all five New York City boroughs during the 9/11 tragedy.

Client Quote

"PURVIS Systems has historically proven itself to be a dedicated contractor on good standing, and is always ready to support the Fire Department of New York during any situation that may arise."

Donald E. Stanton, Assistant Fire Commissioner, Chief Information Officer, New York City Fire Department

"Their customer service is top of the line. Whenever I have a question, or if there is a problem, they are extremely attentive and available. Their customer service department always gives 110%."

Michael Walsh, Assistant Chief, Warwick Fire Department

Final Thoughts

PURVIS's core capabilities include System Integration, Software Development, Hardware Development, Engineering Services, and Field Services. Products include Fire Station Alerting & Communications System, Fire Department Management System, Emergency Notification System, Incident Management and Control System, Call Box Communications System.

The next time you are looking for any of these kinds of capabilities or products you might give PURVIS a call.

Company Facts
Company Name: PURVIS Systems Incorporated
HQ City & ST: 1272 West Main Road Middletown, RI 02842
# Employees: 150+
Other locations: New York, Virginia, Florida and Arizona
Phone: 401.849.4750
Email: reachus@PURVIS.com
Web site: www.PURVIS.com
Clients: include National Institutes of Health, the U.S. Navy, and the FDNY
Years in business: 38 years (Since 1973)



Leave a comment
July 21, 2011
Technology can do a lot to help keep firefighters and police officers safe. But sometimes public safety brain-trusts try to use technology to solve the wrong problem. The FDNY may have done just that. They recently deployed a software based Mayday system. It's called the Electronic Fireground Accountability System (EFAS). A firefighter in trouble can press a button and the software notifies the incident commander. The FDNY thinks this will help reduce the number of line of duty deaths in the department. They hail this as "revolutionary".
While it is commendable that they are making the effort, it is a technology answer to the wrong question. This is referred to as a Type III error: a seemingly right answer to the wrong question. This technology solution answers the question "How do we know when firefighters are in a life threatening situation?" By the time they declare a "Mayday" it's probably too late. The right question is "How do we keep firefighters from getting into life threatening situations?" There is no technology solution to this question. There is a policy, procedure, education, and training solution, a risk management solution.
The key is to ask the right questions in the first place. Dig deep into the operational mission, culture, and incident reviews to find the real questions. A technology answer to an operational question will not, on its own, solve the problem.
Leave a comment
June 27, 2011
I usually write about topics that are for the benefit of public safety technology users. This time, I am writing about something for the technology company. The Center for Digital Government has just come out with their Emergency Management Navigator site. The site provides a wide range of information about Emergency Management and Public Safety markets, grants, and RFPs.

Of particular interest to the sales and marketing departments will be the Jurisdictions section that includes contact information for city, county, and state departments including fire, police, planning and homeland security, emergency management, IT, and purchasing. I found the information to be up to date, which is not usually the case with these listings. Very refreshing. The folks at the Center for Digital Government spend a lot of time making sure they are as accurate as possible.

The other section technology companies will like is the RFP information. This section lists RFIs, RFPs, and awards. The search capabilities are excellent. You can slice and dice by bid type, state, levels of government (city, county, state, or regional), and by a multitude of bid categories. Your search setting can be saved and you can receive email notifications with the latest news and RFPs.

Overall, the site is very well done and if you sell to the emergency management market this deserves a look.

For more information contact:

Trey Mudge
Director of Navigator Services
Center for Digital Government
A division of e.Republic | Smart Media for Public Sector Innovation
916-932-1400
www.navigatorgov.com
www.navigatored.com


Leave a comment
Latest Emergency Management News