August 2011 Archives
August 02, 2011
Introduction

PURVIS Systems is probably not the most well known public safety services company out there, but they do some good work. I came by them after they were awarded a $2.63 million contract for the District of Columbia to implement their Fire Station Alerting System. The solution will be installed district-wide including the Public Safety Command Center, the Unified Communications Center, the Fire Boat, the Radio Shop, and 33 fire stations. Their strength is technology engineering services and their engineering expertise and total dedication to their clients won them the contract.

Solution Overview

Fire Station Alerting Systems (FSAS) technology has come a long way. Back in the day we were lucky to have the power turned off to the kitchen and the lights turn on. Today, FSAS can turn off the kitchen appliances, turn on the lights, change the lights out on the street corner, open the bay doors, talk to the firefighters, display information on TVs and reader boards, print run cards, and give you nine cents change. You can connect just about any device to the system and control it any way you need. I want the one with the automatic coffee maker.

The goal is to help responders get out the door faster with more information and to improve communications. Communications can be done over an IP or phone connection so the conversation between dispatch and responders is secure and private. I learned something new by talking with Rick Foster from PURVIS – the FDNY uses a PURVIS solution that relies on land lines direct to the stations as a primary mode of dispatch (they also did the alarm box upgrade for NYC).

What Sets Them Apart

PURVIS is one of those companies that may not have a client list as long as your arm, but the clients they have are notable and have been clients for a very long time. That says something about the level of mutual respect they have for each other, and how much PURVIS has been able to help them achieve their operational missions. PURVIS is one of those engineering focused companies that can actually talk walnuts with the squirrels. They know public safety and they know how to get things done. One of their strengths is the ability to be flexible. They can move and change with their clients and it does not matter how big they are.

For Example

PURVIS provides the Fire Department of New York (FDNY) with ongoing technology and communications system upgrades and support for over 35 years. They have become an extension of the FDNY's team, handling a range of projects including making its emergency response and voice alarm systems Y2K compliant to providing around-the-clock support in all five New York City boroughs during the 9/11 tragedy.

Client Quote

"PURVIS Systems has historically proven itself to be a dedicated contractor on good standing, and is always ready to support the Fire Department of New York during any situation that may arise."

Donald E. Stanton, Assistant Fire Commissioner, Chief Information Officer, New York City Fire Department

"Their customer service is top of the line. Whenever I have a question, or if there is a problem, they are extremely attentive and available. Their customer service department always gives 110%."

Michael Walsh, Assistant Chief, Warwick Fire Department

Final Thoughts

PURVIS's core capabilities include System Integration, Software Development, Hardware Development, Engineering Services, and Field Services. Products include Fire Station Alerting & Communications System, Fire Department Management System, Emergency Notification System, Incident Management and Control System, Call Box Communications System.

The next time you are looking for any of these kinds of capabilities or products you might give PURVIS a call.

Company Facts
Company Name: PURVIS Systems Incorporated
HQ City & ST: 1272 West Main Road Middletown, RI 02842
# Employees: 150+
Other locations: New York, Virginia, Florida and Arizona
Phone: 401.849.4750
Email: reachus@PURVIS.com
Web site: www.PURVIS.com
Clients: include National Institutes of Health, the U.S. Navy, and the FDNY
Years in business: 38 years (Since 1973)



Leave a comment
August 29, 2011
Introduction

If data and information drive emergency response then why don't public safety agencies spend more time analyzing their data? The main obstacles have been the cost and complexity of these systems. Business intelligence solutions can be very expensive and very complex, which translates into difficult to implement and operate.

But what if you could look at your data and see on a map that one neighborhood of your jurisdiction has more kitchen fires than any other, and see that these happened in older homes, with certain kitchen appliances, to people with certain socio-economic characteristics and cultural backgrounds? Then you could develop an information and education campaign for the people of that neighborhood and fix that problem. That is the power of analysis. That is what some fire departments are doing right now with analytic dashboards.

While law enforcement agencies tend to do more of this (think COMPSTAT and intelligence led policing), fire departments are finally seeing the light of data analysis. And one of the reasons is that the software is getting less expensive and easier to use. The Omega Group provides one of these solutions.

Solution Overview

The Omega Group helps Fire and Police departments see what is going on in their jurisdictions. The information is presented through a dashboard with maps, charts, and graphs that can be customized quickly and easily to meet anyone's need. So the Chief sees one set of information and the Shift Commander sees another.

Their FireViewTM solution comes in two flavors – a Desktop and Dashboard.

The Desktop solution is a set of mapping tools to help analyze how resources are deployed. This tool will help you identifying incident patterns and response effectiveness.

The Dashboard solution is a set of maps, charts and reports that analyze data and provides a snapshot of recent events (like those kitchen fires described above).
The data can be sliced, diced, chopped, mixed, and matched in any number of ways.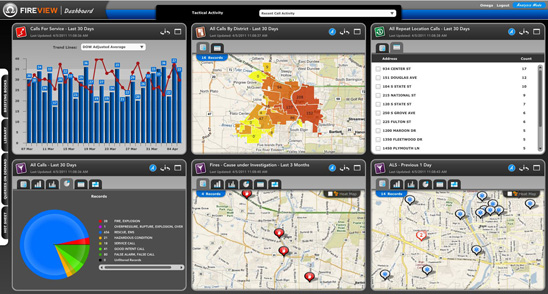 The FireView dashboard.

For Example

You can use these tools to:

• Analyze resource allocation (station locations, response times, and more)
• Do predictive modeling (if we close this station what happens?)
• Develop strategies to improve service
• Share information between other shifts, department, or agencies
• Analyze operational effectiveness

What Sets Them Apart

What makes this solution different is ease of use. You don't have to have a PhD to get this solution up and running and start seeing results (it's so easy even a Fire Chief can do it). The Omega Group staff also has extensive background and experience in public safety policy, planning, and operations. They have been there and know what you are facing.

Client Quote

"Implementing FireView has proven to be both rewarding and profitable. We look forward to maximizing our use of FireView throughout our agency."

Randy Godwin, Deputy Fire Chief, Wilson Fire/Rescue, North Carolina

Final Thoughts

This is the kind of tool that is only limited by your imagination and creativity. You can connect to all sorts of data sources and all you need to run it is a browser. They even have a SaaS delivery model which makes it even easier and more cost effective. FireView™ Dashboard would also be a great tool for a regional purchase by a group of smaller departments that thought they could never afford this kind of solution.

Company Facts

Company Name: The Omega Group
HQ City & ST: 5160 Carroll Canyon Road, Suite 100 San Diego, California 92121
# Employees: 30
Phone: (858) 450-2590
Email: sales@theomegagroup.com
Web site: http://www.theomegagroup.com
Number of clients: 600
Clients Include: Elgin FD, IL, Wilson FD, NC, Norfolk FD, VA, Boise FD, ID
Years in business: 19


Leave a comment
Latest Emergency Management News