March 2011 Archives
March 07, 2011
Social Media is complex by itself and its role in public safety will be an ongoing and ever changing target and topic of conversation. But it is a topic and a technology that must be addressed. It can be useful for all concerned. Let's start with a definition and an overview of the technology players (one step at a time).

I define social media as a way to use the web and mobile technologies to talk to each other. Remember when cell phones first came out? I had one of those Motorola bricks. Lots of people were thinking "what good is that?" and "it will never catch on". The ways we share information and communicate will always evolve - it's Darwinian.

So here comes Social Media. Now there are lots of players in the field. It has definitely caught on. And it can catch on in public safety as well. Over 24,000 people say they like the Boston Fire Department facebook site. That's impressive.

So who is out there? Facebook, twitter, and MySpace are not the only players. The following social media map is from FredCavazza.net (and is one of his only articles in English instead of French).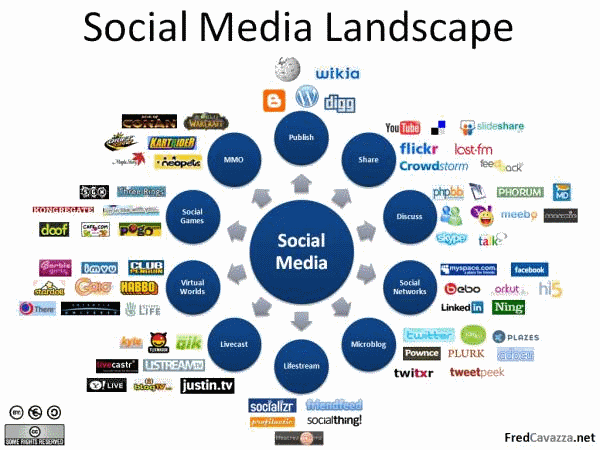 I have never heard of half of these companies until I saw this. The next article will be part of an interview I had with Laurie J. Van Leuven who is a DHS/FEMA Post Naval Graduate School Fellow. Laurie did her Master Thesis on social media and citizen engagement during emergencies. We'll get her take on social media and public safety next time.
Leave a comment
March 12, 2011
Free and easy solutions to your problems are not what a technology company normally wants you to know about. It's much better for them if they can keep you under the spell of FUD (Fear, Uncertainty, and Doubt), even if it is well disguised.
One of the more FUD laden solutions around is Situational Awareness and Common Operating Picture (SA/COP for short). You can drop a few million dollars into this kind of solution if you want all the bells and whistles and everything the military uses and don't mind waiting a year or two to have it completed.
Or, you could get a free SA/COP solution in about 15 minutes. Two big components of a SA/COP application are the integrated geospatial data views (maps) and group collaboration and communications (people can talk to each other). You can get a Google account and use their My Maps (go to http://maps.google.com/ and click on My Maps). Add push pins and draw areas on the map. Then invite others to share the map (make sure they have a google account as well). others can then edit the map as well. It will look something like this: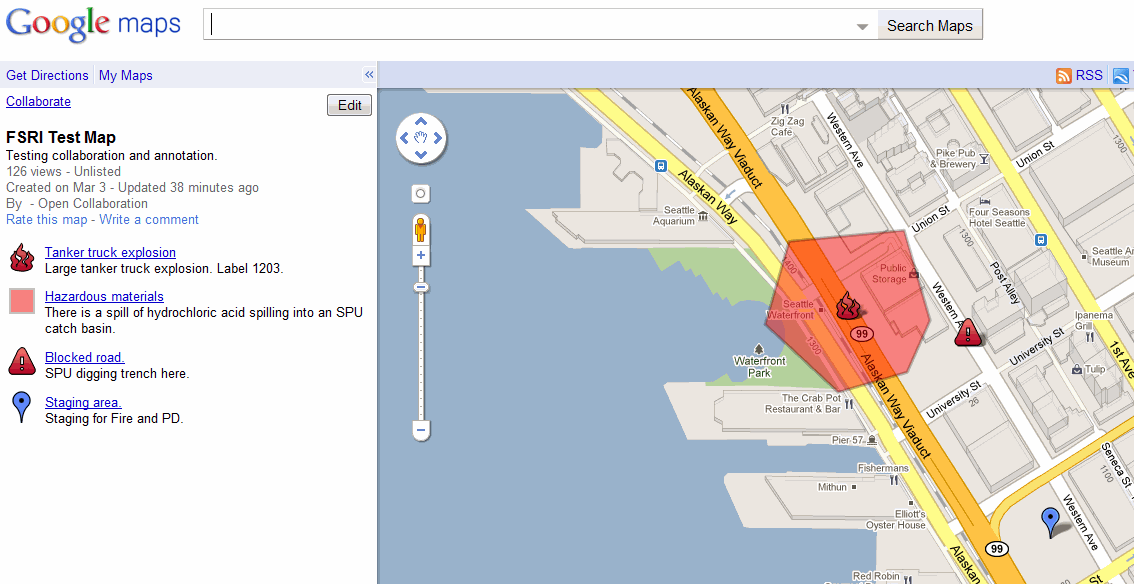 Then go get a Vyew account (at http://vyew.com) to handle the talking to each other part. With Vyew you can do white-boarding, video conferencing, screen sharing, and voice-over-IP phone conversations. You can set up areas (they call them rooms) that are always saved and always-on that include contextual discussion forums, voice-notes, and track and log activity. Another one to look at is ShareFlow from Zenbe (at www.zenbe.com/shareflow). (The Zenbe website is unavailable at times lately. Not sure why. They were acquired by Facebook last November and may be transitioning – a code word for experiencing internal chaos.)

Does this solution do any ICS/NIMS tracking? Nope. Does it tie in to department databases? Nope. Can you turn map layers on and off? Nope. It does not do a lot of things. But this SA/COP solution is free and you can have it up and running in minutes not months or years.
If you don't have a way to achieve better situational awareness and share a common operating picture, try something like this. If nothing else it may show people what is possible, what it can do, and create some positive dialogue. Let me know if you want a little help with this one.
Regards,
Bob
2 comments
March 21, 2011
It was my pleasure to interview Laurie J. Van Leuven recently. Laurie is a DHS/FEMA CHDS Fellow and works in FEMA's Protection and National Preparedness office in Washington D.C. She is very well versed in social media and public safety. Her Master's thesis was about using social media to engage people during emergencies.

We talked about social media and public safety in the context of large scale incidents. The conversation was too lengthy for one post so I'll break it up into small chunks. We talked first about how people in public safety view social media, what they feel about it. "People are not sure how to proceed" Laurie said. Many people are fearful, some want someone else to go first, and a few dive right in.

Laurie thinks social media can benefit public safety agencies and local government in a number of ways, including:
Meeting the rising expectations from the public by delivering quick and timely alerts, warnings and instructions to the public via smart phones
Improving situational awareness for emergency responders
Leads to community resiliency through engagement of all layers of the community (Whole of Community approach) which results in better knowledge and understanding of the issues and regional empowerment during disasters when emergency response systems and responders are overwhelmed
Fostering transparency in government – open government initiative.
Embracing innovation – evolving with available technology

I asked Laurie to list a few examples of incidents where social media was used effectively and got quite a list. One example surprised me. "Wikipedia had more information about the times square bombing than traditional media" Laurie said. Wikipedia? Wow.

Recent incidents that have successfully involved social media strategies include:
Japan Earthquake
New Zealand Earthquake
Political and Civil Unrest in the East (Iran Elections, Egypt) – Twitter and YouTube
Mumbia terrorist attacks (Nov 2008) - Twitter and blogs
Plane crash on the Hudson (Jan 2009) – Twitter and Flickr
Australian County Fire Agency (Feb 2009) – Twitter, FB, Flickr, Google maps
FDA recall of salmonella tainted pistachios (March 2009) – Twitter
Flooding on Red River ND & MN (March 2009) – Red Cross, FEMA Twitter & FB
H1N1 Outbreak (May – Oct 2009 ) – Twitter, Flickr, widgets, apps, YouTube, RSS feeds
Lakewood Police Shooting and Ft. Hood Shootings (Nov 2009) – Twitter
Haiti Earthquake (Jan 2010) – Twitter, YouTube, Mashups
Times Square Bomb (May 2010) – Wikipedia
Tennessee Flooding (May 2010) – YouTube, Flickr, Blogs, FB
Gulf Oil Spill (May – July 2010) – FB, Flickr
December 2010 Snowstorm – NYC vs Newark (Booker) – Twitter and Social media hero
Various Facebook Chats tipping Federal authorities to bomb threats and personal safety

I'll have more from Laurie in the next few weeks. You can contact Laurie at:
Laurie J. Van Leuven
DHS / FEMA CHDS Fellow
Federal Emergency Management Agency
Protection and National Preparedness
500 C Street SWWashington, DC 20472-3100
202-646-7392 office
laurie.vanleuven@fema.gov
Her Master's Thesis is worth reading and she would be happy to share it with you.
Regards,
Bob
1 comment
Latest Emergency Management News