May 2011 Archives
May 04, 2011
Solution Overview

Communications interoperability has been a thorn in the side of public safety for a long time. This post is a recap of an interview I did recently with James Mustarde, Marketing Director, from Twisted Pair Solutions. He might be able to pull that thorn out for you.

The need to talk to people is all too apparent. Fire needs to talk to police, who need to talk to local security, and the State Patrol needs to get in on the conversation, and maybe a neighboring jurisdiction or two. And this is just for the day-to-day incidents. When the big one roles in it gets exponentially worse. This is where WAVE comes in.

"WAVE lets you create a truly unified critical-communications solution that provides users the secure access to people, information and systems that are critical to their activities. With WAVE you can share voice, data, video, and radio on any network. It means you can talk to just about anyone on just about any device, anywhere." said Mustarde.

WAVE translates the radio signal and puts it out on an IP network, securely encrypted, onto the internet. This turns your Smartphone into a radio, your computer into a radio, your landline into a radio. "This isn't a new concept", adds Mustarde. "The military has been using WAVE for years in critical warfighter communications from the frontline to the Pentagon. It's proved itself in battle."

A wave of new technologies may transform public safety communications. Mustarde said that "with a WAVE solution you can leverage consumer devices and technology that is readily available and less expensive than other ways of communicating. WAVE can turn your smartphone into a radio, providing an alternative, less expensive option to single-function devices in non-critical situations."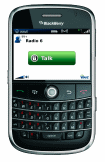 WAVE on a Blackberry

WAVE is currently used by the Washington Emergency Management Department, the Olympic Public Safety Communications Advisory Network (OPSCAN) and is deployed in many regional incident response vehicles. WAVE is also extensively deployed by all branches of the U.S. military and by many federal agencies.

What Sets Them Apart

"What makes WAVE different", Mustarde says, "is that we are purely software. There is no need for new or proprietary hardware outside of commercially available radio gateways." This makes a WAVE solution a lot less expensive than adding or replacing radios. It also means this thing will scale. Some clients have literally thousands of users on the system.

Client Quote

Mustarde's favorite client quote was from a Special Operations officer who said "it transforms the way we get stuff done."

Price Tag

This is always a very ballpark figure given the flexibility of the system and it really isn't fair to James to pin him to a number, but you can probably get 5 agencies all talking to each other for less than $50,000 (under $10,000 each if you share the cost).

Final Thoughts

Do you ever feel like your radio company is holding you hostage or picking your pocket? Do you ever feel like you are back in the dark ages when you have to send runners to the other agency with hand written notes? Would you like to wave good-bye to the frustration that comes from talking to the brick?

In public safety, if you want to get stuff done you have to be able to talk to whoever you need to when you need to from whatever device you have in your hand. Take WAVE for a ride. It just might solve some thorny communications problems for you.
Regards,
Bob
Company Facts
Company Name: Twisted Pair Solutions, Inc
HQ City & ST: Seattle, WA
# Employees: 50+
Other locations: UK, Australia
Phone: 206-442-2101 (main)
Email: sales@twistpair.com
Web site: www.twistpair.com
Clients: 1,000's
Years in business: 10+

Leave a comment
May 17, 2011
Solution Overview

There are still a lot of agencies out there using marker boards and tactical worksheets to manage incidents. If your ICS information is dependent on a grease pencil and post-it notes it will be hard to share. There is another way.

AIMSonScene from FieldSoft is incident command software that replaces the manual boards and worksheets and makes your ICS information available to everyone who needs it. This little solution can have a big impact on how well your incidents are managed, tracked, and reimbursed.

This is a point and click application that is designed for use in the field. For any type of incident you can manage and track resources, edit plans and drawings, plan and share strategy and tactics, automatically generate ICS forms, and more. You can use a CAD connection if you have one or enter information yourself. It's a great pre-planning tool as well.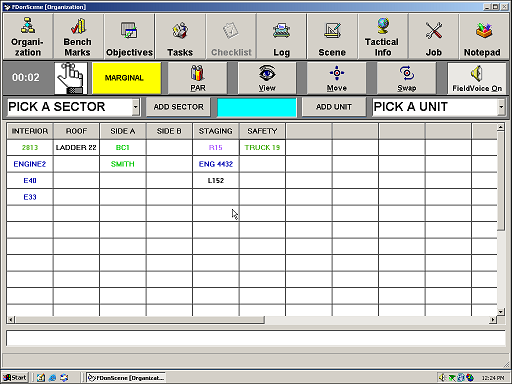 AIMSonScene screenshot

For Example

One agency missed out on $300,000 worth of FEMA reimbursement because they could not accurately track resources that AIMSonScene would have tracked on ICS form 214. It is being used in Tuscaloosa, Alabama EOC right now.

What Sets Them Apart

This application is built for field use from the ground up. It can be set up for single or multiple users to keep everyone informed and on track. And if your network connection goes down it picks up where it left off when everyone comes back up.

Favorite Client Quote

"We love this software"

Price Tag

You can get started with AIMSonScene for about $2,500 and get the multi-user version for 5 people for about $27,000.

Final Thoughts

AIMSonScene really is a faster, simpler, and more effective way to manage your incidents. You might be able to pay for the system and more just by having a reliable way to track resources and get your full reimbursements from FEMA.

Company Facts
Interviewed: Mark Bouchard
Title: President
Company Name: FieldSoft
HQ City & ST: Chandler, AZ
# Employees: 4
Phone: 480-899-2128
Email: information@fieldsoft.com
Web site: www.fieldsoft.com www.ImproveICS.com
Clients: 400+ in 5 countries
Years in business: 14 years
Leave a comment
May 22, 2011
Solution Overview

Henry Siegel, Chief Visionary Officer (love that title) at MobileTrec helped me understand what Personal Safety Networks (PSN) can do for people. And it's a lot. Henry made the analogy that their solution is like having OnStar on your cell phone. If you get into trouble you can literally hit a panic button on the phone which sends emails and text alerts to your emergency contacts along with your GPS location and also connects you to a call center. The call center can connect you, the people on your emergency contact list, and the appropriate 911 dispatch center in a conference call. The call center can even send an Emergency Safety Profile (vital statistics, medical conditions, GPS location, current photo, and more) to the PSAP dispatcher.

This also solves the problem of misdirected 911 calls. If I am vacationing in Colorado and call 911 from my cell phone I will probably get routed to the PSAP in Bellevue, WA near where I live. With the MobileTrec application I would be routed to the nearest PSAP no matter where I am. That's a good thing.

This application can also send special instructions or important medical information to 911 dispatchers, emergency responders, and anyone you want across the United States or the world. Also a good thing.

This application works best on any Smartphone but the older feature phones can use speed dial instead of an actual panic button.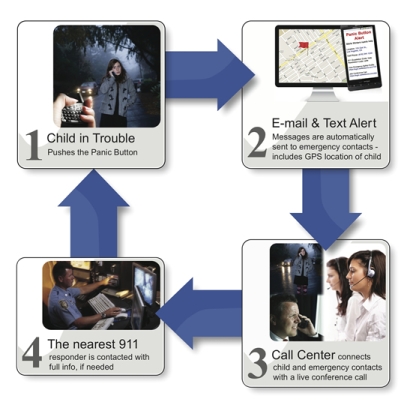 For Example

I see both personal and professional ways to use this technology. On the personal side, kids could use it (especially my daughter who is off to college), elderly relatives, vacationers, and people with medical conditions. On the professional side, businesses could use it for their employees, field workers, drivers, and business travelers. Public safety agencies could use it for their field staff. In a disaster scenario, people could use it to let others know that they are in trouble and where they are located.

Here's a thought – since most cities use a PSAP at some level, they could become the call center for the service and offer it to citizens and employees. The city could actually generate revenue through this service. This is why Henry is the Chief Visionary Officer, he thinks outside the box.

What Sets Them Apart

This is the only solution of its type that can connect mobile numbers, Google Voice, Skype, or Vonage mobile phone applications to emergency services nationwide. It is also the only certified solution that can deliver the subscriber's name, cell number, precise GPS location, pictures, and vital information to the nearest PSAP.

Price Tag

The free version includes text and email panic button alerts to your safety network.

The $9.95/month version gets you the full featured panic button, text and email alerts, 24/7 call center conference calling, direct access to 911, advanced GPS location services, and an emergency safety profile.

Final Thoughts

People are very mobile. Most people have or know how to use cell phones. It's a tough world out there and you never know what can happen. This service can help you, your family, your employees, and the people you serve stay safer. I'm signing my family up.

Company Facts

Company Name: MobileTrec
HQ City & ST: Sherman Oaks, CA
# Employees: 30
Other locations: New York, Los Angeles, Miami
Phone: 323.680.5411
Email: Henry@MobileTrec.com
Web site:http://safekidzone.com, http://safetrec.com.
Markets: Alarm Monitoring, Campus Safety, Not For Profit, Child Safety, Travel, Community and Homeowner Associations, Geo-Social Networks, Public Safety, Emergency Preparedness, Law Enforcement, Homeland Security.
Years in business: 4



3 comments
Latest Emergency Management News