Emergency management jobs are available nationwide and in all segments of the job market including federal, state and local government, private companies and nonprofit organizations. Search from the thousands of job postings below.
Emergency Management Job Search
EMPLOYER?
Real-Time Job Matching technology automatically matches you with the jobs you qualify for based on your user profile and resume. Sign up today to see for yourself!
Post Your Jobs
Receive Candidate Matches
Receive Candidate Alerts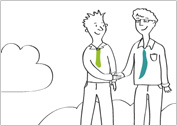 JOB SEEKERS
With Real-Time Job Matching and Automated Posting Optimization you can have more pre-qualified applicants, maximum exposure saving you time and money.
Submit your Resume
Receive Job Matches
Receive Job Alerts
Browse Emergency Management Jobs
---
Latest Blog Posts
Advice for a Public Safety Director
Dec 06 Random thoughts for someone considering a position as Public Safety Director.…
Survey on Hot Alerting Topics
Dec 05 Here is your chance to contribute to what's needed for alerting.…
Experience versus education: Are we asking the right question?
Dec 03 Personalizing core requirements for a profession is counterproductive…
We're Hiring
If you see yourself as a leader, looking to grow in a dynamic work environment, then join us.

View Open Positions